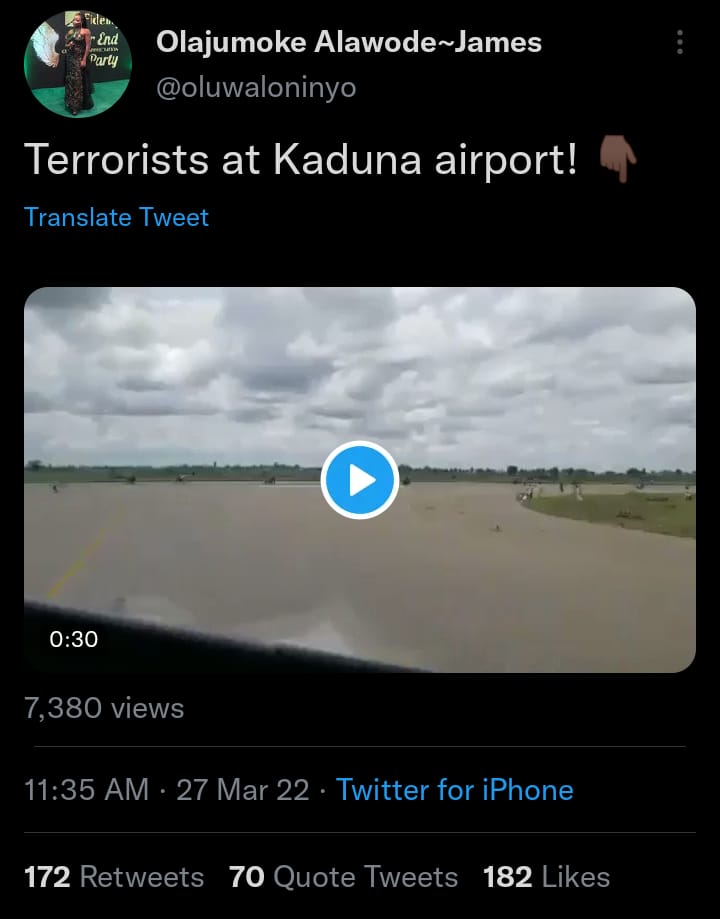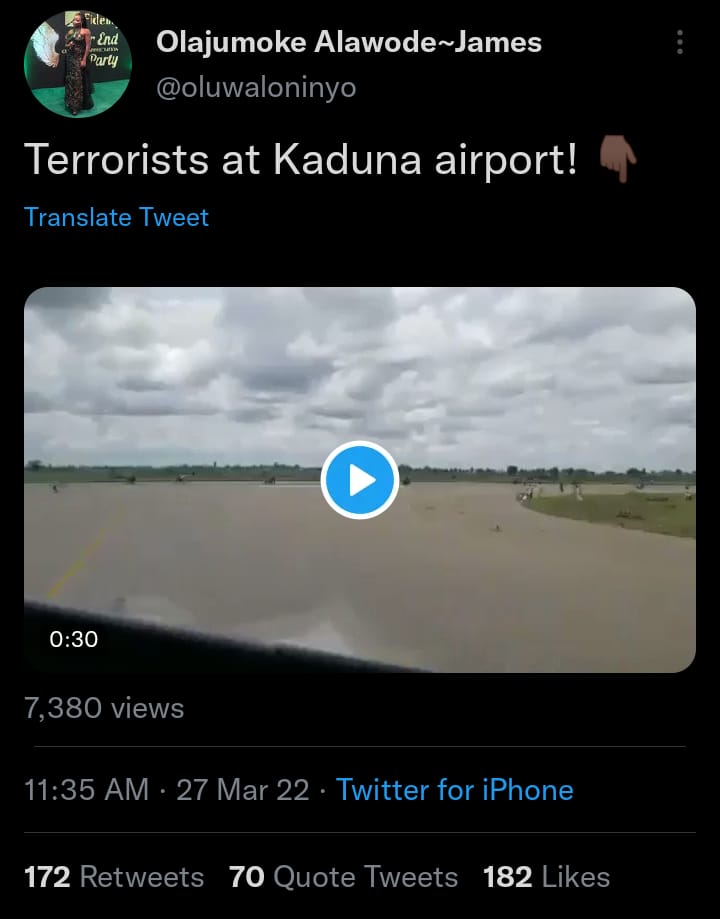 On Sunday, an alleged video of terrorists attacking Kaduna international airport was circulated on social media platforms.

TheCable had reported that the attack, which occurred on Saturday, resulted in panic as security operatives engaged the attackers in a gun duel, while a security guard was killed in the process.

Some social media users claimed the 30-second video shared on Facebook and Twitter was from the Saturday attack on the airport. They further claimed the attackers invaded the runway with motorcycles.

Olajumoke Alawode-James, a broadcast journalist with over 77,000 followers, had shared the video on her Twitter page with the caption "Terrorists at Kaduna airport".  The post generated over 150 retweets, 50 comments and 8,600 views.




The video was also shared by Koiki Media with over 10,000 followers on Twitter.

Good citizen's of NIGERIA 🇳🇬

Invasion of TERRORIST at Kaduna international airport on the

26th March, 2022

KOIKIMEDIA bringing the world 🌍 closer to your doorstep pic.twitter.com/cBC9KxzUXX

— KOIKIMEDIA (@KoikiMedia) March 28, 2022
The footage of bandits (Terrorists) that attacked an aircraft and aviation workers at Kaduna Airport killing one person in the process.#WeCantContinueLikeThis#SoworeForPresident2023#AACTheAlternative pic.twitter.com/MHdtNMbg0y

— Iβrahim (@TheIOShowa) March 27, 2022
This is not Afghanistan Syria or Yemen but the runway inside Kaduna Airport in the heartland of northern Nigeria, where terrorists aka bandits are having field day unchallenged. Show this video to your principal if he hasn't seem it. pic.twitter.com/D50hp6Kpco

— Omon_Peterson (@ojoteosas) March 27, 2022


A Facebook page, Political Affairs Int with over 100,000 followers, also shared the video. The post has garnered over 1,700 views and 34 shares.

VERIFICATION

While the alleged video of the incident shows some individuals riding motorcycles on the runway, Amina Salami, the airport manager, in a phone interview with TheCable, said the gunmen fired shots into the runway from the fenced area and were later repelled by soldiers.

"It wasn't clear whether they wanted to come into the airport, but they shot a security guard on runway 05. Unfortunately, on their way to the hospital, he died," she said.

Findings by TheCable also showed that the video is not new. It has been on the internet since 2018.

Invasion of airport runway in Sokoto state Nigeria by activists on motorcycles.#nigerianews #airportsecurity #SokoNews #NaijaVirals pic.twitter.com/W8l9ymqFRK

— bibi olufore (@BOlufore) August 6, 2018


The incident in the video actually took place on August 3, 2018, when hundreds of people believed to be loyalists of a politician broke through the fence of the Sultan Abubakar III International Airport, Sokoto state, and invaded the runway to receive their principal.

The Federal Airports Authority of Nigeria (FAAN) had condemned the incident.

VERDICT

The alleged video of terrorists attacking Kaduna airport is old footage. It is from an incident that happened at Sokoto airport in 2018.
Source: Fact Check
You might also like
---
More from Fact Check
---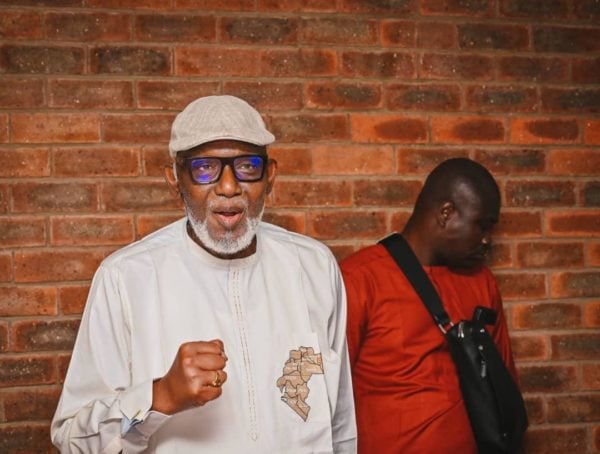 567
Rotimi Akeredolu, governor of Ondo, has officially resumed duty after a three-month medical vacation in Germany. On Thursday, Akeredolu returned to …
President Bola Tinubu says he will do everything within his constitutional powers to ensure that the Nigerian military is well-resourced …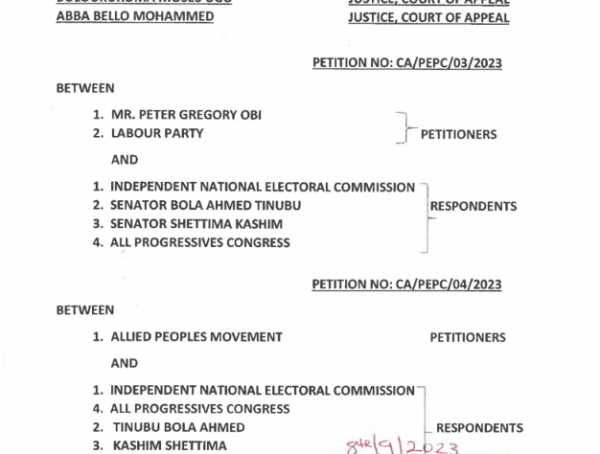 569
On Wednesday, the presidential election petitions tribunal affirmed the victory of Bola Tinubu as the duly elected president of the …
Editor Picks
---