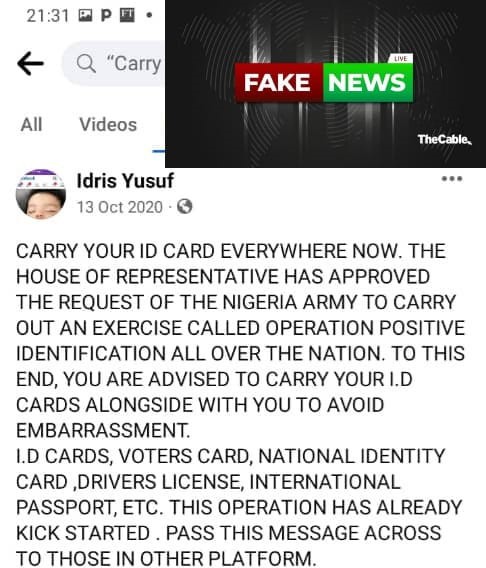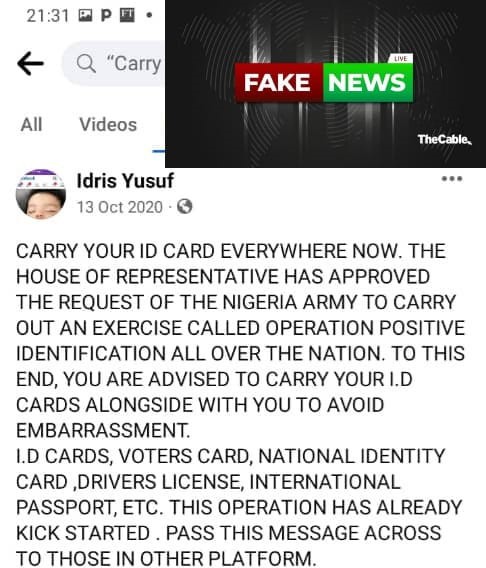 A viral post circulating on social media platforms claimed that the house of representatives has approved a request by the Nigerian army to demand identification cards from Nigerians in public.

Netizens, who shared the post on WhatsApp, Facebook and Twitter, claimed the army launched "operation positive identification". The post stated that citizens are mandated to move with identification cards, including voter cards, international passports, driving licences and multiple others, to avoid "embarrassment" from the army.

The post added that the operation has begun, while users were asked to share it across their network.

"Carry your ID card everywhere now. The house of representatives has approved the request of the Nigerian army to carry out an exercise called operation positive identification all over the nation. To this end, you are advised to carry your ID cards alongside you to avoid embarrassment," the message reads.

"ID cards, voter cards, national identity cards, driver's license, international passports, etc. This operation has already kick-started. Pass this message across to those on other platforms."

The message has been shared by more than a hundred Facebook profiles, over 20 Twitter pages and countless times on WhatsApp as broadcast messages.




 

 

 

 

 

 

 

 

 

 

 

 

 

 

VERIFICATION

Checks by TheCable showed that the message was first circulated online around October 14, 2020, during the #EndSARS protest.

The #EndSARS was a social movement against police brutality that resulted in a series of mass protests across the country.

On October 20, officials of the Nigerian Army arrived at the Lekki toll gate in Lagos where the protesters had converged and opened fire, a development that reportedly resulted in the death of multiple persons.

Consequently, the message warning citizens to make use of their ID cards began to gain traction among netizens.

BREAKING NEWS: RT!
CARRY YOUR ID CARD EVERYWHERE NOW.
THE HOUSE OF REPRESENTATIVE HAS APPROVED THE REQUEST OF THE NIGERIA ARMY TO CARRY OUT AN EXERCISE CALLED OPERATION POSITIVE IDENTIFICATION ALL OVER THE NATION. TO THIS END.
YOU ARE ADVISED TO CARRY YOUR I.D CARDS

— Thaiwoooh🌶✨ (@spicy_tai) October 21, 2020
*BREAKING NEWS*
*CARRY YOUR ID CARD EVERYWHERE NOW.*
*THE HOUSE OF REPRESENTATIVE HAS APPROVED THE REQUEST OF THE NIGERIA ARMY TO CARRY OUT AN EXERCISE CALLED OPERATION POSITIVE IDENTIFICATION!!!* *ALL OVER THE NATION. #EndSARS #ENDSARSNOW #EndPoliceBrutalityInNigeriaNow

— Mjay of France (@Harv3lLa_) October 10, 2020


The post has, however, found its way back to the internet and been reshared by multiple users.

To verify the post, TheCable contacted Ben Akalu, spokesman of the house of representatives. He said the green chamber did not approve a request by the army to demand ID cards from Nigerians.

"I'm not aware of such. The house of representatives did not entertain such request from the army," Kalu said.

Samuel Akpan, a journalist with TheCable who covers the house of representatives, also confirmed that such information was not passed by the lower chamber. In addition, there is no available news report on the viral post by any Nigerian newspaper.

TheCable also contacted Onyeama Nwanchukwu, the director of public relations of the Nigerian army, but he did not respond to phone calls and WhatsApp messages.

VERDICT

The viral post that the house representatives approved a request for the army to ask citizens for ID cards is false.
Source: Fact Check
You might also like
---
More from Fact Check
---
Multiple social media reports claim that trees do not have any effect on mitigating climate change.  Citing carbon experts, the reports …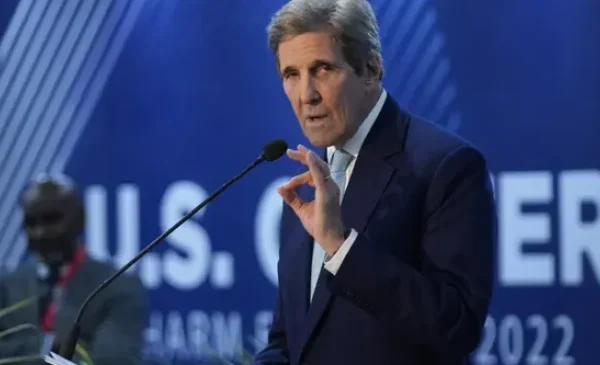 33
Viral social media posts claim John Kerry, United States special presidential envoy for climate, said the US would crack down …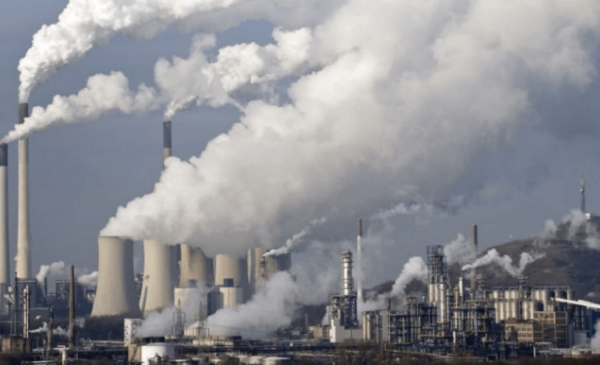 25
A report has claimed that carbon dioxide (CO2) is not a pollutant. According to the publication which labelled global warming a …
Editor Picks
---