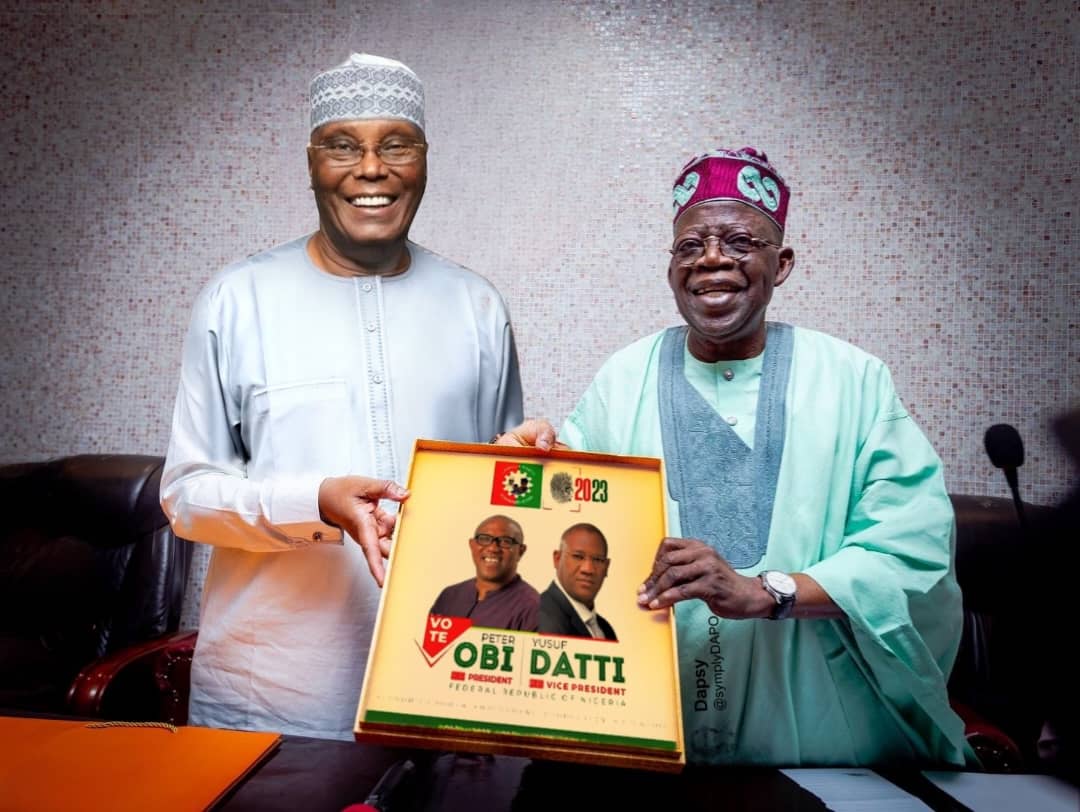 A photo of Bola Tinubu and Atiku Abubakar endorsing Peter Obi and his running mate has been circulating on social media.

A social media user with the name Double Scotch posted the picture with the caption "E don happen" on Twitter. The post gathered over 3,444 likes and 1,185 retweets.




The photo was also shared by several other accounts on Twitter.

Apart from Twitter, it was also posted on Nairaland with the caption 'Haha ….no sane Christian will be found supporting an agenda of the wicked".

Verification

A search on Tinubu's verified Twitter account revealed that on May 26, Tinubu posted a picture showing Rotimi Akeredolu, governor of Ondo, presenting a plaque to him.

A further look at the picture shows that the cloth worn by Tinubu is the same as the one in the picture portrayed to show him and Atiku endorsing Obi.

The background of the picture shows Ondo state written on the wall, with an inscription beneath it in Yoruba "…OOGUN ISE".

Comparing the pictures closely shows that the picture depicting Atiku and Tinubu endorsing Obi has been edited.

In the fake picture being circulated, the Ondo state logo was removed. Akeredolu's picture was also removed and replaced with that of Atiku. A picture of Obi and his running mate was placed on the plaque Akeredolu originally presented to Tinubu.

On the left side of the original picture, the image of a man sitting on a black chair was removed, also an insignia on the orange object on the table was edited out.

Dear Lord, with only 10 months to go, make it easy for your children and keep us all alive to witness the swearing in of the best leadership Nigeria has ever had, Amen!
Rt and Comment if you believe.#PeterObiForPresident2023#banRenoOmokri #AriseTv pic.twitter.com/0dyj9NcuKc

— Eli Bipialaka (@EBipialaka) July 8, 2022


Checks by TheCable show that a similar picture of Obi and Datti photoshopped into the artwork held by Atiku and Tinubu was posted on July 8, by a Twitter account named, Eli Bipialaka. 

Verdict

The picture of Tinubu and Atiku depicting they are both campaigning for Obi and Yusuf is fake. The photo has been altered.
Source: Fact Check
You might also like
---
More from Fact Check
---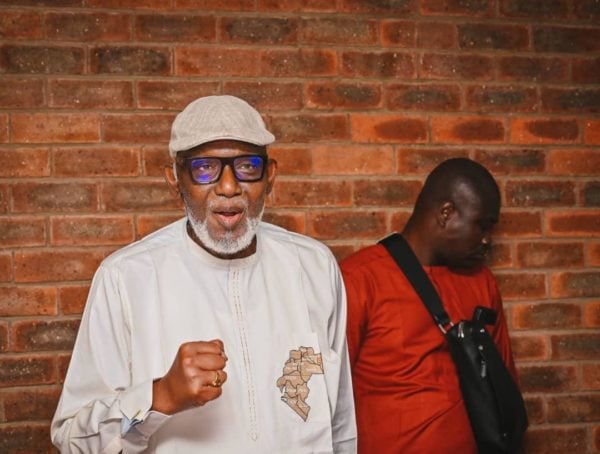 575
Rotimi Akeredolu, governor of Ondo, has officially resumed duty after a three-month medical vacation in Germany. On Thursday, Akeredolu returned to …
President Bola Tinubu says he will do everything within his constitutional powers to ensure that the Nigerian military is well-resourced …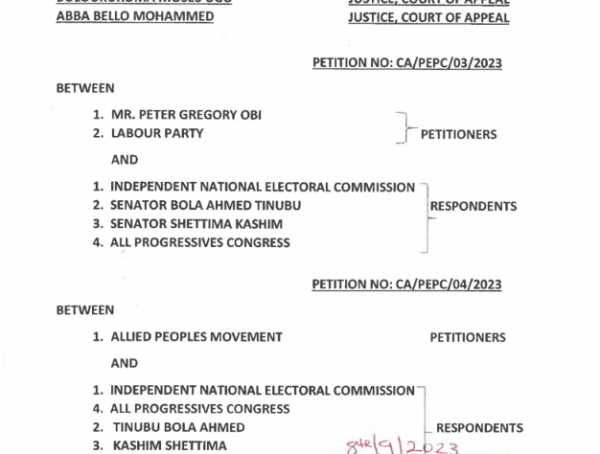 579
On Wednesday, the presidential election petitions tribunal affirmed the victory of Bola Tinubu as the duly elected president of the …
Editor Picks
---