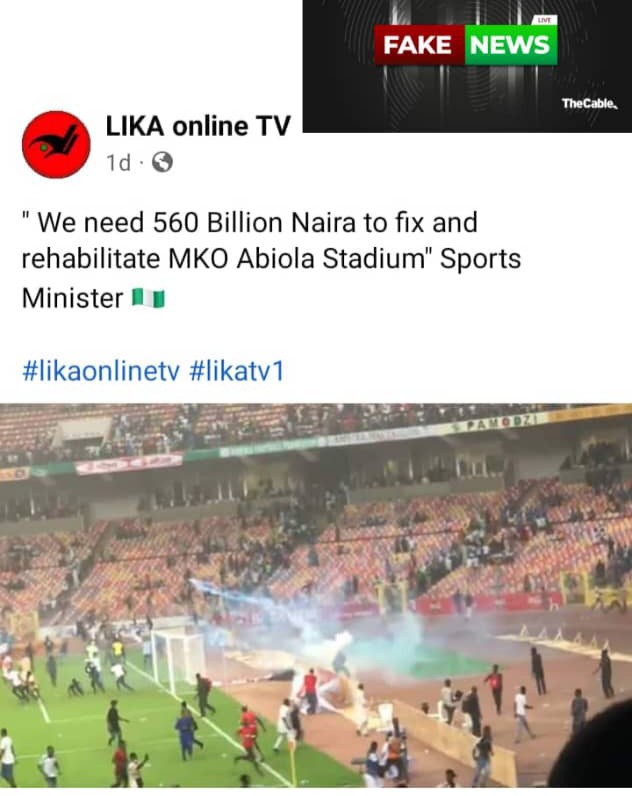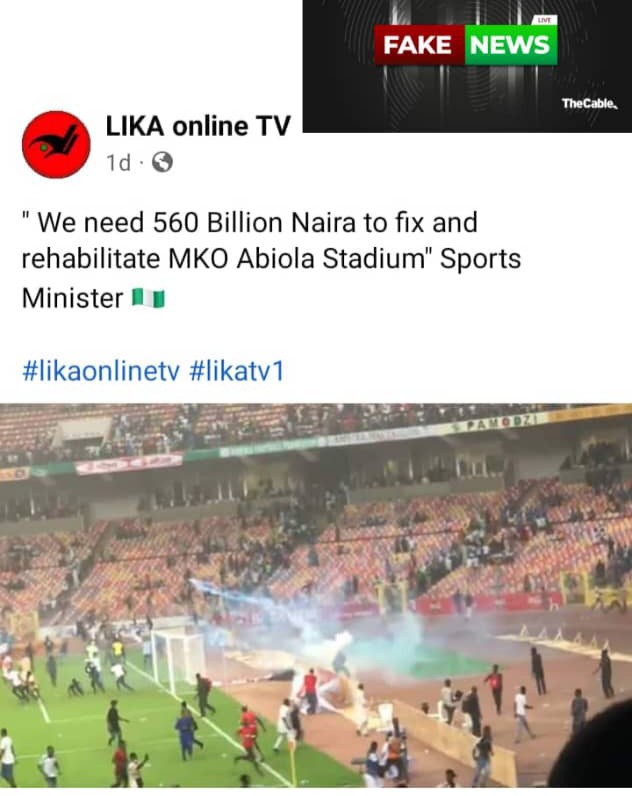 On March 29, some fans stormed the pitch of the newly-refurbished Moshood Abiola Stadium, Abuja, and destroyed some facilities following the failure of the Super Eagles of Nigeria to book a place in the Qatar 2022 World Cup.

On Monday, Lika Online TV, a Facebook page with over 114,000 followers, claimed that Sunday Dare, minister for youths and sports development, said it would require N560 billion to repair the stadium.

"We need 560 billion naira to fix and rehabilitate MKO Abiola stadium — sports minister," the post read.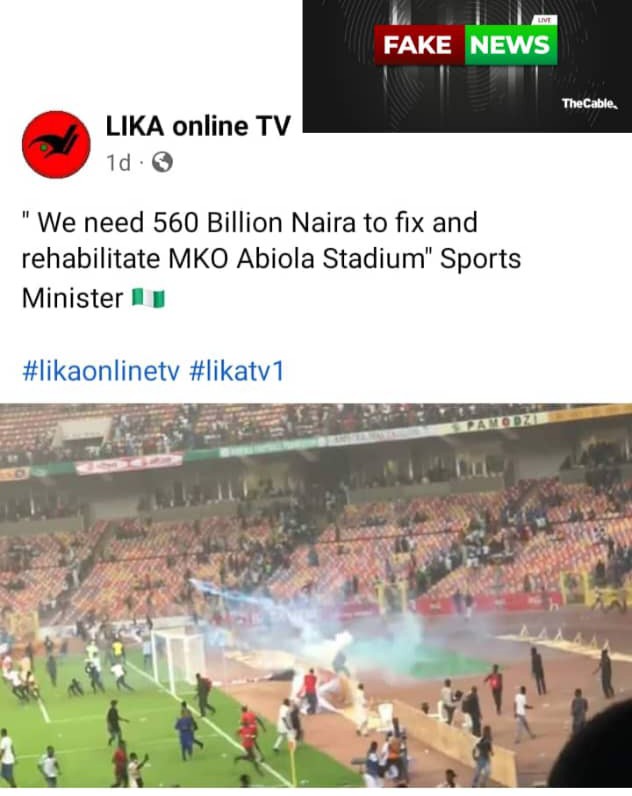 The post has so far garnered over 9,600 likes, 8,200 comments and 820 shares.

Some Facebook users who commented on the post accused the federal government of inflating the cost of rehabilitating the stadium in order to embezzle funds.

Other social media users have also posted the statement on their timelines.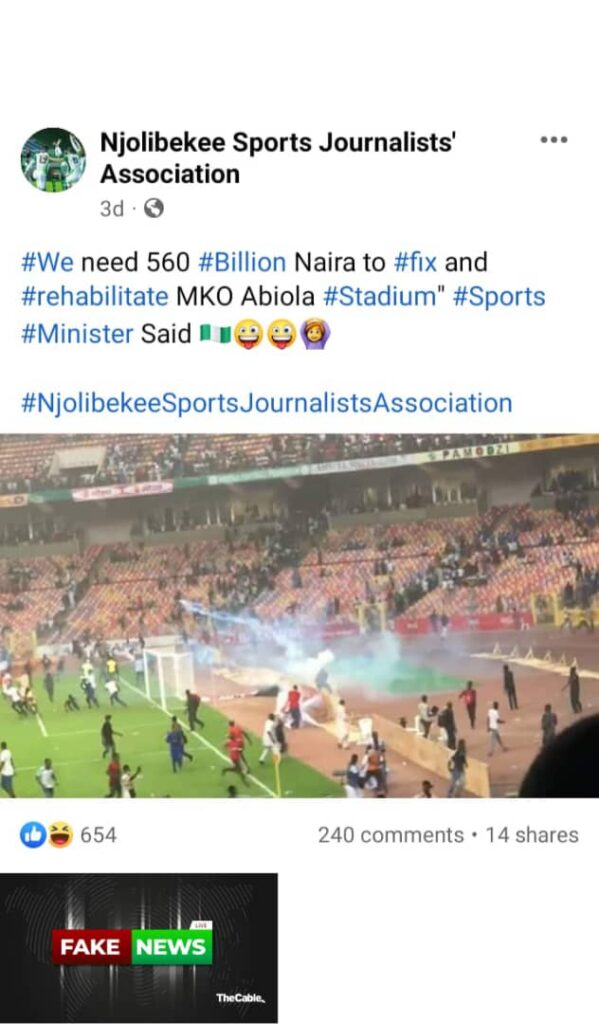 VERIFICATION

A close look at the statement credited to the sports minister shows that there was no mention of the date or venue where he allegedly made such a claim. No credible media platform has reported the statement so far.

Thorough checks of public statements made by the minister concerning the incident show no evidence he made the statement.

In the statement issued on March 31, the minister condemned the act, saying two committees had been set up to investigate the pre-match preparedness and vandalism of the pitch. He added that a comprehensive report on the incident would be submitted on April 5.

"Already work is going on. Two committees are working concurrently. An investigative committee is looking at the security breaches and the vandalisation that occurred, while the other committee is a combination of people from the sports ministry, the NFF, paramilitary and security people. They worked on the Nigeria-Ghana match preparations," Dare had said.

On Wednesday, the senate summoned the minister over the incident, saying "the extent of the destruction is yet to be determined by the relevant government authority."

When contacted by TheCable, Toyin Ibitoye, the media aide of the minister, said his principal never made such statement.

He described the claim as "false."

VERDICT

The claim that the sports minister said the rehabilitation of the Abuja stadium would cost N560 billion is false.
Source: Fact Check
You might also like
---
More from Fact Check
---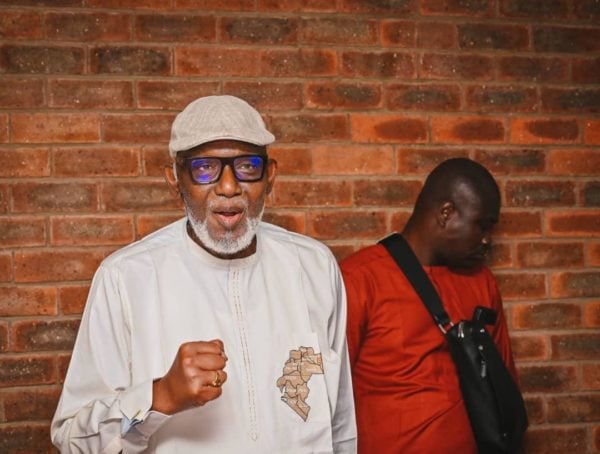 575
Rotimi Akeredolu, governor of Ondo, has officially resumed duty after a three-month medical vacation in Germany. On Thursday, Akeredolu returned to …
President Bola Tinubu says he will do everything within his constitutional powers to ensure that the Nigerian military is well-resourced …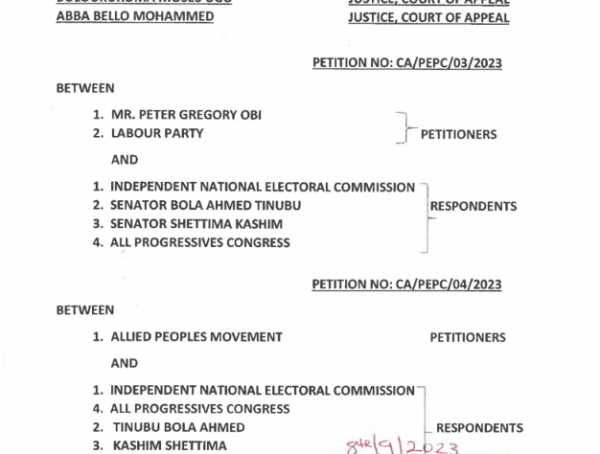 579
On Wednesday, the presidential election petitions tribunal affirmed the victory of Bola Tinubu as the duly elected president of the …
Editor Picks
---