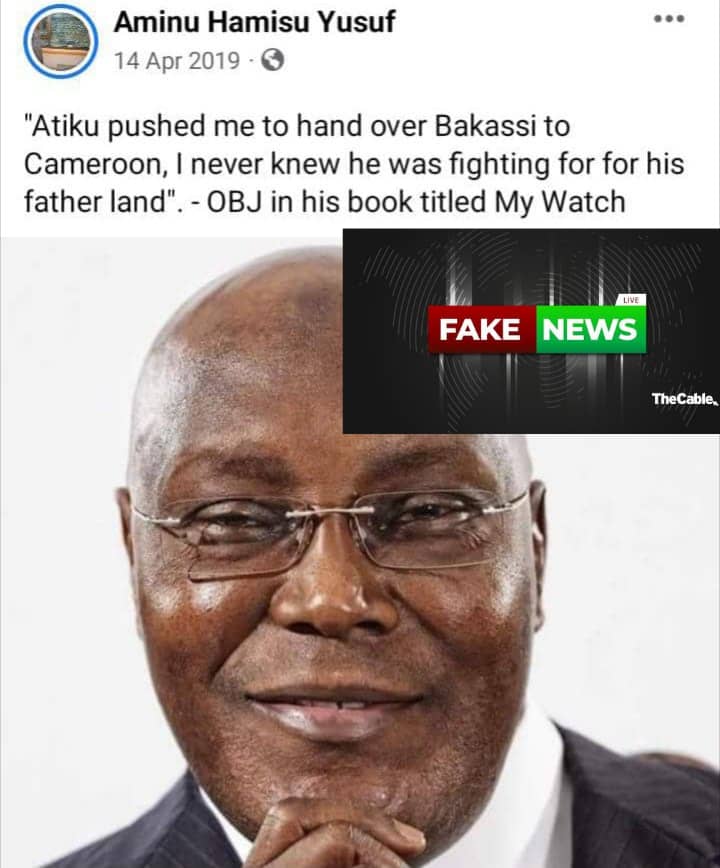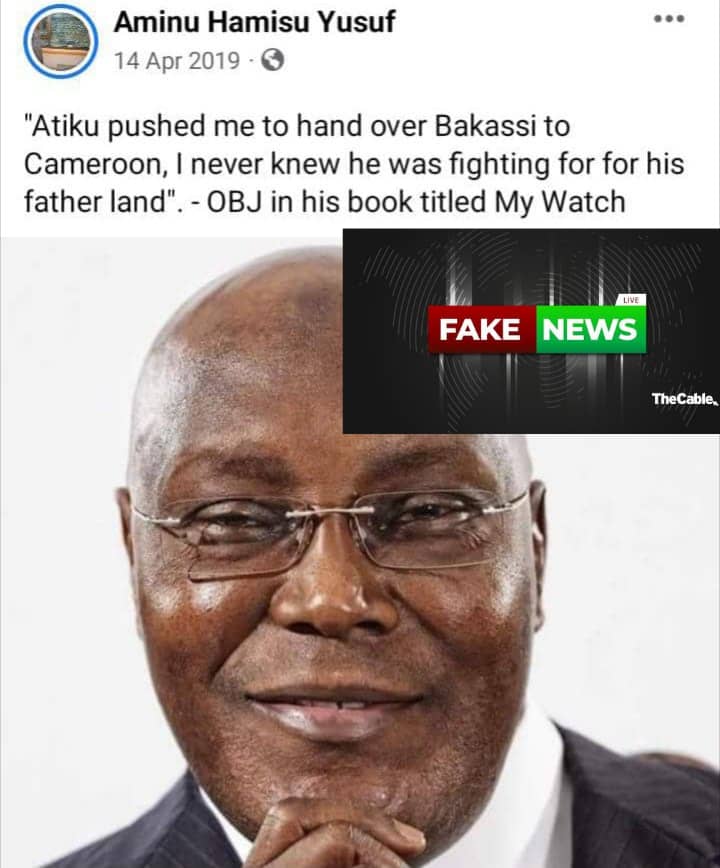 A viral post on social media has claimed Olusegun Obasanjo, former president, said he was forced by Atiku Abubakar to hand over Bakassi to Cameroon.
Atiku was the vice-president when Obasanjo was in power from 1999 to 2007.
The former president and Atiku engaged in a running battle towards the end of their tenure.
"Atiku pushed me to hand over Bakassi to Cameroon. I never knew he was fighting for his father land," the viral statement read.
The post, which has been in circulation for over three years, has been reposted and shared by multiple blogs and users on Twitter, Facebook and other social media platforms.
Aminu Hamisu Yusuf, a Facebook user who shared the statement, added that Obasanjo made the statement in 'My Watch', his three-volume memoir published in 2014.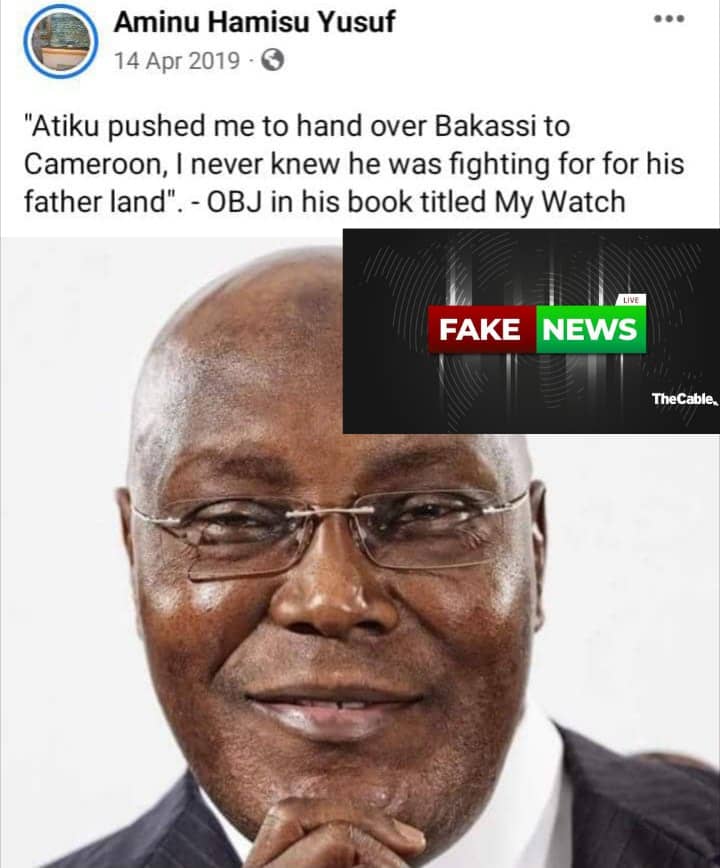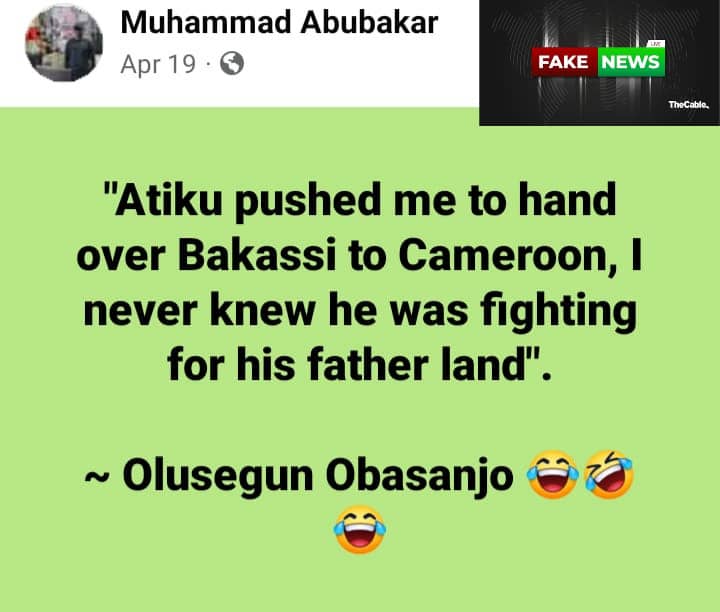 Buharist Reporters, a Facebook page with over 200,000 followers, posted the statement in 2019.
The post has gathered over 483 shares and 60 comments. It has also generated different reactions from social media users.
On April 17, another Facebook group with over 3,000 followers posted the statement on its timeline.
Success Idowu, a Twitter user, had also shared the post in 2019. 
"Atiku pushed me to hand over Bakassi to Cameroon, I never knew he was fighting for for his father land".
👇
Obasanjo .

— Success Idowu (@idowu553) April 13, 2019
Atiku pushed me to hand over Bakassi to Cameroon, I never knew he was fighting for his fatherland".

Obasanjo. 🤣🤣🤣🤣🤣🤣🤣🤣🤣🤣🤣🤣🤣🤣🤣🤣🤣🤣🤣🤣🤣🤣🤣🤣🤣🤣🤣🤣🤣🤣🤣🤣🤣🤣🤣🤣🤣🤣🤣🤣🤣🤣🤣🤣🤣🤣🤣🤣

— RITA ADUBA juris doctorate (@RitaAdubaBlog) April 13, 2019
JUST NEGODU
"Atiku Abubakar pushed me to hand over Bakassi to Cameroon"
👇
Olusegun Obasanjo pic.twitter.com/KnG9Ff4u6z

— The Pigo Hedliger (@OfficialPigo) April 15, 2021
VERIFICATION
In the second book of the trilogy where Obasanjo was said to have made the statement, the former president dedicated chapter 40 to detailing and explaining the circumstances that led to the handover of Bakassi to Cameroon.
The chapter, titled 'Conflict Resolutions: Bakassi', started on page 279 and ended on page 301, wherein the former president started with a speech by Donald Duke, former governor of Cross River. The speech detailed the effort of Obasanjo's administration at the International Court of Justice over the Bakassi case against Cameroon.
The Nigerian legal team led by Richard Akinjide and the firm of DJ Freeman, had assured Obasanjo that Nigeria was "more than likely to succeed" in the case; but ultimately, Nigeria lost Bakassi to Cameroon in 2002 at the ICJ.
The court had upheld the Anglo-German treaty of 1913 which ceded the Bakassi peninsula to Germany, which was in control of Cameroon at the time.
"Despite several diplomatic shuttles, high legal fees, assurances from high places and all, we lost," Donald Duke was quoted to have said.
In that chapter of the book, there was no mention of Atiku in the discussion relating to Bakassi.
However, a previous chapter titled "Atiku and US justice entanglement" recorded the alleged discrepancies of the former vice-president in a telecommunication deal with iGate, a US technology firm, which eventually led to the incarceration of William J. Jefferson, US congressman.
A thorough search of online resources shows no credible media platform has reported the claim attributed to the former president.
TheCable reached out to Kehinde Akinyemi, Obasanjo's spokesman, but he declined comment on the statement.
VERDICT
The claim that Obasanjo said he was forced by Atiku to cede Bakassi  to Cameroon is false.
Source: Fact Check
You might also like
---
More from Fact Check
---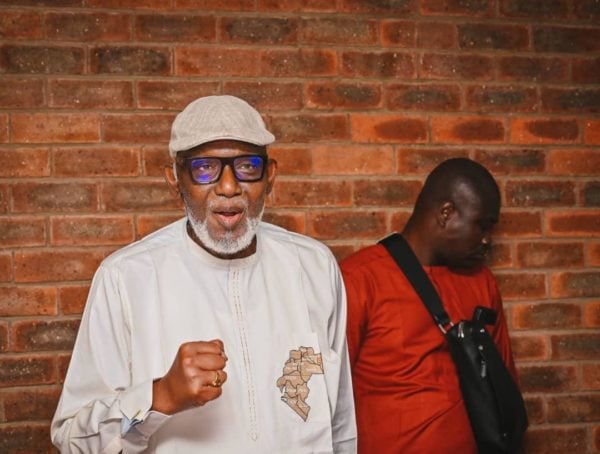 575
Rotimi Akeredolu, governor of Ondo, has officially resumed duty after a three-month medical vacation in Germany. On Thursday, Akeredolu returned to …
President Bola Tinubu says he will do everything within his constitutional powers to ensure that the Nigerian military is well-resourced …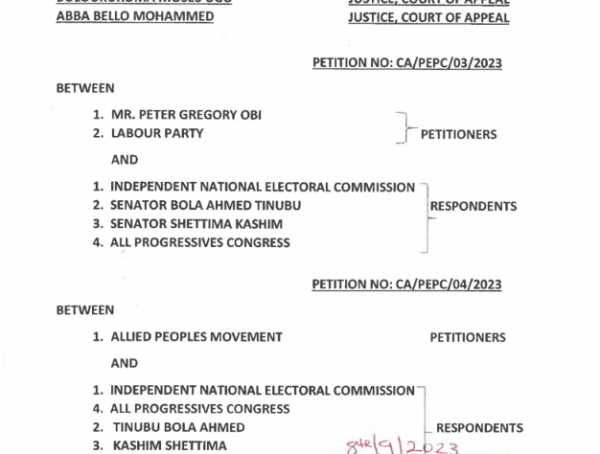 579
On Wednesday, the presidential election petitions tribunal affirmed the victory of Bola Tinubu as the duly elected president of the …
Editor Picks
---