On Wednesday, some news platforms and blogs reported that Mahmood Yakubu, chairman of the Independent National Electoral Commission (INEC), said 45% of permanent voter cards (PVCs) are invalid. 

Instablog9ja had reported the story on Instagram. The post has garnered over 9,000 likes and 1,000 comments.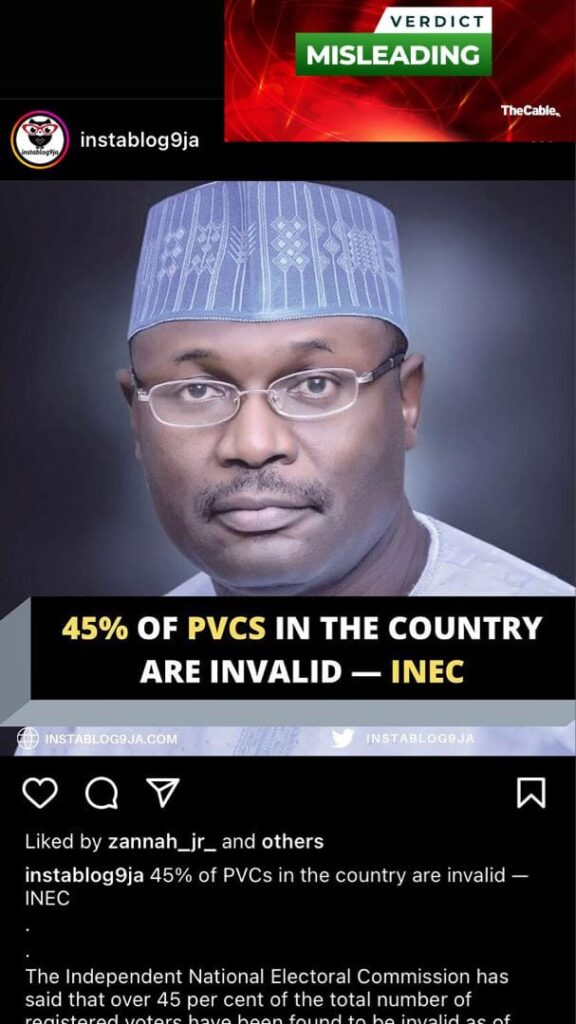 Another news website, conclaveng, published a similar report, stating that "the 2023 general election is threatened".

These reports have now gone viral on social media, prompting reactions from Nigerians as many accused the government of foul play.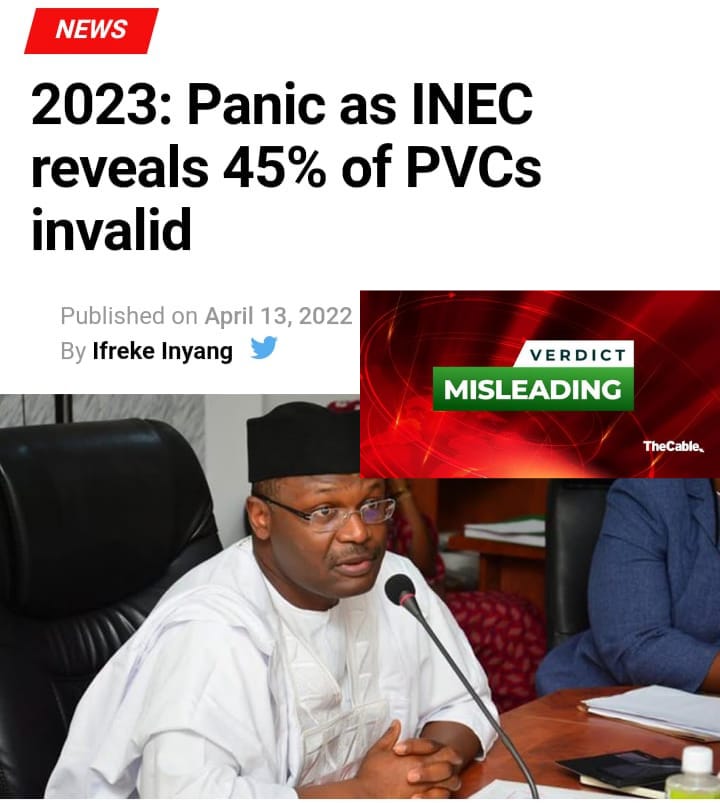 Majority of the invalid PVC are from the south, Bayelsa has over 88,000 invalid while Kano, Kastina and Kaduna does not have up to 100k invalid PVC. Rigging has started shine your eyes Southern Youths

— Richard Ozili (@RichardOzili) April 14, 2022
@inecnigeria declaring thousands of PVCs invalid just before elections, this is funny to me..

— RoyalNaija (@royalnaija) April 14, 2022
We know which part of the country the most invalid PVCs will be;the south 🤣

— Supernova (@Hagalgalim) April 14, 2022
If 45% of PVCs are invalid then where is the credible election gonna come from … tueh 🤷‍♂️

— #Banuso (@konis_v) April 13, 2022
I won't be suprised if all the invalid PVCs are from the South. https://t.co/mzPSx3Yw85

— Mandroid (@Bigbounce01) April 14, 2022


BUT DID INEC CHAIRMAN SAY 45% OF PVCs ARE INVALID?

Speaking on Wednesday at a media briefing in Abuja, the INEC chairman said the purpose of the presser was to inform the nation of the outcome of the first and second quarters of the continuous voter registration (CVR) exercise.

In June, the commission had begun the CVR so that Nigerians could register to get their PVCs.

According to INEC, the first and second quarters of the ongoing CVR exercise lasted from June 2021 to December 2021.

The chairman said the commission discovered invalid registrations during the clean-up of data for registrations completed within this period, citing multiple registrations and incomplete data as the reasons for the invalid voter registrations.

"It seems that many registrants, either out of ignorance that they do not need to re-register if they had done so before, or a belief that our systems will not detect this infraction, have gone out to register again. This is despite repeated warnings by the commission against this illegal action," the INEC chairman said.

"In addition, there are also registrants whose data were incomplete and did not meet our business rules for inclusion in the register.

"Presently, nearly 45% of completed registrations nationwide are invalid, rising to as high as 60% or more in some states.

"This infraction happened in all states of the federation. No state is immune from it. These invalid registrations will not be included in the register of voters. This development is worrisome because of the time and resources expended in handling these cases."

The chairman was strictly referring to new voter registrations during the first and second quarters of the CVR exercise, which has nothing to do with current holders of PVCs.

Also, according to data made available to journalists at the briefing, as of January 14, about 2,523,458 Nigerians had completed their voter registration. Out of this number, 1,126,359, representing about 45 per cent, were found by the commission to be invalid.

VERDICT

The claim that the INEC chairman said 45 percent of PVCs in Nigeria are invalid is false and misleading.
Source: Fact Check
You might also like
---
More from On the Go
---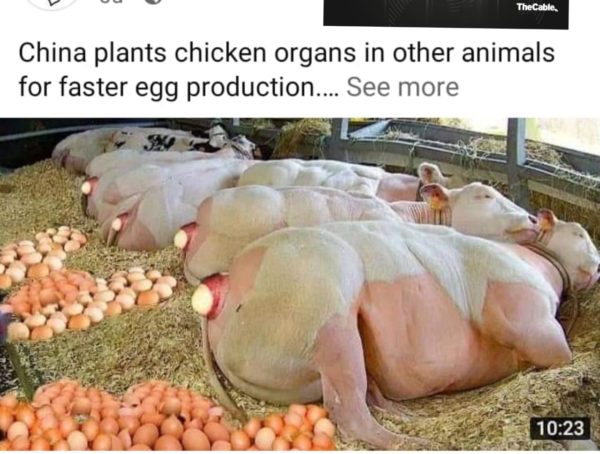 102
Recently, an image showing cows laying eggs has been circulating online. The caption accompanying the image says China has implanted chicken …
Editor Picks
---