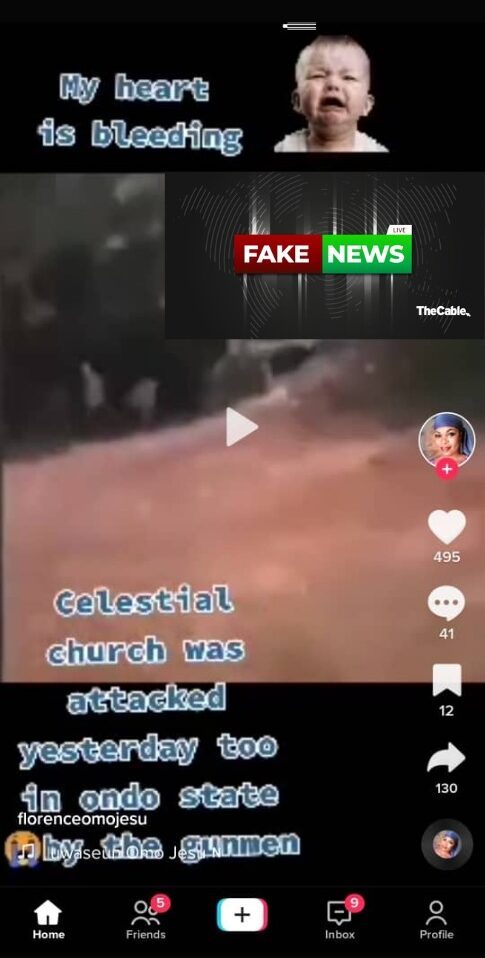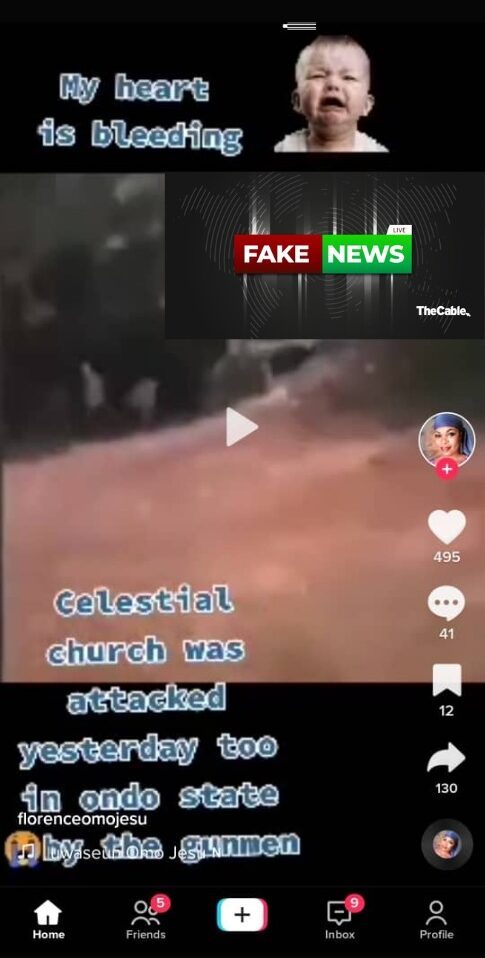 A video circulating on social media claims that gunmen attacked a Celestial church in Owo, Ondo state.

"My heart is bleeding, Celestial church was attacked yesterday too in Ondo state by gunmen," reads the caption of a short video posted by Florence Omojesu, a TikTok user, a day after the Catholic church attack.


The video started circulating online after the attack that claimed the lives of churchgoers in Owo on Sunday, June 5.

"Another Fulani attack in a Celestial church in Akure," reads the caption of another TikTok video, posted by one Ebenezer Anu, as shared on WhatsApp.


The 13-second video captures a building painted in white and blue. It also shows women and children dressed in white flowing religious gowns and caps.

In the footage, a woman can be seen carrying a child by her side, yet holding another by the hand, even as they scramble to safety. 

A female voice screaming in Yoruba language, "we can't go home, where can we hide?  Jesus!" can be heard in the background of the video which depicts pandemonium.

On  Facebook, the video gathered over 8,100 views. It was also posted on Twitter.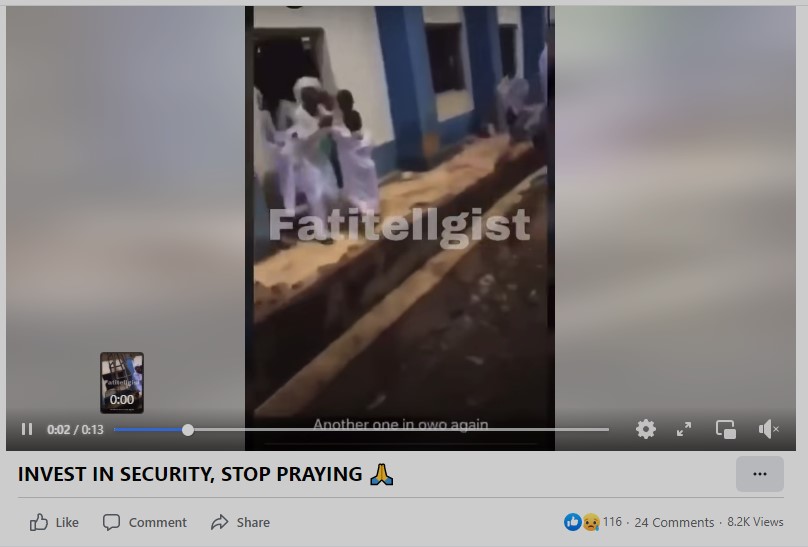 Background. 

On Sunday, June 5, St. Francis Catholic Church in Owo LGA of Ondo state was attacked by gunmen. 

The accident left many dead and several others injured. 

Children were also killed in the attack that took place on the church premises. 

On Jue 17, a mass burial was conducted for the 40 worshippers killed in the attack.

Verification

TheCable contacted Fumilayo Odunlami, police public relations officer in Ondo, to confirm the alleged attack on Celestial church in Owo. 

"The Ondo state police command is not aware of any attack on a Celestial Church in Owo," she said.

Our fact-check team searched through the social media pages of Celestial church parishes in Owo. We reached out to the leadership of Parish 1 and 2, and they both established that the video was recently recorded in Celestial Church of Christ, Parish 2, Owo. 

 However, no attack was recorded. 

According to Joseph Oluwasegun, the shepherd of Celestial Church of Christ, Owo, Parish 2.  He said: "Fear gripped members of the Church as they ran helter-skelter during service on Sunday, June 5, 2022, as a result of the gunshot they heard from St. Francis Catholic Church."

Prior to the sound of the gunshots, he said the Church was in the mood for celebration as it was a day for Juvenile Harvest Celebration across Celestial churches in the world.

He confirmed that the Church wasn't attacked by gunmen and that every member of the Church is safe.

Verdict

The video of the Celestial church worshippers was actually filmed in Owo on June 5. The claim that the church was attacked is false. 

 
Source: Fact Check
You might also like
---
More from 58962
---
Peter Obi, the presidential candidate of the Labour Party (LP), recently claimed the Eastern Security Network (ESN) was formed by …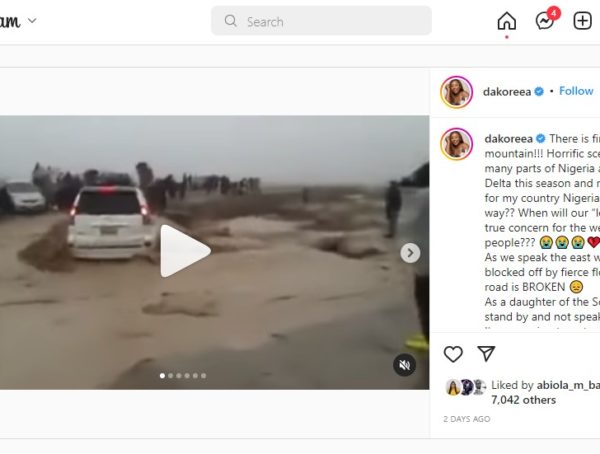 253
Dakore Egbuson-Akande, a Nollywood actress, recently posted videos on her Instagram account showing heavily flooded areas allegedly in the Niger …
A social media post claims that masturbation is one of the primary causes of hair loss in men.  The post which …
Editor Picks
---