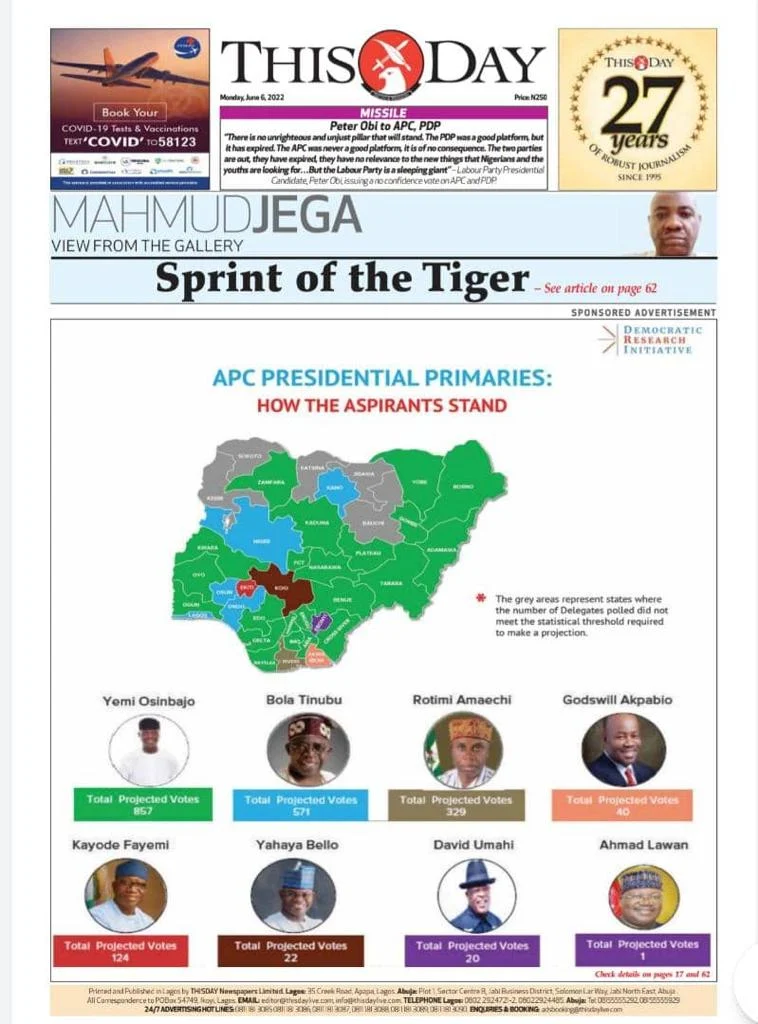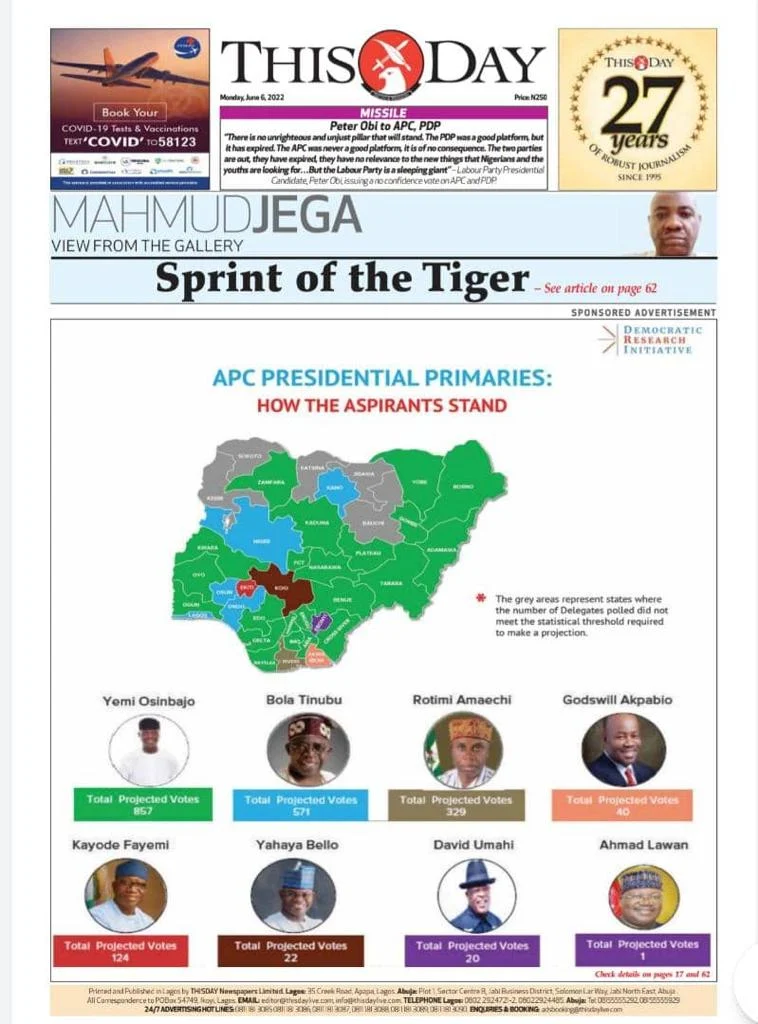 On Monday, Nigerians woke up to adverts in Daily Trust and THISDAY, among other newspapers, announcing that Vice-President Yemi Osinbajo was going to win the presidential ticket of the All Progressives Congress (APC) with 857 delegate votes.

A previously unknown organisation, named Democratic Research Initiative (DRI), said it had polled over 1,200 of the expected 2,322 delegates and had adopted a "stratified sampling technique" to arrive at its conclusions.

Although it described itself as a "respected research and strategy institution", there was no contact address on the advert and all internet searches returned blank: no website, no Twitter handle, no phone number, no e-mail or physical address.

The DRI projected that Bola Tinubu, the former governor of Lagos, would get 571 votes in the primary election.

Other projections were: Rotimi Amaechi, 329; Godswill Akpabio, 40; Kayode Fayemi, 124; David Umahi 20; and Ahmad Lawan, one.

Yahaya Bello, the governor of Kogi state, was allocated 22 votes by the DRI.

In real life, Osinbajo placed third with 235 votes — about 1,000 votes less than what Tinubu garnered and 640 votes less than the "respected research and strategy institution" projected.

Although it allocated one vote to Lawan, the senate president scored 152.

However, Ameachi got less votes than projected — 316 as against 329.


How did 'DRI' fare?
| Candidate | "DRI" poll | Actual Result |
| --- | --- | --- |
| Tinubu | 571 | 1,271 |
| Amaechi | 329 | 316 |
| Lawan | 1 | 152 |
| Osinbajo | 875 | 235 |
| Bello | 22 | 47 |
| Umahi | 20 | 38 |
| Fayemi | 124 | Withdrew |
| Akpabio | 40 | Withdrew |

Source: Top Stories
You might also like
---
More from Top Stories
---
Afolabi Ghandi Olaoye, a pastor with the Redeemed Christian Church of God (RCCG), has been installed as the new Soun …
Ishaq Salako, minister of state for environment, says Nigeria is determined to advance climate action without jeopardising its economic growth. Salako …
Tony Elumelu, the group chairman of Heirs Holdings, has urged the Indian private sector to invest in Nigeria, stating that …
Editor Picks
---