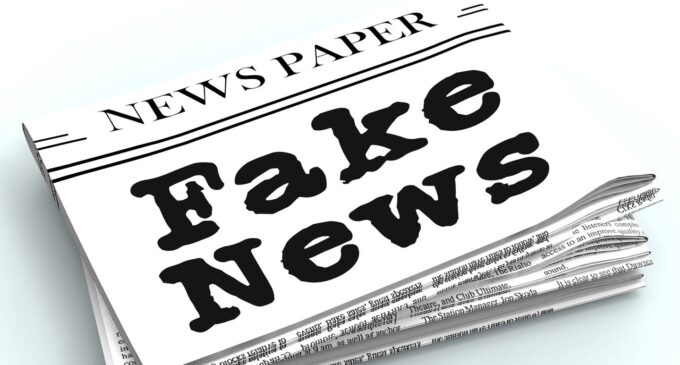 It's a few hours to the general elections in Nigeria and the disinformation campaign has become rife both online and offline. With the information overload on social media, Nigerians are battling with what is true or not.
Many of these political candidates also enjoy great followership on social media, which serves as a primary source of information for many. 
Disinformation has become a tool for political propaganda with the goal of swaying the electorate. Disinformation peddlers are resorting to tactics such as distorting quotes, fabricating statements and altering videos to mislead the public. They do this by taking comments out of context or selectively editing them, to either tarnish the reputation of their political rivals or to falsely promote their preferred candidates and increase their popularity.
Readers who have no idea about verification believe whatever they see hook, line and sinker.
DEMARKETING DISINFORMATION
On January 19, a tweet by an account named  APC presidential campaign council accused Peter Obi, presidential candidate of the Labour Party (LP), of being "a merchant of fake news". The account uploaded a video alongside the tweet to justify its accusation and further went on to upload a video by @FRANCE24, an international news medium, to bolster its claim.
The post was retweeted 721 times with 1,331 likes.  
The APC presidential campaign council account wrote: "Even foreign media are confirming that Peter Obi is a merchant on fake news: @FRANCE24".
The claim was shared earlier by an account named @AdeBashh on October 19, 2022.
The claim originated from a TikTok video that has now been deleted. The video claimed that Obi on October 17, 2022, at an interactive meeting with Arewa Joint Committee in Kaduna, Obi said he pulled 439 million Nigerians out of poverty when he was governor of Anambra state.
"In his usual ways of making false claims and lying effortlessly. Peter Obi is here again claiming he pulled 439 million people out of poverty. Obidients, is this your new order?" the first tweet read.
However, checks by TheCable showed that the @FRANCE24 video, uploaded by the APC campaign council account was discussing how there has been a rise of fake news in Nigeria ahead of the presidential election and how Obi has been a victim of fake news.
Firstly, Obi was governor of Anambra between 2007-2014. As of that time, the population of Nigeria was 176.4 million according to data from the Country's Economy. As of 2022, Nigeria's population was estimated at around 216.7 million.
Further checks showed that the video was manipulated and doctored. In the real video, Obi was talking about how China's adoption of the Millenium Development Goal (MDG) lifted 439 million citizens out of poverty in the Asian country.
"It was MDGs that China mainstreamed into their development agenda and was able to pull 439 million people out of poverty. It was MDG India mainstreamed into their development agenda and pulled 269 million people out of poverty. That is what Vietnam used to pull over 45 million people out of poverty" Obi had said during the meeting.
But the account conveniently posted a part of the FRANCE24 video that played for 2 minutes, and 19 seconds, leaving out the concluding part.
Despite the complete video, the account still tried to discredit Obi.
FAKE INEC STATEMENT
In November, some media organisations in Nigeria also fell prey to the disinformation campaign.
A statement purportedly from the Independent National Electoral Commission (INEC) was shared on social media, saying it was investigating a money laundering allegation against Bola Tinubu, presidential candidate of the All Progressives Congress (APC).
The statement titled, 'Certified True Copy of Order of Criminal Forfeiture against APC Presidential Candidate Bola Ahmed Tinubu in the United States' had INEC's letterhead and was allegedly signed by Festus Okoye, INEC's national commissioner for information and voter education.
The statement claimed that INEC was investigating Tinubu over a controversial forfeiture he made in 1993 to the U.S. government when he was being investigated for alleged links to a drug network.
The alleged statement said the commission was liaising with the Northern Illinois District Court to establish more facts about the case before taking a decision.
The fake statement had been shared far and wide before INEC debunked it.
The electoral body dismissed the statement, explaining that the press release did not emanate from INEC and that it was the handiwork of mischief makers. 
EL-RUFAI WAS MISQUOTED
In the same month (November 19), Dele Momodu, publisher of Ovation Magazine, and director of strategic communications for the Peoples Democratic Party (PDP) campaign posted a video of Nasir el-Rufai, governor of Kaduna state, speaking in Hausa on his Instagram page.
In the video, el-Rufai reportedly said Tinubu's health is failing and that he should step aside and allow younger and fit candidates to run for the presidency. 
"El-Rufai on Tinubu: When you get to a certain age, you should thank God and leave others to continue. Since they said it must be Tinubu, we are watching. His energy is failing from what I saw of him when we were together the day before yesterday," the translation of the video allegedly read.
The Instagram post currently has 4672 likes, and 530 comments and has been viewed 133,341 times.
Reno Omokri, a former special adviser to ex-president Goodluck Jonathan, also posted a shorter version of the same footage on Twitter with the caption, "English version of el-Rufai video telling Tinubu he is not fit to be president!".
The Twitter post has 9,932 views and 88 retweets.
With the aid of the InVid verification tool, TheCable traced the video footage to a 56 minutes Facebook live broadcast held by el-Rufai on July 27, 2022, where the governor was responding to questions from journalists during a media chat.
The transcript of the video showed that el-Rufai never made such a claim in the live broadcast he held on July 27, 2022.
The Kaduna governor was talking about himself and expressing his feelings on his personal retirement plans and not Tinubu's presidential ambition.
"Before the primaries, I told Tinubu clearly, because he told me he wants me to help him and I said to him, we will surely help you but know that I don't want anything because I'm tired," el-Rufai said in the video.
"I thank God for everything. I told him the work I've done is enough, but he said it's not enough that I'm not tired, and we will talk about it again. So, I told him, we should continue dragging, but I won't do it, I don't want any position.
"Any work you want me to do, there are young people that have worked together with me, who are knowledgeable, hardworking who I can recommend and are fit to do the job.
"There are youths in the Kaduna state government, commissioners who if you give them a job to do, they will deliver as if I was the one who did it. So, why should I be taking young people's jobs when I'm getting old?
"I'm 62 this year and I'll soon be 63. Even our beloved Prophet Muhammad (PBUH) left this world at the age of 63.
"If you reach that age, you should be grateful to God and leave because you are becoming weak. This is what I think, but some people don't agree with it, even Asiwaju doesn't agree.  We are arguing with him, even the day before yesterday, we argued over the matter with him and we will continue to discuss the matter".
In a similar post,  a tweet by the account named Peter Obi Grassroots Mobilization claimed that APC members are against the Muslim-Muslim ticket.
"BREAKING: Our worst mistake of APC is Muslim-Muslim Ticket and having Tinubu as it flag bearer for 2023 general election — APC Members," the tweet read.
The post was retweeted 1,072 times and received 3,321 likes.
Although a number of the APC members, individually, have come out to condemn the same faith ticket, at no point did the party, as a whole, condemn the ticket.
The quote was unverifiable and no credible medium reported it.
FAKE PICTURE OF TINUBU AND BIDEN
In November, a picture of Tinubu on a visit to President Joe Biden at the White House went viral.
The picture was shared amid speculations that the APC presidential candidate could not travel to the US due to his alleged link to drug peddling.
Bayo Onanuga, his spokesperson, said the picture was fake and that his principal was currently in Abuja at that time.
He accused the PDP of being behind the fake picture, saying, "it is the latest in the series of misinformation being dished out by the political opposition".
Checks by TheCable also showed that the picture was photoshopped.
LABOUR PARTY DENIES GIVING CAN THE SUM OF N2 BILLION 
A claim that the Christian Association of Nigeria (CAN) received the sum of N2 billion from Peter Obi, presidential candidate of the Labour Party (LP),  for churches under the umbrella of CAN recently surfaced online.
A certain petition making the rounds on social media claimed that Obi gave N2 billion to churches through CAN to help mobilize their congregation to vote for him.
The claim was made in a petition by one Dominion Centre International in Owerri, Imo state, and addressed to the Christian body. 
The petition was signed by one Pastor Frank Onwumere on behalf of the said church.
The petition claimed that the N2bn was given to the church by the Labour Party to "help and assist in mobilizing and convincing their congregation to vote massively for the candidacy of Mr Peter Obi". 
The church accused CAN of misappropriating the money and refusing to "disburse transparently".
However, the Labour Party and CAN have both refuted the claim.
---
This article was produced with mentorship from the African Academy for Open Source Investigations (AAOSI), to tackle disinformation that undermines our democracies, as part of an initiative by the International Centre for Journalists (ICFJ) and Code for Africa (CfA). Visit https://disinfo.africa/ for more information.
More from Top Stories
---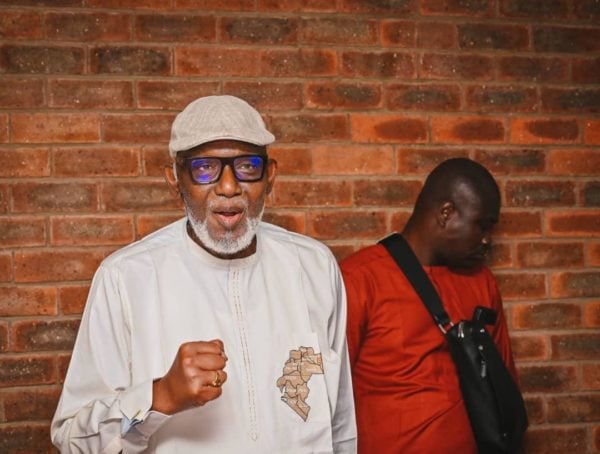 575
Rotimi Akeredolu, governor of Ondo, has officially resumed duty after a three-month medical vacation in Germany. On Thursday, Akeredolu returned to …
President Bola Tinubu says he will do everything within his constitutional powers to ensure that the Nigerian military is well-resourced …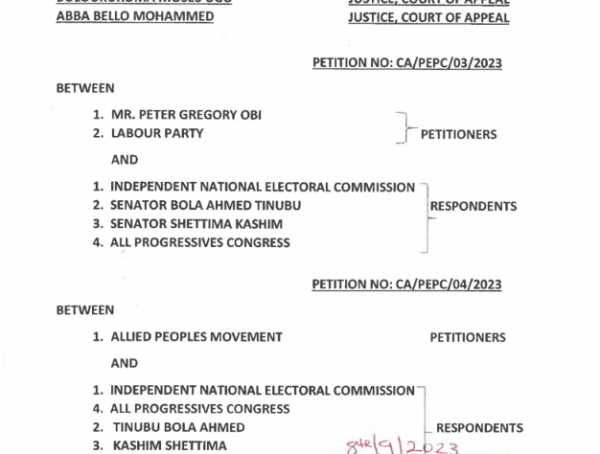 579
On Wednesday, the presidential election petitions tribunal affirmed the victory of Bola Tinubu as the duly elected president of the …
Editor Picks
---