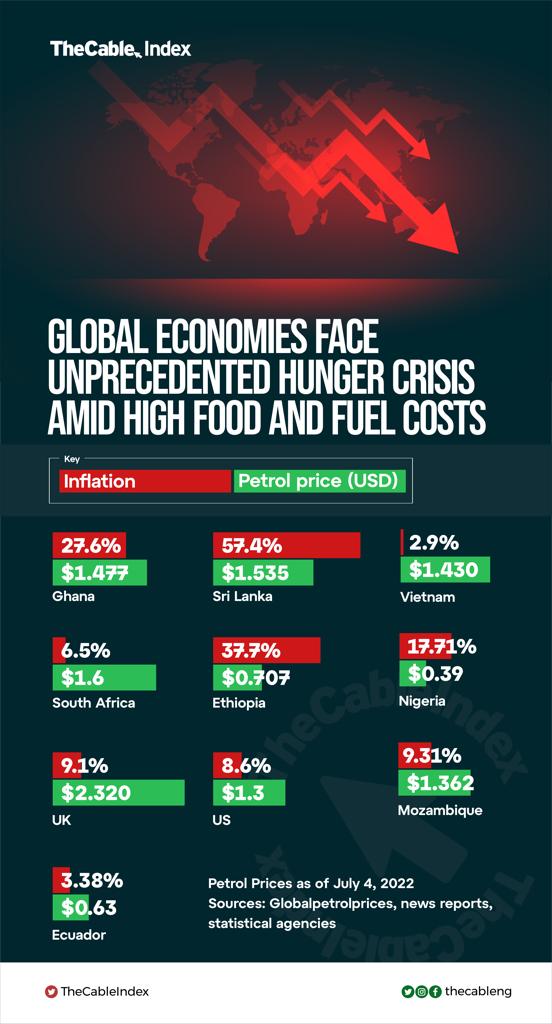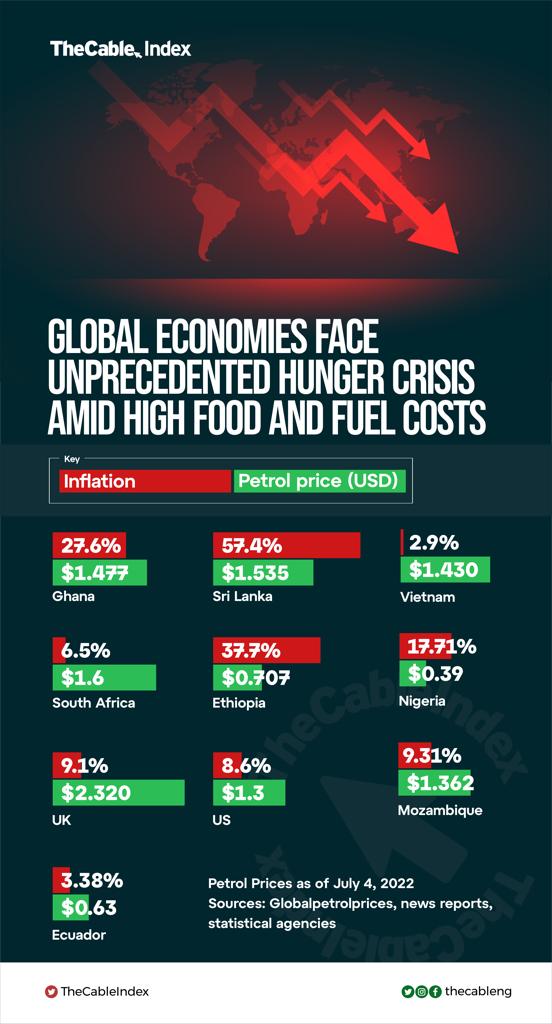 The Russia-Ukraine crisis is producing alarming cascading effects on the world economy already battered by COVID-19 — resulting in rising energy and food costs.

A new report by the United Nations Development Programme (UNDP) said 71 million more people globally are experiencing poverty due to soaring food and energy prices that climbed in the weeks following Russia's invasion of Ukraine.

According to the report, an estimated 51.6 million more people fell into poverty in the first three months after the war, living off $1.90 a day or less.

UNDP said the development pushed the total number globally at this threshold to 9 percent of the world's population, adding that an additional 20 million people fell to the poverty line of $3.20 per day.

Affected the most are families in low-income countries who were already spending 42 percent of their household incomes on food before sanctions on Russia multiplied and the price of fuel and staple food items like wheat, sugar and cooking oil soared.

"Poverty and hunger have increased, and hundreds of millions of people are facing greater challenges to their well-being — from poorer physical and mental health to reduced incomes, to more violence and less education," the report said in part.

It identified trade barriers — blocked ports, shrinking supply chains — among negative outcomes of the war, pushing tens of millions quickly into poverty.

The report added that Haiti, Argentina, Egypt, Iraq, Turkey, Philippines, Rwanda, and Sudan are among the hardest hit country by inflation.

Others include Ghana, Kenya, Sri Lanka, Uzbekistan, Afghanistan, Ethiopia, Mali, Nigeria, and Yemen.


NIGERIA

Africa's largest economy and oil producer, Nigeria, which also subsidised the cost of petrol, is battling high global oil prices — which has increased the cost of subsidy — due to non-functional refineries. Fuel scarcity is becoming a norm in the country.

While its citizenry has continued to endure the pervasive high cost of living on different coping mechanisms, their counterparts in other nations are not taking things too nicely with their governments.

Although petrol price is officially pegged at N165 per litre, Nigeria's inflation rate rose to 17.71 percent in May 2022.

ETHIOPIA

Last week, fuel shortages went up a notch at filling stations in Ethiopia, as motorists endured long hours to refill. Motorists in Addis Ababa, the country's capital, were seen waiting as long as eight hours to get the product.

The government had planned to stop subsidising petrol and diesel amid soaring oil prices globally. But the fuel crisis has persisted, as commuters were said to be seen waiting for hours before they could get rides.

"I have never seen such kind of diesel shortage before," Kafiya Seid, a motorist, had told Bloomberg in Addis Ababa.

The country is battling a surge in food inflation. 

Inflation rose to 37.2 percent year-on-year in May from 36.6 percent in April, the country's Central Statistics Agency said in a report.

Tadesse Hailemariam, the chief executive officer of the Ethiopian Petroleum Supply Enterprise, said the crisis in the country, which also faces a shortage of foreign currency, has been exacerbated by marketers hoarding the product in anticipation of higher prices.

GHANA

Last week, the government of Ghana started talks with the International Monetary Fund (IMF) to support its economic programmes to hasten the country's recovery from challenges caused by the pandemic.

TheCable had reported that the decision was a move to salvage the country's economy after hundreds of citizens took to the streets to demonstrate against price hikes, a tax on electronic payments, and other levies amid an economic downturn.

Ghana recorded a slow growth of 3.3 percent year on year in the first quarter of 2022, and inflation hit a record of 27.6 percent in May.

SRI LANKA

Since March this year, Sri Lanka has been gripped by an economic crisis. Severe protests have sparked political unrest leading to the resignation of President Gotabaya Rajapaksa's brother Mahinda Rajapaksa from the prime minister's post in May.

In the same month, the food inflation stood at 57.4 percent amid shortages in key food items, fuel for cooking, with ongoing daily power outages.

On July 9, 2022, escalated protest saw citizens taking siege of the presidential palace, thereby, forcing President Rajapaksa to announce his decision to resign on July 13.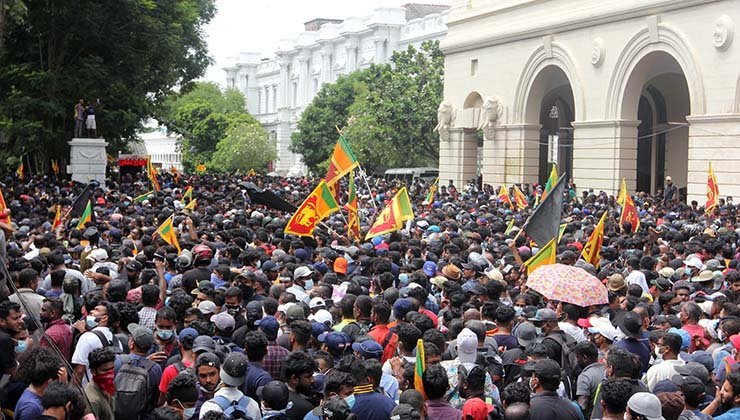 SOUTH AFRICA

South African citizens plan to embark on a nationwide protest that may ground all national activities in the country. A litre of fuel sells at R23.845 (about $1.39/litre). The price is around 40 percent more expensive than last year, resulting in criticism of President Cyril Ramaphosa's government.

The country's annual inflation accelerated to 6.5 percent in May, from 5.9 percent a month prior, Statistics South Africa said in a statement. It was also the highest level since January 2017.

VIETNAM

According to Seafoodsource, an online platform, half of Vietnam's fishing boats are stranded ashore due to rising fuel costs.

The price of diesel, the fuel used by the country's fishing sector, soared 65 percent from VND 17,579 ($0.76) per litre in December 2021 to VND 29,020 ($1.25) per litre in June 2022. The implication is that fishing vessels in the country are paying an additional VND 3.78 trillion ($162.5 million) per month due to the fuel price spike.

The fuel price hike has also led to an increase in the price of other commodities and services.

Vietnam's inflation rate picked up to 2.9 percent in May 2022, from April's 2.6 percent. This was the highest inflation rate since May 2021.

MOZAMBIQUE

Last week, hundreds of residents took to the streets of Maputo, the country's capital, to protest against the rise in fuel prices. The development occurred days after the government announced a spike in the prices of petroleum products.

The new price list saw a litre of gasoline at 86.97 meticais ($1.34) from the previous 83.30 meticais. A litre of kerosene has risen from 71.48 to 75.58 meticais, and the price of diesel rose from 78.97 to 87.97 meticais per litre.

Cooking gas now costs 102.02 meticais ($1.57) per kilogram against the previous cost of 85.53.

The country's annual inflation (1 June 2021 to 31 May 2022) was 9.31 percent — up from 7.9 per cent in April and 6.67 per cent in March.

A further increase could ruin the government's plan to keep rates at single-digit.

ECUADOR

Protests over food and fuel prices paralysed Ecuador for almost two weeks in June, threatening to unseat conservative president Guillermo Lasso. It also affected the country's oil production.

In response, Lasso vowed to cut 10 cents a gallon from both petrol and diesel prices.

Meanwhile, the annual inflation rate in Ecuador rose to 3.38 percent in May, 2022, the highest since December of 2015 and picking up from 2.89 percent in the prior month.

KENYA

In Kenya, hundreds of citizens, on Thursday, took to the streets of Nairobi to protest the high cost of living, saying the price of basic commodities, including cooking oil, wheat, and sugar, has doubled in recent weeks.

A litre of cooking oil costs an average of Sh407, up from Sh350 in April, while maize and wheat flour prices are now retailing from Sh230 per 2kg packet.

The protestors traversed Nairobi's Central Business District (CBD) and terminated their protests at the office of the President at Harambee's house.

"Our elected leaders have failed us, and Kenyans are going through so much, and that is why we are here to demand the reduction of prices for basic commodities," one of the activists had said.

Kenyans drawn from all walks of life hold protests to demand that the government brings down the cost of living. #SAbcnews pic.twitter.com/MVexUdbWDD

— Sarah Kimani (@sarahkimani) July 7, 2022


Cyrus Oguna, the government spokesperson, said the president was not to be blamed for the situation as he attributed it to the ongoing war between Russia and Ukraine.

"It is not fair to put this blame on one person, it is not the president. The war in Ukraine has made things difficult for nations across the globe," he said.

Granted that low-income nations are heavily affected, it would be foolery to think that advanced economies like the United States, United Kingdom, and Spain are spared.

According to Kenya's central bank, annual inflation rate in accelerated to 7.1 percent in May of 2022, from 6.5 percent in the previous month.

UNITED KINGDOM

The price of petrol in the UK has surged to a record 191.53 pence per litre, which equates to $8.78 a gallon — the highest among the five largest European economies.

The UK has been experiencing an energy crisis since January 2022, with households spending more of their income on energy.

A worsening crisis in April saw UK ministers move to provide relief packages to firms affected by increased energy prices.

With household energy bills projected to reach nearly £3,000 by October this year, the British authorities had hinted on plans to unveil a new energy master plan to ease surging prices of gas.

According to UK's Office for National Statistics, the inflation rates, which had continued on an upward trajectory, rose 9.1 percent in May 2022, making a 40-year new high.

SPAIN

Record levels of inflation and peaking fuel prices are the perfect recipes for social unrest as seen in recent months.

In March, lorry drivers, farmers and fishermen protested the high cost of living in Spain as energy prices soar. The action also led to industrial production stoppages.

Spain saw consumer prices surge to their highest level in almost 35 years, with inflation jumping to 7.6 percent in February, against a backdrop of soaring energy costs, worsened by the war in Ukraine.

Protesters had asked the government to "Rein in prices, protect jobs, stop the deterioration in living conditions".

However, the inflation rate further increased to 8.7 percent in May 2022, surpassing market expectations of 8.3 percent.

UNITED STATES

While protests have not erupted in the United States, the situation is no less different. The surge in gasoline prices fluctuates between $4 and $5, or even above $6 a gallon in some places. The prices are a record high, and Americans have been enduring the impact at the pump.

Diesel prices are also shooting up. Retail diesel prices recently hit an all-time high of $5.577 a gallon, up 76 percent over the past year.

It has led to skyrocketing inflation, enough to worry Jamie Dimon, JPMorgan Chase CEO, who warned of an economic hurricane some months ago.

The situation is also affecting jobs.

On June 22, about 600 workers at the second-largest aluminium mill in America, accounting for 20 percent of US supply, learned they were losing their jobs because the plant cannot afford an electricity tab that's tripled in a matter of months.

The global development has caused the Fed to aggressively increased interest rates to slow inflation, with the last increase being by 75 basis points in June after it increased rates by 50 points in May.

Despite the moves, inflation has maintained an upward trend at 8.6 percent in May 2022, the largest annual increase since December 1981.
Source: Top Stories
You might also like
---
More from Top Stories
---
Afolabi Ghandi Olaoye, a pastor with the Redeemed Christian Church of God (RCCG), has been installed as the new Soun …
Ishaq Salako, minister of state for environment, says Nigeria is determined to advance climate action without jeopardising its economic growth. Salako …
Tony Elumelu, the group chairman of Heirs Holdings, has urged the Indian private sector to invest in Nigeria, stating that …
Editor Picks
---