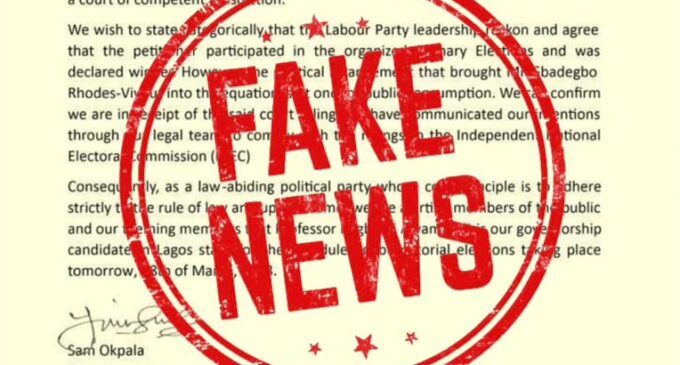 A circulating statement purportedly from the Labour Party (LP) claims that Ifagbemi Awamaridi is the valid gubernatorial candidate of the party in Lagos and not Gbadegbo Rhodes-Vivour.
In the letter, the party expressed concerns about the candidacy of Rhodes-Vivour, adding that the political arrangement that brought him into "the equation isn't one for public consumption."
According to the letter, Ifagbemi Awamaridi, a professor, is the candidate for LP in the gubernatorial election scheduled for March 18.
"We can confirm we are in receipt of the said court ruling and have communicated our intentions through our legal team to comply with the rulings to the Independent National Electoral Commission (INEC)," the letter reads.
"We wish to state categorically that the Labour Party leadership reckon and agree that the petitioner participated in the organized Primary Elections and was declared winner. 
"Consequently, as a law-abiding political party whose core principle is to adhere strictly to the rule of law and uphold same, we are alerting members of the public and our teeming members that Professor Ifagbemi Awamaridi is our governorship candidate in Lagos."
The letter has been broadly shared on Twitter and WhatsApp.
Labour Party in Lagos drops Gbadebo Chinedu as governorship candidate, announces Professor Ifagbemi Awamaridi as the court recognized candidate pic.twitter.com/zh7Qlp6MFc

— Bayo onanuga (@aonanuga1956) March 17, 2023
Speaking at a press briefing in Lagos on Thursday, Awamaridi, claimed that he became the authentic candidate of the party after he won the party's governorship primary in July 2022.
He added that the matter of his candidacy is before the supreme court.
However, Dayo Ekong, chairman of the Lagos LP, said Awamaridi is being used by the opposition to disrupt the party, insisting he is not the authentic candidate of the party.
In a response to TheCable, Yunusa Tanko, spokesperson of the LP campaign, said the statement is false. He added that the signatures of the Lagos party chairman and secretary appearing in the statement were forged.
"The orchestrators issued the statement a day to the election to cause tension and put us under pressure. This is forgery and it is a criminal offence," he said.
"This type of fake news was also created before the presidential election, where they said Peter Obi stepped down to join Atiku Abubakar.
"Also in almost all the states we are contesting, you'll hear that our candidate has stepped down, or has joined another party, which is fake. Why is nothing being done about it? Why are the people sharing it not arrested? Something needs to be done about this."
More from Top Stories
---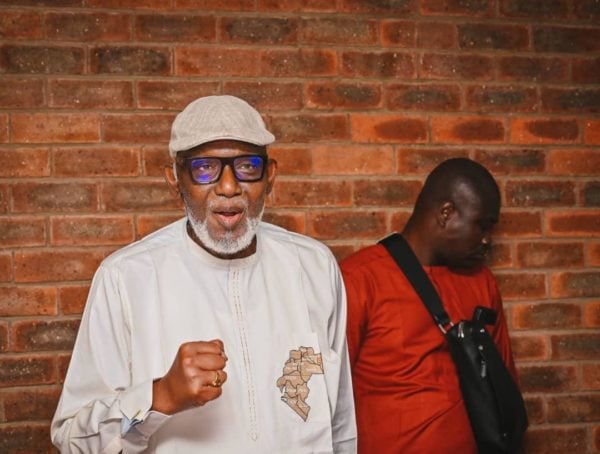 567
Rotimi Akeredolu, governor of Ondo, has officially resumed duty after a three-month medical vacation in Germany. On Thursday, Akeredolu returned to …
President Bola Tinubu says he will do everything within his constitutional powers to ensure that the Nigerian military is well-resourced …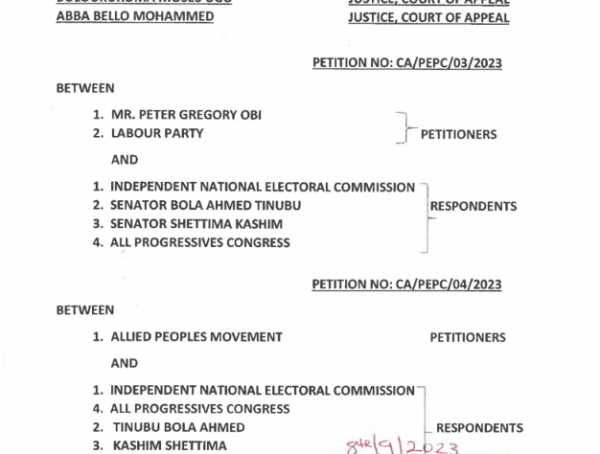 569
On Wednesday, the presidential election petitions tribunal affirmed the victory of Bola Tinubu as the duly elected president of the …
Editor Picks
---