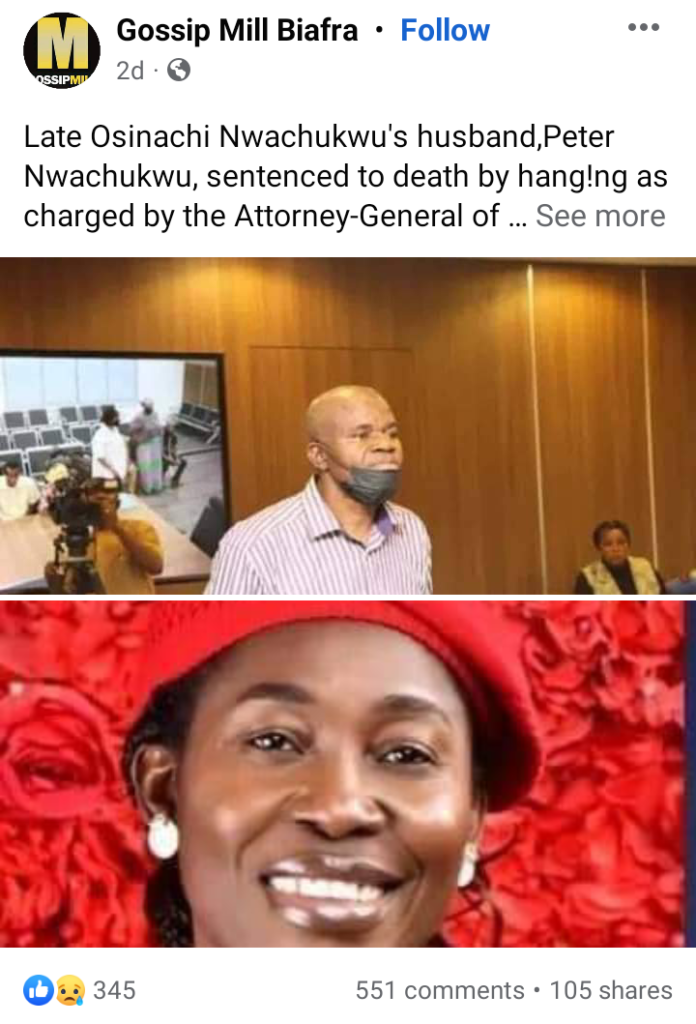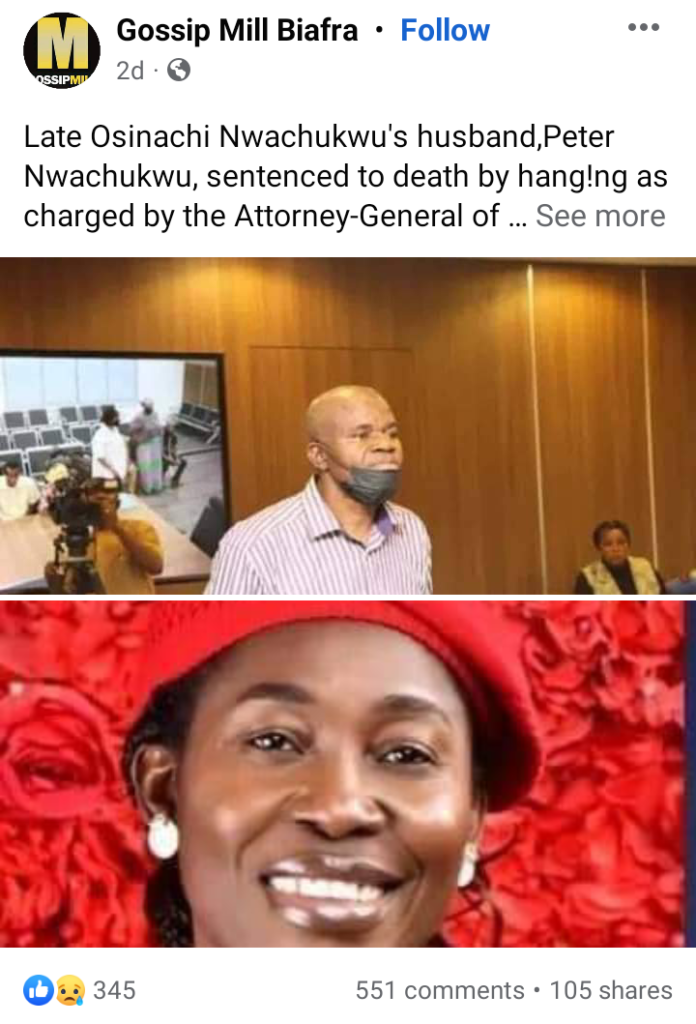 Over the past few days, multiple social media posts, especially on Facebook, had claimed that Peter Nwachukwu, husband of late Osinachi, popular gospel singer, has been sentenced to death by hanging. 

Osinachi, renowned for her hit song 'Ekwueme' was alleged to have been a silent victim of domestic assault from Peter.

The gospel singer, who passed away on April 8, was initially thought to have died of throat cancer. But associates claimed it may be connected to an assault by her husband who was later arrested.

Her death had stirred outrage, with many Nigerians calling on relevant authorities to ensure justice is served. The federal government had recently filed charges of culpable homicide against Peter before a high court in Abuja.

The charges were filed under sections 104 and 379 of the Administration of Criminal Justice Act 2015 and Section 221 of the Penal Code, and the Violence Against Persons Prohibition Act (VAPP).

However, some social media users had circulated a post claiming the court has sentenced Osinachi's husband to death. The post was widely shared on Facebook and Twitter.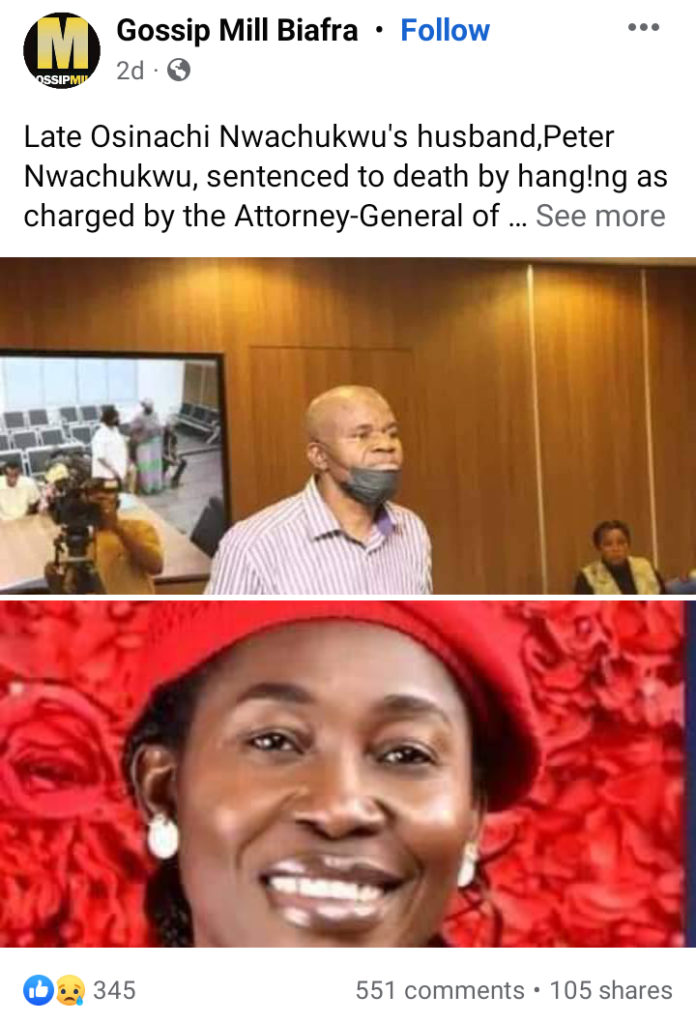 Gossip Mill Biafra, a Facebook page with over 58,000 followers, published the viral post. The post has generated over 550 comments and 100 shares, as many of the commenters commended the "judgement".

"Late Osinachi Nwachukwu's husband, Peter Nwachukwu, sentenced to death by hanging as charged by the attorney-general of the federation," the post read.

"The defendant was charged with culpable homicide contrary to section 221 of the Penal Code which is punishable with death by hanging."

Osinachi's husband Peter Nwachukwu sentenced to death by hanging 😣😱

Do you think he deserve such penalty??

— EZEJA PEROO🇳🇬𓃵 (@IfesinachiPete) May 31, 2022
Late Osinachi Nwachukwu's husband,Peter Nwachukwu, sentenced to death by hang!ng as charged by the Attorney-General of the Federation. pic.twitter.com/A1RPSaOu7u

— Mahama 2024 (@CitizenTechiman) May 29, 2022
JUST IN

Osinachi's husband has been sentenced to death by hanging.

— Mesyje (@Mesyje1) May 29, 2022


HAS OSINACHI'S HUSBAND BEEN SENTENCED?

In the Nigerian justice system, the court trial of an alleged offender usually takes different stages.

The stages include but are not limited to: arraignment, acceptance of plea, hearing, presentation of evidence, adoption of final written addresses, conviction and sentencing.

TheCable reviewed credible media reports published regarding Peter's case and findings showed that the federal government has only filed a 23-count charge against him, and he has not been arraigned in court.

VERDICT

The viral post of Osinachi's husband being sentenced to death by hanging is false.
Source: Fact Check
You might also like
---
More from Fact Check
---
Multiple social media reports claim that trees do not have any effect on mitigating climate change.  Citing carbon experts, the reports …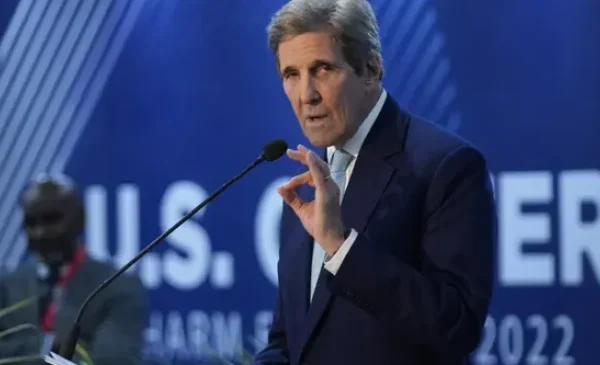 33
Viral social media posts claim John Kerry, United States special presidential envoy for climate, said the US would crack down …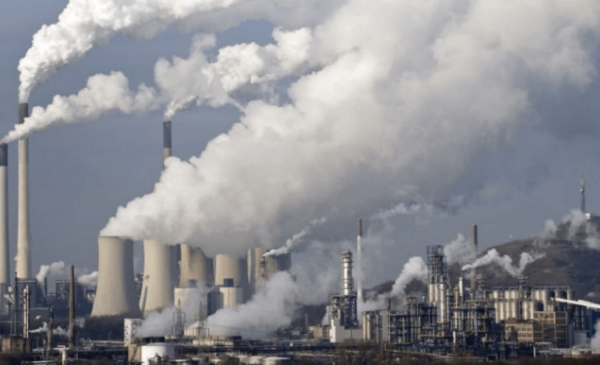 25
A report has claimed that carbon dioxide (CO2) is not a pollutant. According to the publication which labelled global warming a …
Editor Picks
---