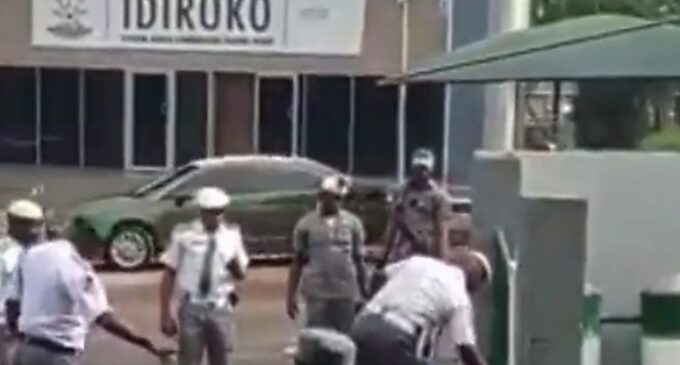 A video circulating on social media claims that the Idiroko border has been recently opened.
On Monday, a 21-second video showing customs officers performing a ceremonial reopening of the Idiroko border amid jubilation went viral on WhatsApp and other social media platforms.
Many who posted the video claimed that the border was reopened after the inauguration of President Bola Ahmed Tinubu.
The border is located in Ogun state.
In 2019, Muhammadu Buhari, former president, ordered that all land borders be shut as part of efforts to curb smuggling and aid the local production of rice in Nigeria.
A social media user posted the video on Twitter with the caption: "Idiroko border now opened by @officialABAT government. What was the reason for closure? Buhari was president. What is the reason for reopening? Tinubu is president! @PeterObi will bring clarity and needed change in direction."
VIDEO NOT RECENT, IT'S OVER A YEAR OLD
Multiple screenshots of the video were subjected to Google reverse image search, a digital tool used to discover the source of a picture and visually similar images from the internet.
Checks by TheCable revealed that the circulating footage has been on YouTube as far back as April 2022.
Also, a news report published in April 2022 showed that the border in Ogun state was reopened over a year ago.
"The Nigerian Customs Service (NCS) has reopened the Idiroko land border gates, two years after it was shut to prevent smugglers from bringing foreign parboiled rice into the country as well to boost local production of rice," the news report reads.
The border is one of the land borders shut in 2019 to curb the smuggling of rice into the country. 
On Tuesday, Bamidele Makinde, controller of the Nigeria Customs Service (NCS), Ogun 1 area command, said during a press briefing in Abeokuta, that the border was reopened in 2022.
He added that other land borders in Ogun including Imeko, Ohumbe, Ijofin and Ijoun remained shut.
VERDICT
The viral video claiming that the Idiroko border was recently reopened is an old footage from April 2022.
More from Top Stories
---
Rotimi Akeredolu, governor of Ondo, has officially resumed duty after a three-month medical vacation in Germany. On Thursday, Akeredolu returned to …
President Bola Tinubu says he will do everything within his constitutional powers to ensure that the Nigerian military is well-resourced …
On Wednesday, the presidential election petitions tribunal affirmed the victory of Bola Tinubu as the duly elected president of the …
Editor Picks
---