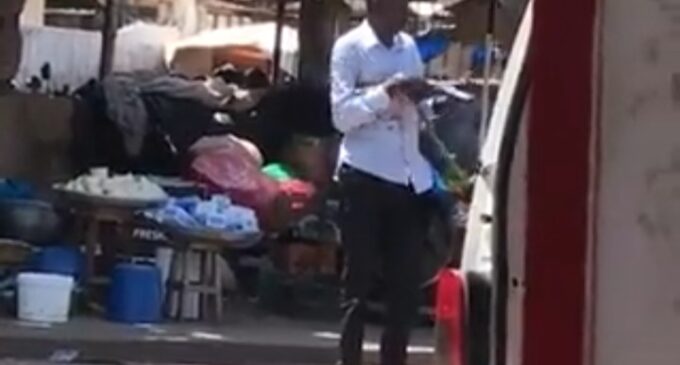 On Sunday, a footage of a gunman brandishing a rifle suspected to be an AK-47 inside a market surfaced online. 
In the video, a police officer overpowered the gunman, while some residents swooped in to retrieve the rifle.
The footage was widely shared on Twitter, Facebook and WhatsApp.
Netizens, who shared the now-viral footage, attributed the incident to the attack on St Francis Catholic Church in Owo, Ondo state, on Sunday.
Gunmen, who invaded the church, were said to have detonated explosives before firing at the congregants. Many worshippers were killed in the attack, including children and women.
Some social media users further claimed that the man holding a rifle in the viral video is one of the gunmen who attacked the Catholic church in Owo, adding that the gunman was overpowered by an officer of the Nigeria Police Force.
Sharing the video, a Twitter user @jerryzedoho, wrote: "#OwoAttack Video, one of the Owo terrorists disabled by a brave policeman moments after the attack at the Catholic church during service in Ondo."
As of the time of filing this report, the post has garnered 657 retweets and 1,689 likes.
https://twitter.com/jerryzedoho/status/1533477114988593168?t=zmr1SygCLv0pDsTNuaeYDg&s=19
One of the gun men caught in the owo Ondo Church Massacre
If truly….
That police man is a brave man pic.twitter.com/8bGYcCnqR0

— Daramola Chosen 🤍 (@ariszen101) June 5, 2022
https://twitter.com/dmsdeking1/status/1533509881944231937?t=MilDt5Np1rig7sbxyqaRhQ&s=19
VERIFICATION
TheCable subjected key frames of the viral video to reverse image search on multiple search engines and the results showed that the video has been on the internet since June 2, before the Catholic church attack in Ondo.
Findings also showed that the social media users, who shared the video prior to the Owo incident, said the incident in the footage happened in a market in Lomé, capital of Togo, a West African country.
Further search by TheCable, using keywords in French, showed that the incident was widely reported on Togolese media platforms.
Togolese media platforms also reported that Yark Damehame, the country's security minister, released a statement about the incident.
The reports can be found here, here and here.
It was reported that the incident in the viral video happened after a 51-year-old Chadian trader identified as Ousmane Mouhamed Aboubakar stabbed an officer of the gendarmerie, a branch of the Togolese armed forces, at the entrance of the Atikpodji market in Lomé.
The Chadian trader was reported to have collected the rifle of the police officer whom he stabbed and was later overpowered by gendarmerie officers and other persons at the market.
In addition, a feminine voice could be heard shouting for help in the background. TheCable understands that the woman spoke in Ewe, a language spoken in Togo and some parts of Ghana. Ewe is not a common language in the south-west geopolitical zone of Nigeria.
VERDICT
The viral video attributed to the arrest of a gunman in Owo, Ondo state, is an incident that happened in a market in Lomé, Togo.
Source: Fact Check
You might also like
---
More from Fact Check
---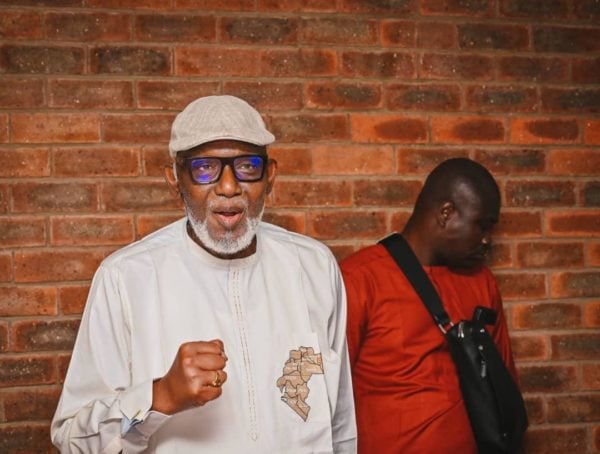 567
Rotimi Akeredolu, governor of Ondo, has officially resumed duty after a three-month medical vacation in Germany. On Thursday, Akeredolu returned to …
President Bola Tinubu says he will do everything within his constitutional powers to ensure that the Nigerian military is well-resourced …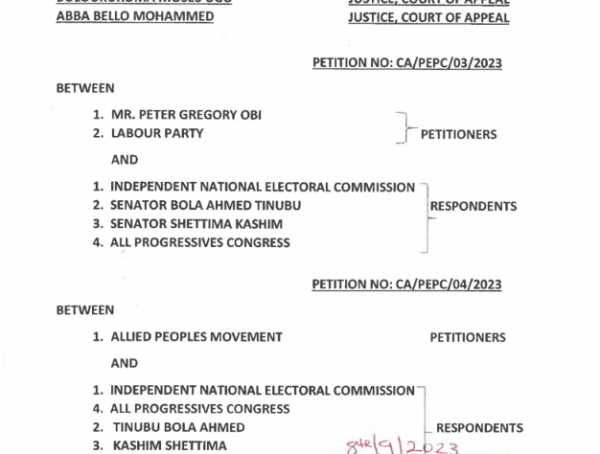 569
On Wednesday, the presidential election petitions tribunal affirmed the victory of Bola Tinubu as the duly elected president of the …
Editor Picks
---