Over the weekend, an image showing Peter Obi, presidential aspirant of the Peoples Democratic Party (PDP), wearing a cap with an insignia popularised by Bola Tinubu, a presidential aspirant in the All Progressives Congress (APC), was circulated on social media platforms.

The image was mostly shared on Facebook and WhatsApp.

Some social media users had claimed Obi, a former Anambra governor, wore the cap to an event.

Netizens who shared the image also claimed that the former Anambra governor is now supporting Tinubu's presidential ambition.

A Facebook user identified as Olaore Taiwo posted the image with the caption, "Peter Obi is officially BATIFIED. He loves Asiwaju Tinubu's Cap."

"Batified", coined from the initials of Tinubu's names, loosely translates as someone who has been initiated to support the APC chieftain.

A Facebook user identified as Omotayo Adetola Ogunro also posted the image with the caption, "Peter Obi is also batified by putting on Asiwaju's cap. Asiwaju Bola Ahmed Tinubu's cap is now what people are wearing."

Another user wrote: "Peter Obi of PDP attended a public function with Tinubu cap on his head No be juju be that. E go shock you in 2023."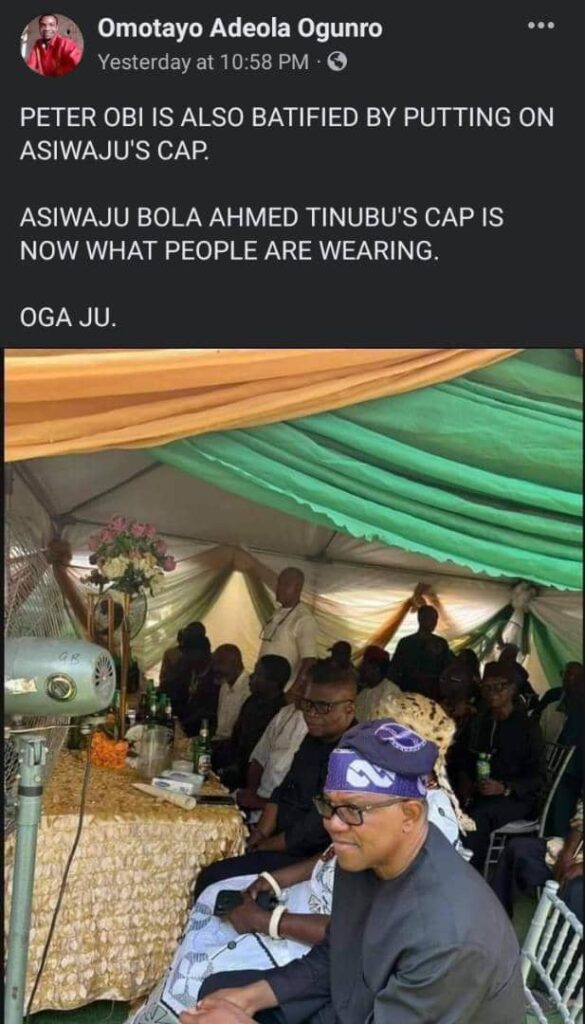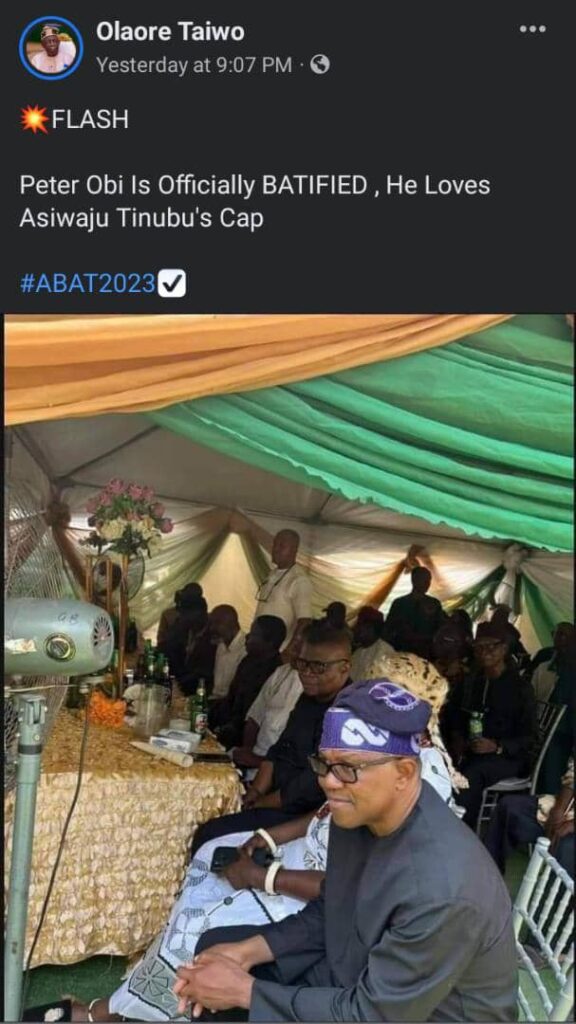 HOW GENUINE IS THE IMAGE? 

TheCable subjected the image to a reverse search and the results showed that the original image was taken during the wedding ceremony of Obi's daughter — Gabriella Nwamaka — which took place in Anambra state.

In the original image, the former Anambra governor was not wearing any cap.


On April 17, Valentine Obienyem, Obi's spokesperson, shared the real image on Facebook as part of activities from the wedding ceremony.
Multiple
media reports
used the original picture as a featured image for news stories published on the event.
TheCable also subjected the image to an error level analysis on fotoforensics, a platform that provides tools for digital forensics. It showed incoherent colours at the head region of the image.
The analysis means that the cap was imposed on the image.
The result of the error level analysis can be
viewed here
.
VERDICT
The image showing Obi in a cap bearing Tinubu's insignia was photoshopped.
Source: Fact Check
You might also like
---
More from Fact Check
---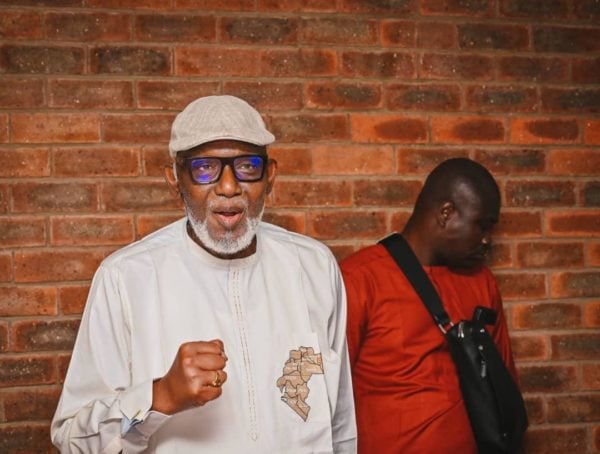 567
Rotimi Akeredolu, governor of Ondo, has officially resumed duty after a three-month medical vacation in Germany. On Thursday, Akeredolu returned to …
President Bola Tinubu says he will do everything within his constitutional powers to ensure that the Nigerian military is well-resourced …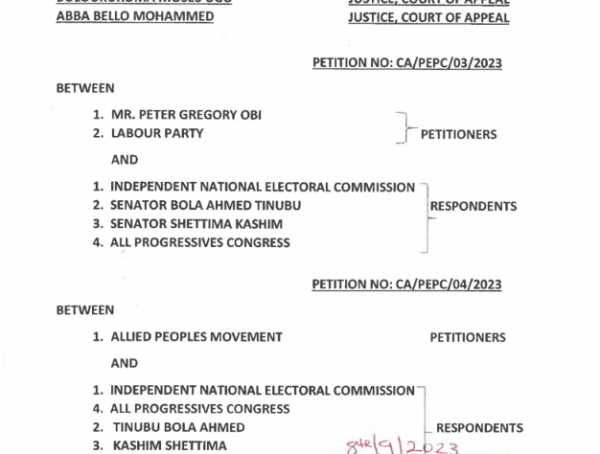 569
On Wednesday, the presidential election petitions tribunal affirmed the victory of Bola Tinubu as the duly elected president of the …
Editor Picks
---