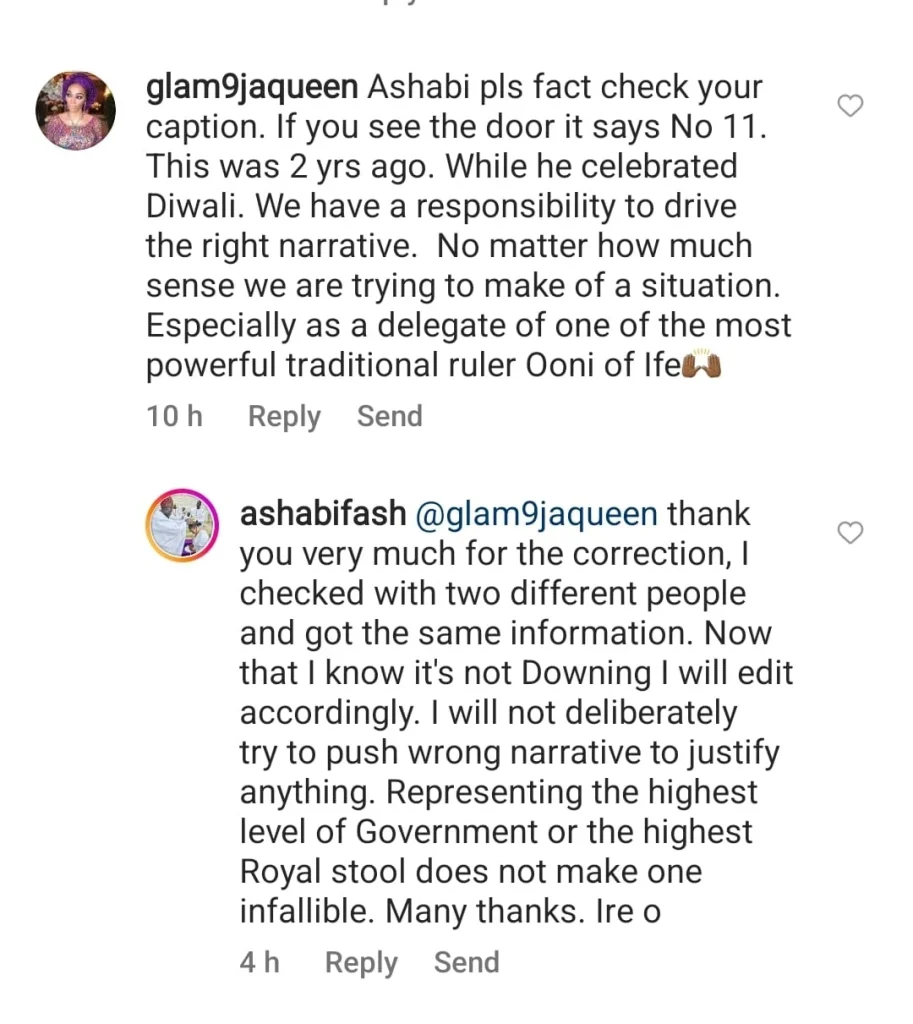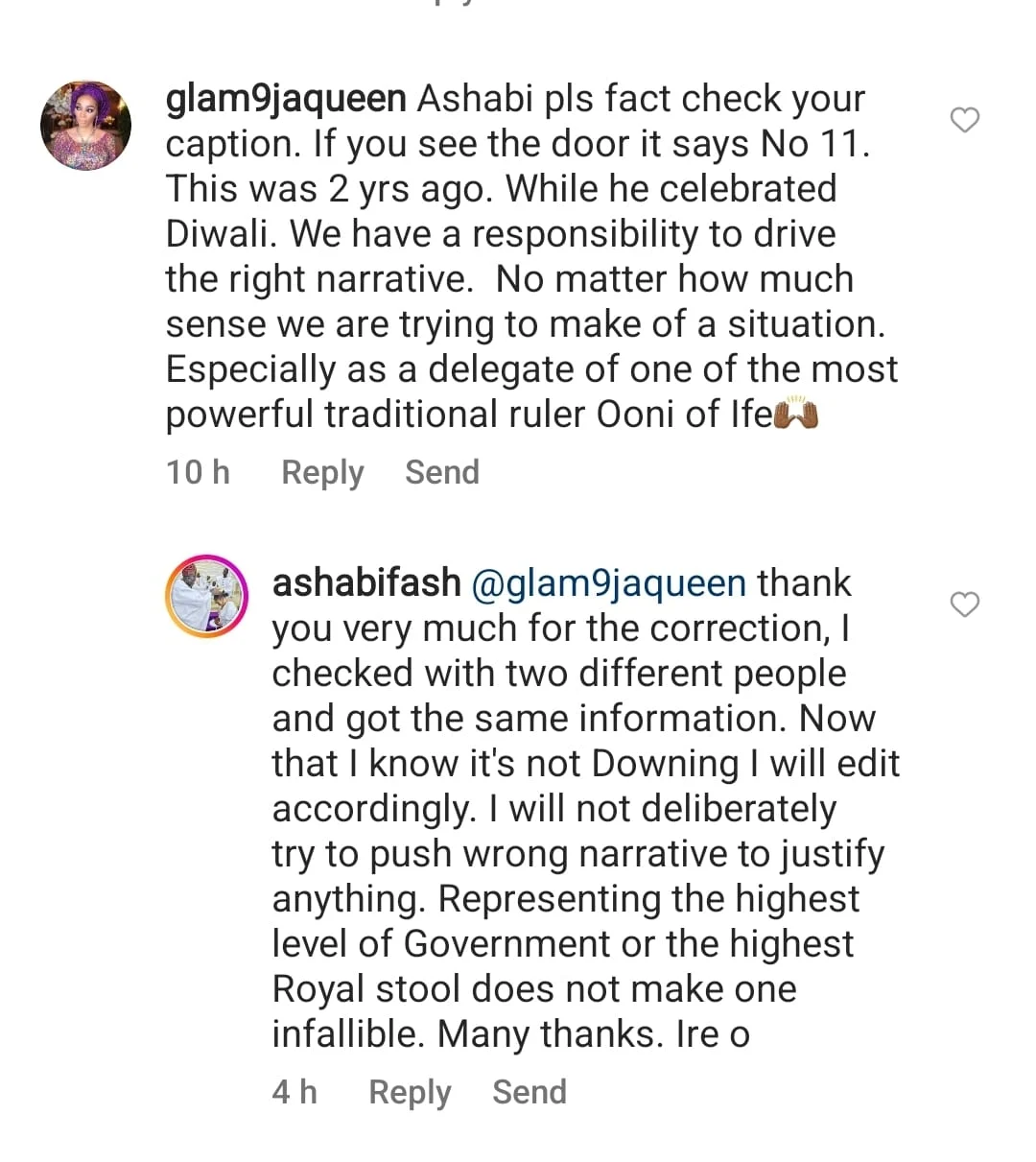 A video of Rishi Sunak, prime minister of the United Kingdom (UK), performing Hindu rites is circulating online.
In the video, Sunak could be seen kneeling down outside 11, Downing Street, placing flowers and lighting candles at the doorstep.
Sunak, of Indian descent, is one of the youngest UK PMs at 42 and the first man of colour on the seat.
He became prime minister on Monday after being elected as the new leader of the Conservative Party, replacing Liz Truss who resigned after heavy criticism of her economic policies.
Following reports of Sunak's historic appointments in the media, a couple of media houses published stories with misleading reports about the new PM.
"Rishi Sunak caught performing a ritual at Hindu temple in London (Video)" reads the headline from PM News.
"UK's Prime Minister, Rishi Sunak has been caught on video performing ritual at an Hindu's temple in London," the report reads.
"He was caught performing the rituals shortly before being asked to take over the reigns of power as Prime Minister and to form a new Government by King Charles III."
On Tuesday, Vanguard newspaper also published a report – which has now been deleted from its website – attributing the circulating video to Sunak's appointment.
"[VIDEO] UK PM Sunak performs rituals before entering new office," reads the headline of the deleted news report.
Olóyè MorounRanti Ashabi, a public figure and a Yoruba cultural ambassador to the Ooni of Ife and House of Oduduwa, also posted the video showing Sunak performing Hindu rites on her Instagram account.
The cultural ambassador initially posted the video with the caption claiming "the new prime minister of the United Kingdom🇬🇧 – Rishi Sunak, a practicing Hindu faithful seen performing his traditional rites before stepping into 10 Downing Street to begin his duties".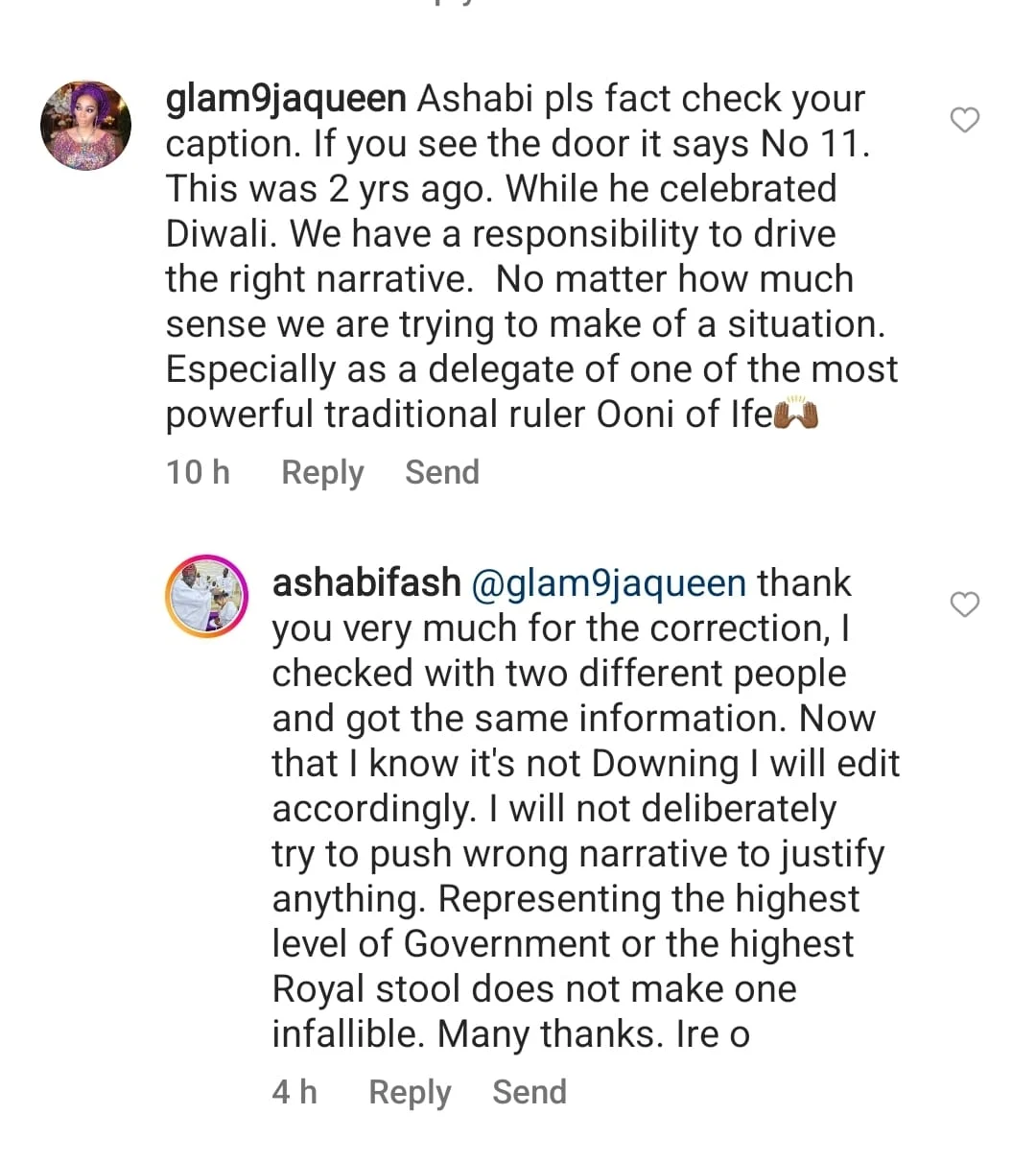 She later edited the caption after one of her Instagram users advised her to fact-check the false narrative.
Similarly, a trending Whatsapp broadcast on Tuesday claimed the trending video was linked to the PM's appointment.
"New British PM Riishi Sunak performing Hindu rites before entering 10 Downing St," said the post which had been forwarded many times.
TheCable did a fact-check on the video and this is what we found:
VERIFICATION
Checks by TheCable revealed that the video in question is not linked to Sunak's appointment as prime minister.
In November 2020, the PM posted a video of himself performing the Hindu rites outside 11 Downing Street.
11 Downing Street is the official residence of Britain's Chancellor of the Exchequer. Sunak was the Chancellor from February 13, 2020, until his resignation on July 5, 2022.
The circulating video was taken in 2020 when Sunak was celebrating Diwali, an Indian festival, which usually falls between mid-October and mid-November in the English calendar. 
Two years ago, Sunak posted the video with the caption: 
"I've placed our rangoli outside No.11, the mithai are set to be delivered and the family Zoom is booked in. I know things will feel a bit different, and it's hard not to be able to see family, but we will get through this together. Happy Diwali everyone!"
The Diwali celebration in 2020 was at a time when Covid-19 ravaged the world, forcing most countries including Britain into a lockdown.
Speaking in the video posted by Sunak, he said the lockdown had constrained him to celebrate the Diwali festival at Downing street, instead of India with his family, adding that it was a necessary measure for safety.
"I know how difficult it is. It is so difficult for us not to see each other, especially this time of the year you want to go with your mithai and see your friends and your family this year and you just can't do it," Sunak said.
"It is very frustrating, I feel it, you feel it. But we've just got to stick with it a couple more weeks and we're going to get through this and it is going to be so much better on the other side and we'll have lots of happy times afterwards.
"But to keep everyone safe right now just follow the rules."
VERDICT
The video of Sunak performing Hindu rites is from November 2020, during the Indian Diwali celebration. It has no link with his appointment as prime minister as claimed.
Source: Fact Check
You might also like
---
More from Fact Check
---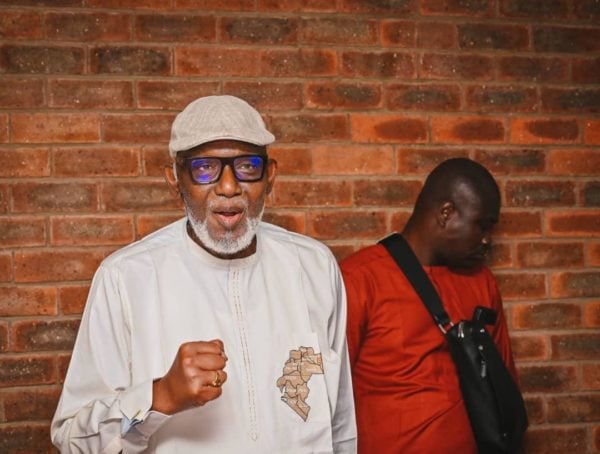 575
Rotimi Akeredolu, governor of Ondo, has officially resumed duty after a three-month medical vacation in Germany. On Thursday, Akeredolu returned to …
President Bola Tinubu says he will do everything within his constitutional powers to ensure that the Nigerian military is well-resourced …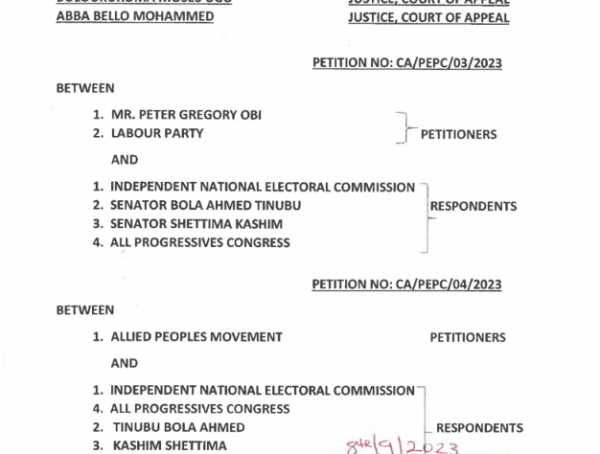 579
On Wednesday, the presidential election petitions tribunal affirmed the victory of Bola Tinubu as the duly elected president of the …
Editor Picks
---