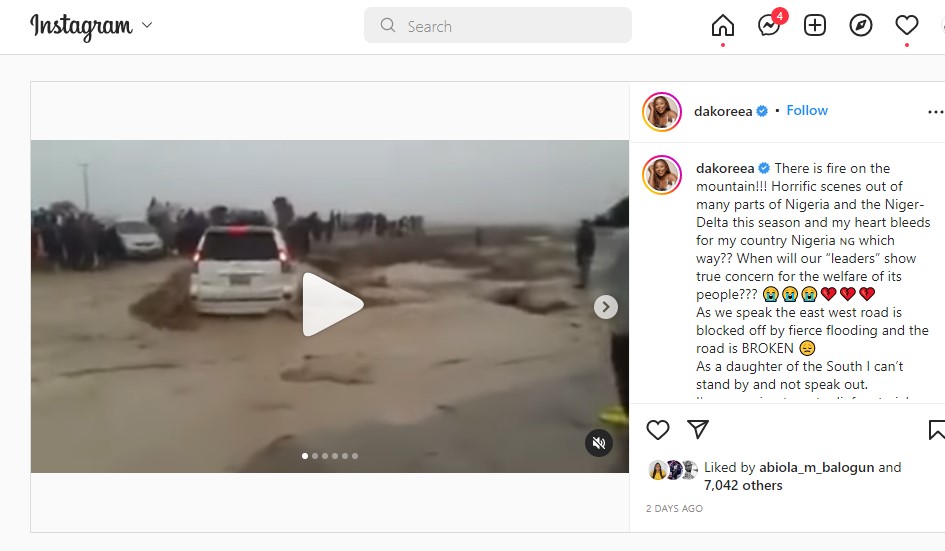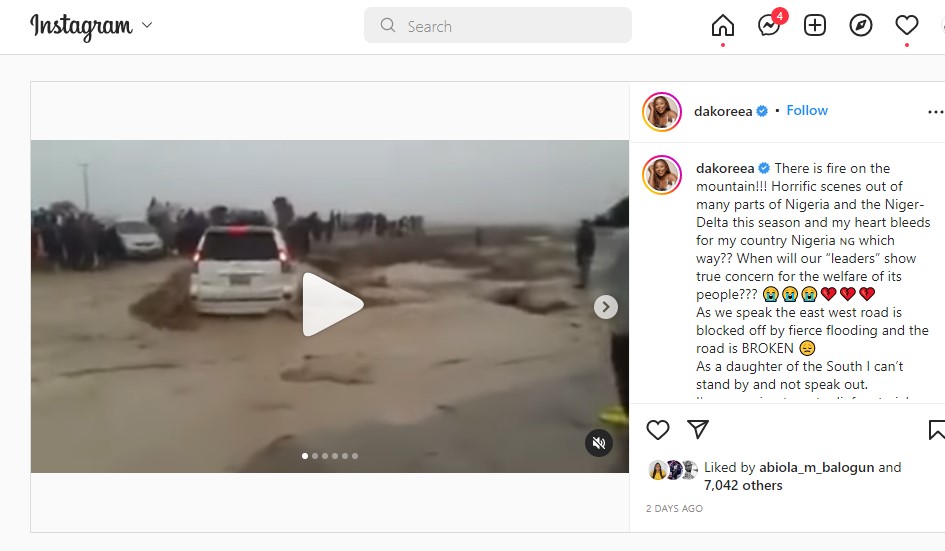 Dakore Egbuson-Akande, a Nollywood actress, recently posted videos on her Instagram account showing heavily flooded areas allegedly in the Niger Delta region of Nigeria.

In the 6-part video posted on Sunday, grisly scenes including a video showing a white jeep trying to drive across a flooded area were shared by the actress.

Dakore's Instagram account has over 1.4 million followers.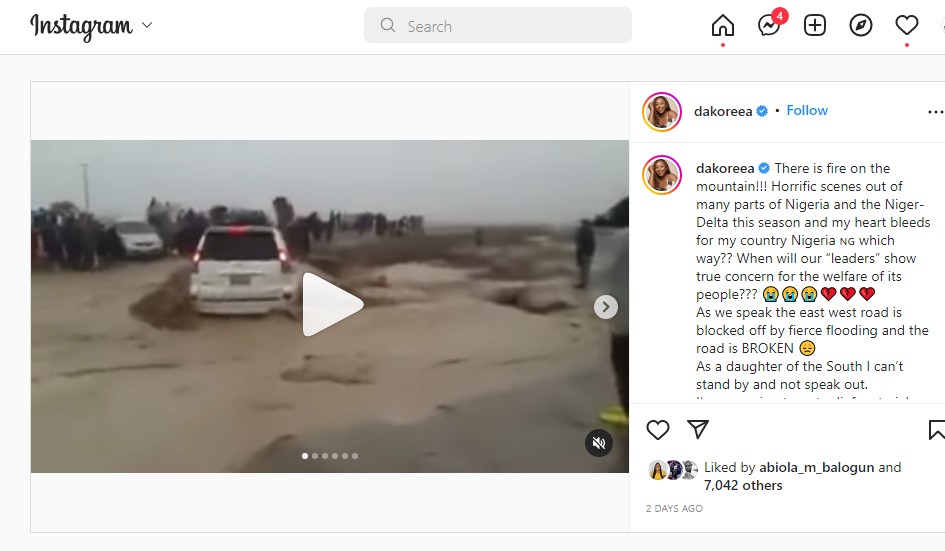 However, it became stuck as the raging torrent of water bashed into its side and pushed it to the edge of a large drop-off.

Onlookers were seen standing distraught and shouting helplessly as the car slid into the water-filled ditch. 

"There is fire on the mountain!!! Horrific scenes out of many parts of Nigeria and the Niger Delta this season and my heart bleeds for my country Nigeria, which way?? When will our "leaders" show true concern for the welfare of its people???," Egbuson-Akande wrote.

The picture of the white jeep, alongside other posts depicting floods in Nigeria, gathered about 6,779 likes at the time of this report while comments were turned off.

TheCable subjected the video to a fact checking analysis and this is what we found:

VERIFICATION

Multiple screenshots of the first post with the white vehicle were subjected to reverse image searches via Labnol, a digital tool used to discover the source of a picture and visually similar images from the internet. 

It was discovered that the video clip in question has been in circulation since 2017 and has been used to depict various flooding incidents around the world including the tropical Cyclone Dineo, one of the deadliest tropical cyclones on record in the south-west Indian Ocean and southern hemisphere. 

However, findings by TheCable revealed that the video was filmed in Chaman, Pakistan, when heavy rains plagued the country in January 2017. 

In the longer version of the video, it appears that the onlookers made attempt to recover the car and rescue passengers in the sunken car.

VERDICT: The video posted has been in existence since 2017 and originates from Pakistan, not Nigeria as the Nollywood actress alluded. 
Source: Fact Check
You might also like
---
More from 58962
---
Peter Obi, the presidential candidate of the Labour Party (LP), recently claimed the Eastern Security Network (ESN) was formed by …
A social media post claims that masturbation is one of the primary causes of hair loss in men.  The post which …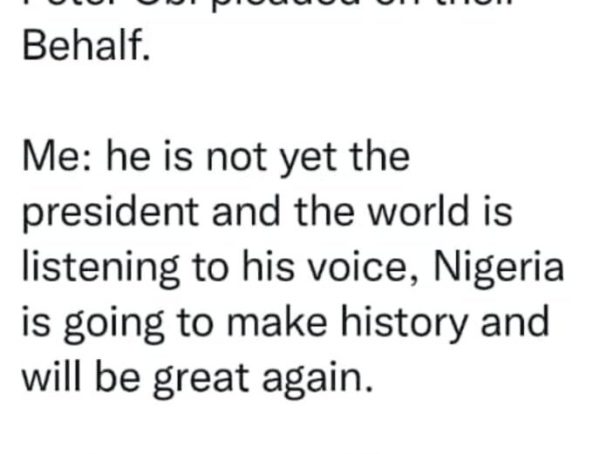 88
A post on social media claimed that five hundred thousand Nigerians on death row in Singapore have been released after …
Editor Picks
---