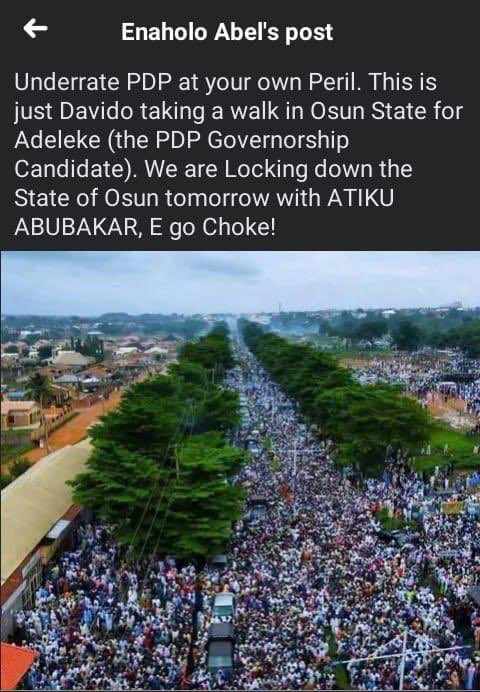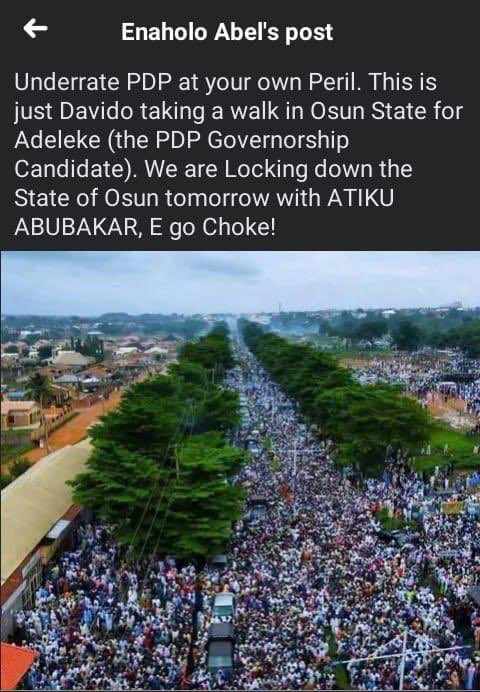 A photo showing a massive crowd purportedly from the Peoples Democratic Party (PDP) rally in Osun state has been circulating on social media. 

On Thursday, the PDP held a rally in Osun ahead of the governorship election scheduled for Saturday, July 16.

Abban Atiku, a Twitter user with the handle @abbalala3, shared a photo with the caption, "Osun State no be your mate".

The photo showed a huge crowd on a street with trees and few vehicles within the crowd. The photo gathered over 3, 900 likes, over 500 retweets and 552 comments.

Osun State no be your mate. pic.twitter.com/46lQ8sdRed

— Abban Atiku (@abbalala3) July 13, 2022


 

A quick search through his Twitter timeline revealed that the social media user is a staunch supporter of the PDP

The photo which has now become viral was posted to buttress claims that the PDP's final rally in Osun was a success.

Some unsuspecting Twitter users hailed the PDP and lauded the massive crowd that purportedly graced the rally.

"Am happy if it's osun because I prefer PDP ten times than ApC thieves. If LP candidate can't get it, let PDP dancing senator have it pls. Obident will be happy for Adeleke," reads a comment from a Twitter user. 

"Free ticket to watch Davido and other artists live in concert. Why people no go gather? Dancing senator to treat the audience with new dance style. I am an @NgLabour man, but if I should be in Osun tomorrow, I will go and catch fun," another tweep replied.

The post was also shared on Facebook.


Verification

TheCable subjected the photo to reverse image search using Labnol, a digital tool used to discover the source of a picture and visually similar images from the internet.

We discovered the image was taken from Ilorin in Kwara state and not Osun as claimed. Further research revealed that the photo, taken at the Eid-el Kabir prayer held in Kwara state, was first uploaded on July 9.

The photo was posted on the verified Twitter handle of the Kwara state government, with the caption: "Worshippers in Ilorin, the Kwara State capital, on Saturday turned out en masse to observe the Eid-el Kabir prayer, with Governor @RealAARahman clearly setting the ground for a peaceful atmosphere with his open exchange of pleasantries with leading opposition figures #EidMubarak."

Checks by TheCable also revealed that a Twitter user had shared different photos from the recent Eid-el Kabir prayer held in Ilorin, further confirming that the photo was not from the PDP rally in Osun.

The Durbar festival is a yearly occurrence in the city, as well as in few states in the country. It is a very colorful event that showcases the culture of the Ilorin people in all of their elements. ( Muslim-Muslim ) Muslim VP#IlorinDurbar2022 #ilorin#ilorindurbar pic.twitter.com/2JyjcqlgcT

— KwasuCctv (@TheWorldCamera_) July 10, 2022
Kwara State Eid Prayers today ❤️ pic.twitter.com/lbUldv0RIV

— Mohammed Jammal (@whitenigerian) July 9, 2022


 

Verdict

The viral photo depicting a massive crowd at the PDP's rally in Osun is misleading. 
Source: Fact Check
You might also like
---
More from 34
---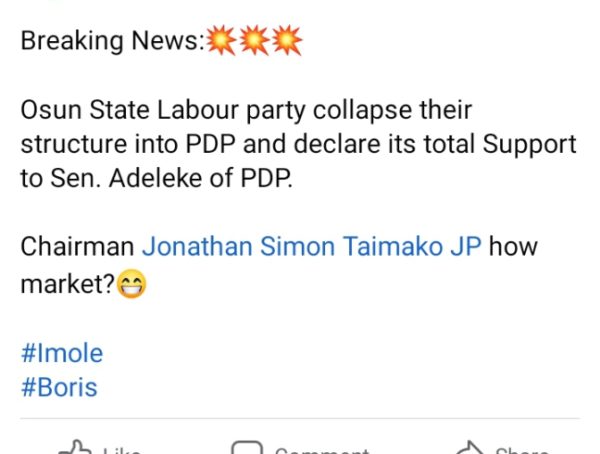 210
Several posts being circulated on social media claimed that Yusuf Lasun, the Osun state gubernatorial candidate of the Labour Party …
Editor Picks
---