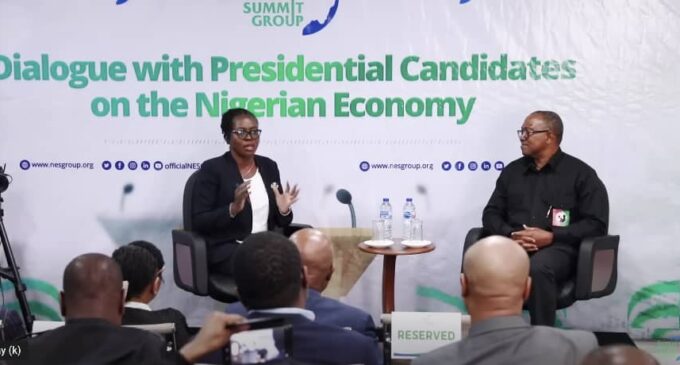 Peter Obi, former governor of Anambra state, and presidential flagbearer of the Labour Party (LP) made multiple claims while presenting his economic plans at the dialogue series for presidential candidates, organised by the Nigerian Economic Summit Group (NESG).
TheCable checked some of the claims, and here is what we found. 
---
CLAIM 1: "Nigeria's manufacturing sector is contributing less than 10 percent to the GDP." 
VERDICT: True. 
According to the National Bureau of Statistics (NBS), the third quarter report for 2022 shows that the manufacturing sector contributed 8.59 percent to the GDP. 
This figure is lower than 8.96 percent recorded in Q3 2021, as well as 8.65 percent in the preceding quarter – Q2 2022.
---
CLAIM 2: "Agriculture contributes almost 26 percent to Nigeria's GDP."   
VERDICT: Incorrect. 
Agriculture contributes 29.67 percent to the nation's overall GDP in Q3 2022, a reduction from 29.94 percent recorded in Q3 2021.
Going by the NBS data for Q3 2022, the non-oil sector contributed a total of 94.34 percent to GDP. The oil sector contributed only 5.66 percent, a decline from 7.49 percent recorded in Q3 2021, and 6.33 percent in the second quarter of 2022.
---
CLAIM 3: "Unemployment in Kenya is less than 10 percent."
VERDICT: True. 
According to Statista and Macrotrends, the most recent data released in 2021, says the unemployment rate in Kenya is 5.74 percent. 
Unemployment refers to the ratio of the labour force that is without work, but is available and seeking jobs.
In 2020 it was 5.73, 5.01 in 2019 and 4.25 in 2018.
Between 2003 and 2016, the unemployment figure in the east African country was repeatedly below 3 percent.
---
CLAIM 4: "The Netherlands has a land mass of 33,000 sq km."
VERDICT: True.
The World Bank puts the total land mass of the Netherlands has 33, 670km sq 
---
CLAIM 5: "The Netherlands had agricultural exports of $120 billion in 2021"
VERDICT: Incorrect. Netherlands' total export for 2021 was $130.7 billion not $120 billion. 
In the Netherlands, agricultural sector export is divided into agricultural-related goods and agricultural goods 
Agricultural-related goods refer to non-edible goods that are produced for the agricultural sector at home or abroad, while Agricultural exports directly refer to those goods produced – processed or unprocessed – in the Netherlands.
In line with 2021 data, the total volume of agro-export summed up to  €122 billion  ($130.7 billion). The export of edible agricultural products was estimated at €106 billion, while non-edible stood at €16 billion.
---
CLAIM 6: "I know that the biggest country, which is America today has almost 90 percent debt to GDP, second one China has over 60 percent debt to GDP, Japan is 230 percent. Even Singapore we cite every day is 130 percent debt to GDP. The problem we have as a country is that the money we borrow disappears."
VERDICT: False.  Although checks by TheCable revealed that the four countries mentioned are all indebted, however, the figures stated by the presidential candidate are all inaccurate.
Investopedia defines debt-to-GDP as the ratio that compares a country's public debt to its gross domestic product (GDP). This ratio is derived by comparing what a country owes with what it produces.  It is also able to reveal the number of years needed to pay back debt if a nation's GDP is solely dedicated to that.
United States
The debt-to-GDP ratio in the United States as of 2022 was 124 percent, not 90 percent as obi claimed.
According to Fiscal Data, an online platform that analyses the US financial data, America's debt to GDP was 124 percent going by 2022 records.
In 2013, the US surpassed the 100 percent debt-to-GDP ratio when debt and GDP were approximately $16.7 trillion. 
China
At the end of 2022, China's debt-to-GDP ratio was 76.9 percent, not 60 percent as Obi stated.
Japan
In September 2022, Japan's debt accounted for 263.9 percent of its GDP and not 230 percent going by Obi's statement. The 2022 figure was an upsurge from 259.4 percent recorded in 2020 during the COVID-19 pandemic.
Singapore
Going by the International Monetary Fund (IMF), Singapore's official debt-to-GDP ratio stands at 141.1 percent, not 130 percent as Obi claimed.
---
CLAIM 7: "Nigeria's debt is 77trn."
VERDICT: False. Nigeria's debt presently stands at N44.06 trillion not N77 trillion. 
Nigeria's most recent debt report was published in September 2022 by the Debt Management Office (DMO).
The report says that Nigeria's public debt stock, which sums up the state government's debts –  including the federal capital territory (FCT) – and that of the federal government is N44.06 trillion.
This figure is reached by summing the state government's debts –  including the federal capital territory (FCT) – and that of the federal government.
The nation's domestic debt presently stands at N26.92 trillion, while the external debt is N17.14 trillion.
However, Patience Oniha, the director-general of DMO, said the federal government's plan to securitise the loans – ways and means – from the central bank would drive up the country's debt to about N77 trillion.
This implies that the next administration would inherit a debt of about N77  trillion at the end of President Buhari's tenure in May.
---
CLAIM 8: "Nigeria's total export in 2021 was N18.9trn."
VERDICT: True.
Export data released by the Central Bank of Nigeria (CBN) revealed that in 2021, the country's total export stood at $46.69 billion, an increase from $35.9 billion recorded in the previous year. 
TheCable also analysed NBS data on foreign trade which revealed that Nigeria's exports were valued at N18.9 trillion in 2021, equivalent to $47.3 billion going by the average official exchange rate of N399.6 in 2021.
---
Additional reporting by Busola Aro. 
More from Top Stories
---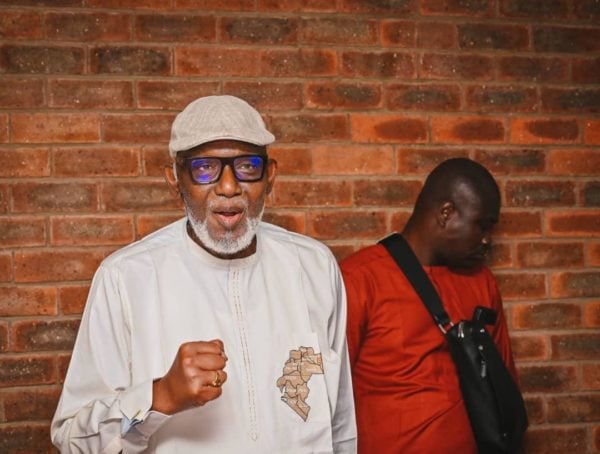 567
Rotimi Akeredolu, governor of Ondo, has officially resumed duty after a three-month medical vacation in Germany. On Thursday, Akeredolu returned to …
President Bola Tinubu says he will do everything within his constitutional powers to ensure that the Nigerian military is well-resourced …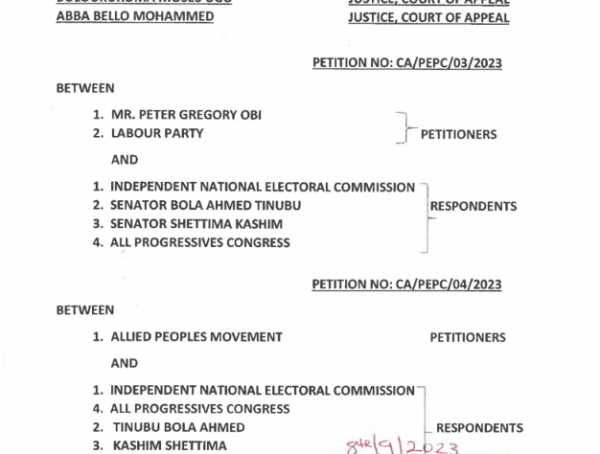 569
On Wednesday, the presidential election petitions tribunal affirmed the victory of Bola Tinubu as the duly elected president of the …
Editor Picks
---