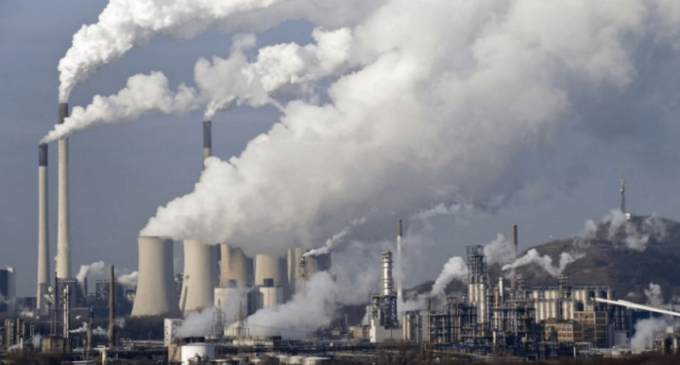 A report has claimed that carbon dioxide (CO2) is not a pollutant.
According to the publication which labelled global warming a scam, the current level of CO2 in the atmosphere is not enough to cause the earth to overheat.
"There are no tipping points. No overheating points, no problems from CO2, and levels are so far below 1 per cent at this time that it is laughable that anyone should imagine that CO2 can be damaging to life on earth," the report reads.
"The global warming scam deserves nothing but derision. To claim that CO2 is a pollutant is unimaginably wrong, particularly when vegetation begins to die at not much less than 0.02 per cent, less than half of today's already minuscule proportion."
The report added that the increased concentration of CO2 in the atmosphere has significantly improved agriculture and "there is no greater blessing on this earth than increased CO2".
The claim also appeared on a verified Twitter handle with 65.7k followers. 
Robin Monotti, the Twitter user who says he is a filmmaker and architect, quoted an excerpt of the report which insisted that it is wrong to refer to carbon dioxide as a pollutant since it positively impacts agriculture.
The post, which was unrolled into a Twitter thread, also had links to other articles which claimed that the impact of CO2 as a pollutant was exaggerated.
The tweet has had 1,539 likes, 847 retweets, and 55 bookmarks.
But how true are the recurring claims that carbon dioxide has no link to climate change?
CO2 IN THE ATMOSPHERE WARMS THE PLANET AND CAUSES CLIMATE CHANGE
According to the National Aeronautics and Space Administration (NASA), CO2 is an important heat-trapping gas, or greenhouse gas, that comes from the extraction and burning of fossil fuels (such as coal, oil, and natural gas), from wildfires, and from natural processes like volcanic eruptions.
In less than 200 years, human activities have led to 50 percent increase in the volume of CO2 in the atmosphere 
Based on the annual report from the National Oceanic and Atmospheric Administration (NOAA), the global average atmospheric CO2 set a new high, when 417.06 parts per million was recorded in 2022.
CO2 is a greenhouse gas and it causes an effect like the glass in a greenhouse, trapping heat and warming up the inside. 
When energy from the sun reaches the top of the atmosphere, most of it passes through to the earth's surface, where it is absorbed. Some of this energy is re-emitted, heading back towards space. At this stage, it interacts with molecules of CO2 in a way that prevents some of it from escaping the atmosphere. The trapped heat energy leads to an increased average global surface temperature.
One reason carbon dioxide has such a big impact on global temperatures, contrary to the published article which says otherwise, is that hotter air can hold more water vapour. Water vapour is also a greenhouse gas, which further enhances the greenhouse effect.
Water vapour and CO2 are both responsible for global warming. An increase in atmospheric CO2 means the oceans will warm up faster, which inevitably also triggers an increase in water vapour.
Controlling the amount of water vapour in the atmosphere is a tall order, but transiting to cleaner sources of energy can reduce the volume of CO2 in the atmosphere.  The burning of fossil fuels, even in relatively small amounts when compared to the entire mass of the atmosphere disturbs the entire heat balance of our planet.
VERDICT
False. Global temperatures have been rising as a result of increased concentrations of greenhouse gases in the atmosphere, most especially carbon dioxide, which traps heat.
---
This fact check was produced by TheCable with support from Code for Africa's PesaCheck, International Fact-Checking Network, and African Fact Checking Alliance network.
You might also like
---
More from Top Stories
---
Rotimi Akeredolu, governor of Ondo, has officially resumed duty after a three-month medical vacation in Germany. On Thursday, Akeredolu returned to …
President Bola Tinubu says he will do everything within his constitutional powers to ensure that the Nigerian military is well-resourced …
On Wednesday, the presidential election petitions tribunal affirmed the victory of Bola Tinubu as the duly elected president of the …
Editor Picks
---