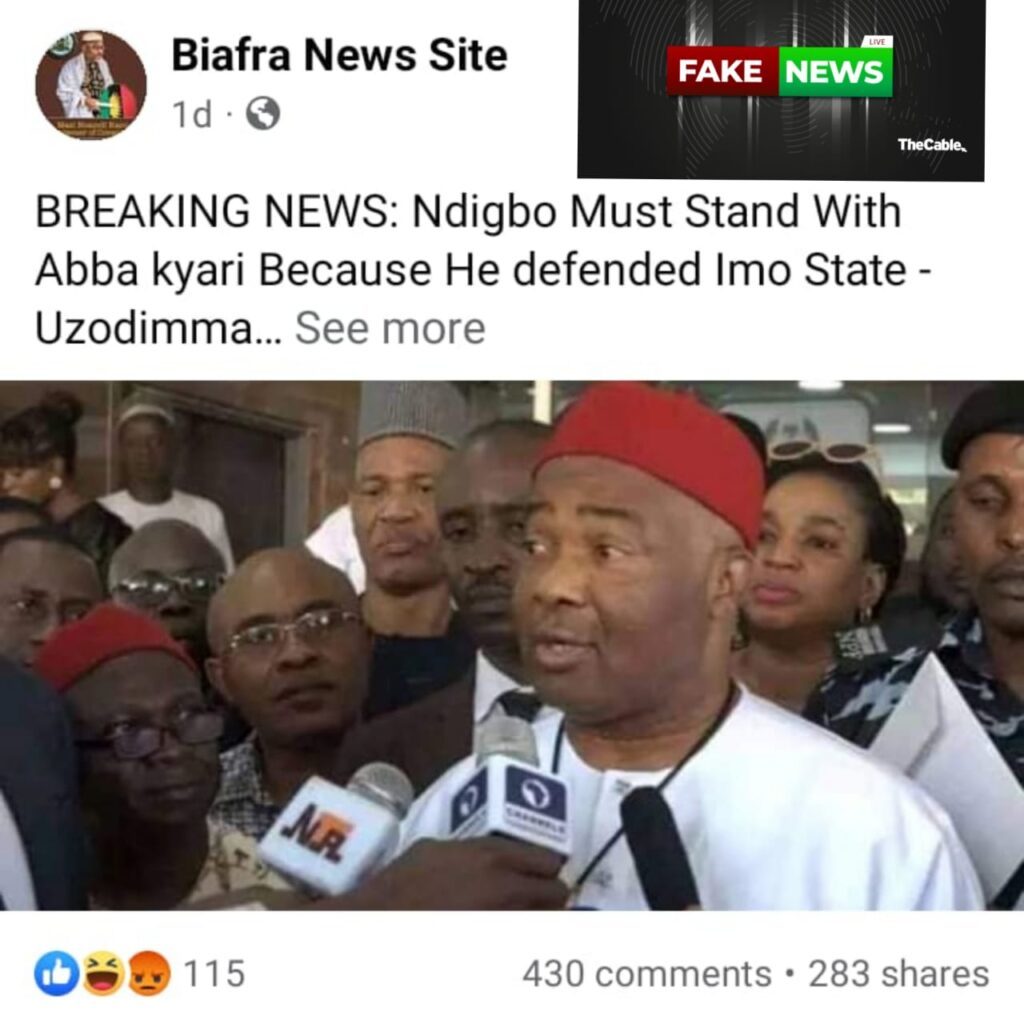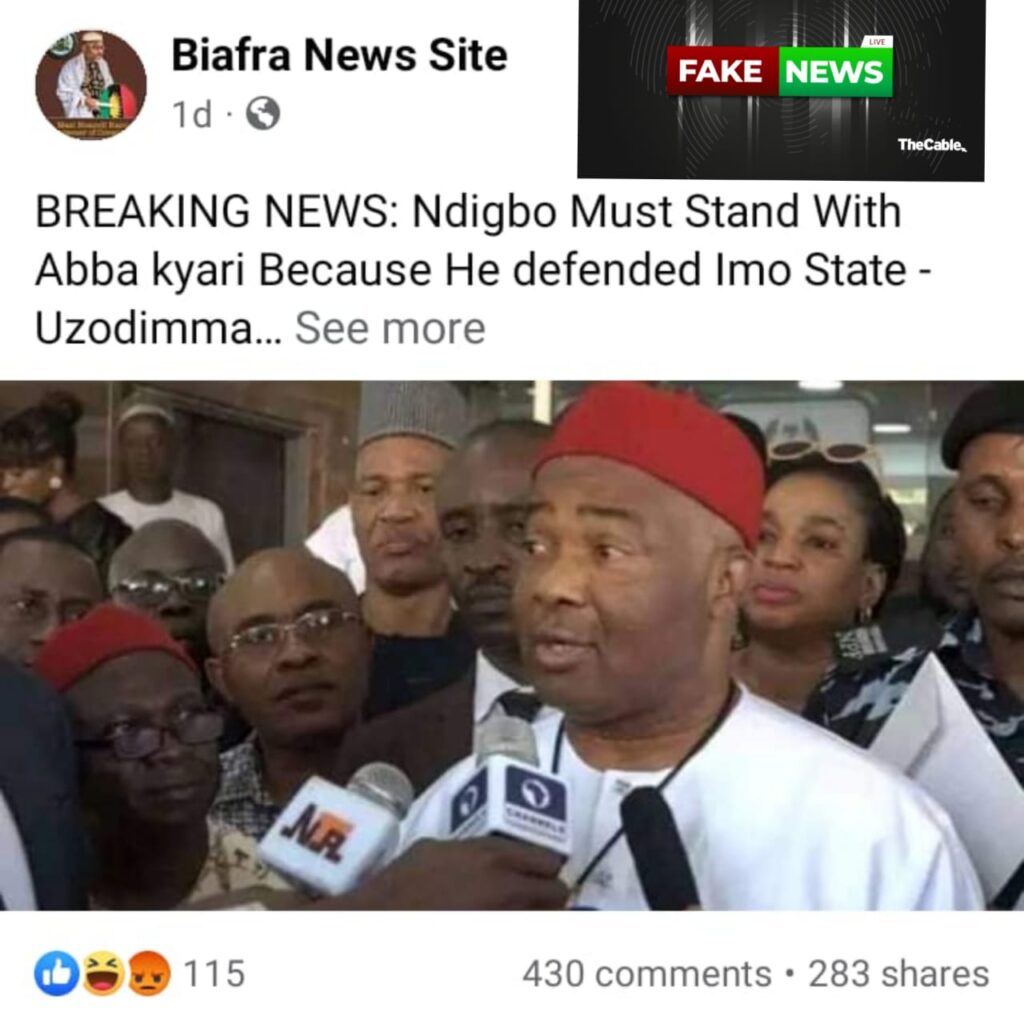 On Tuesday, a Facebook page — Biafra News Site — published a post claiming Hope Uzodimma, governor of Imo state, asked Igbo youths to support Abba Kyari, the suspended deputy commissioner of police (DCP).

On Monday, the National Drug Law Enforcement Agency (NDLEA) declared Kyari wanted "over his involvement in a 25kg cocaine deal". Hours later, the police announced his arrest and subsequent transfer to the NDLEA's custody.

The Federal Bureau of Investigation (FBI) had initially indicted Kyari of conspiring with Hushpuppi, the self-confessed international fraudster, in a $1.1 million scam.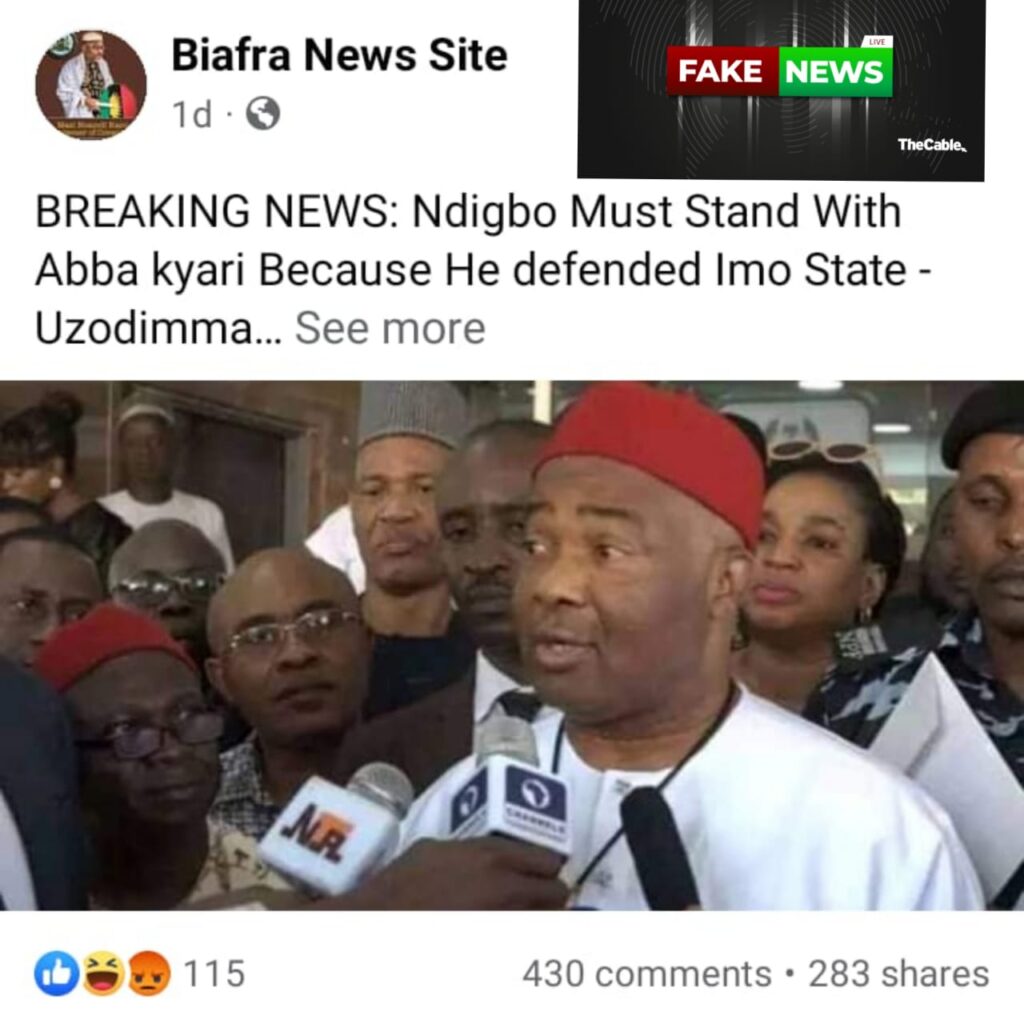 The Facebook post attributed to the Imo governor titled "BREAKING NEWS: Ndigbo Must Stand With Abba Kyari Because He defended Imo State" has garnered over 430 comments, 115 likes and shared by 283 social media users.

"Imo state governor has asked the Igbo youths to stand in solidarity with Abba Kyari who was recently arrested for drug trafficking," the post read.

"Speaking to newsmen in Owerri, Uzodimma stated that most of the bogus charges and allegations against Abba Kyari are lies.

"Abba kyari is my good friend turn blood brother. I know him very well. I don't think he has any link to drug business because he is a God fearing man.

"This is a real trying time for him and this is the time for Igbo youths to come together and stand in solidarity with him.

"My government will map out N10bn to defend him in any court because he is innocent."

#BREAKING_NEWS:
Ndigbo Must Stand With Abba kyari Because He defended Imo State – Uzodimma

Imo State governor has asked the Igbo youths to stand in solidarity with Abba kyari who was recently arrested for drug trafficking. pic.twitter.com/mi0AOZOK9m

— BLESSED NWA-EBUBE (@BlessedNwaEbube) February 16, 2022
BREAKING NEWS!!
Ndigbo Must Stand With Abba kyari Because He defended Imo State.
~Uzodimma~

— Ultimate Viewers (@UltimateViewers) February 16, 2022


VERIFICATION

A keyword search on social media platforms shows that the post only exists on Facebook pages and Twitter accounts linked with the proscribed Indigenous People of Biafra (IPOB) and Biafra. The statement was not reported by credible media platforms.

Reacting to the claim in a statement, on Wednesday, Oguwike Nwachuku, chief press secretary to the governor, described the viral post as fake news and "a piece of trash".

"The authors of the poorly-scripted report had thought that the best way to deceive their audience was to claim that Governor Uzodimma gave the advice at a media briefing in Owerri without letting the same audience to know the venue and occasion the governor spoke," the governor's spokesman said.

"As pedestrian as the authors of the report and their sponsors are in their reasoning, they may not have known that they have disclosed to the relevant authorities investigating Abba Kyari that they too can help them with information at their own disposal to get to the root of the matter.

In November, TheCable had fact-checked misleading claims that the Nigeria Police Force (NPF) had reinstated Kyari and all allegations levelled against him by the FBI cleared. But the TheCable found the claims to be false.

VERDICT

There is no evidence that Uzodinma asked Igbo youth to stand in solidarity with DCP Abba Kyari. The viral Facebook post is misleading.
Source: Fact Check
You might also like
---
More from Fact Check
---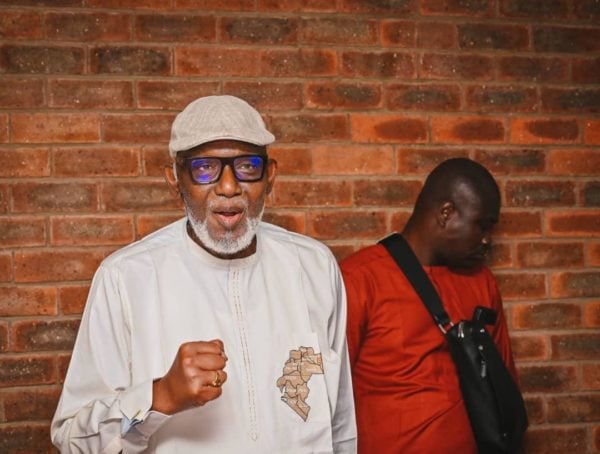 567
Rotimi Akeredolu, governor of Ondo, has officially resumed duty after a three-month medical vacation in Germany. On Thursday, Akeredolu returned to …
President Bola Tinubu says he will do everything within his constitutional powers to ensure that the Nigerian military is well-resourced …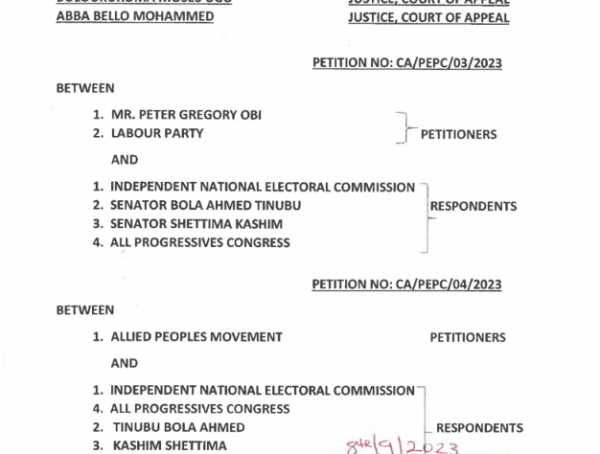 569
On Wednesday, the presidential election petitions tribunal affirmed the victory of Bola Tinubu as the duly elected president of the …
Editor Picks
---