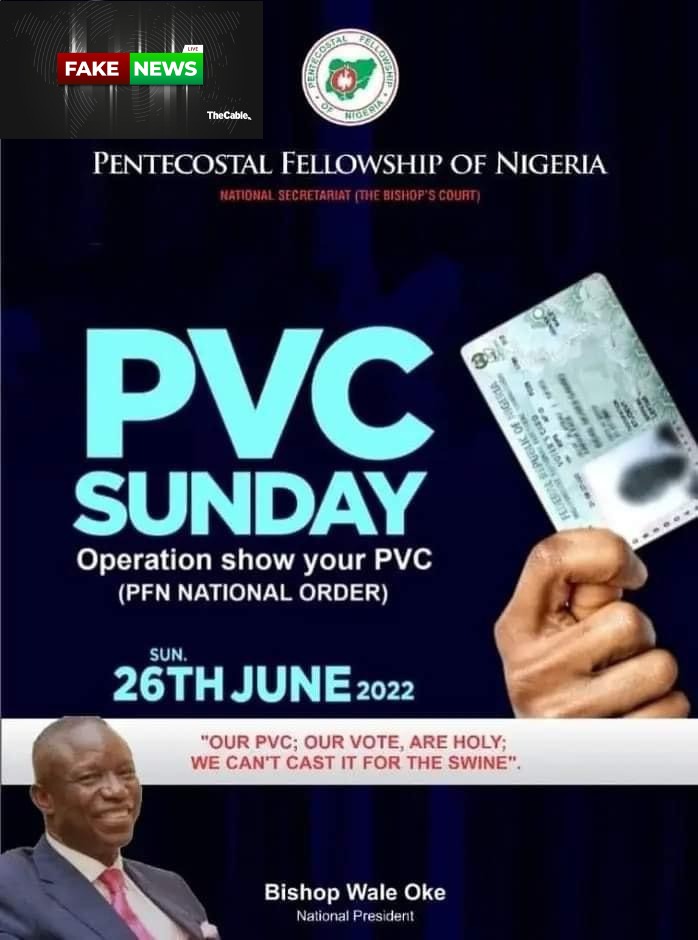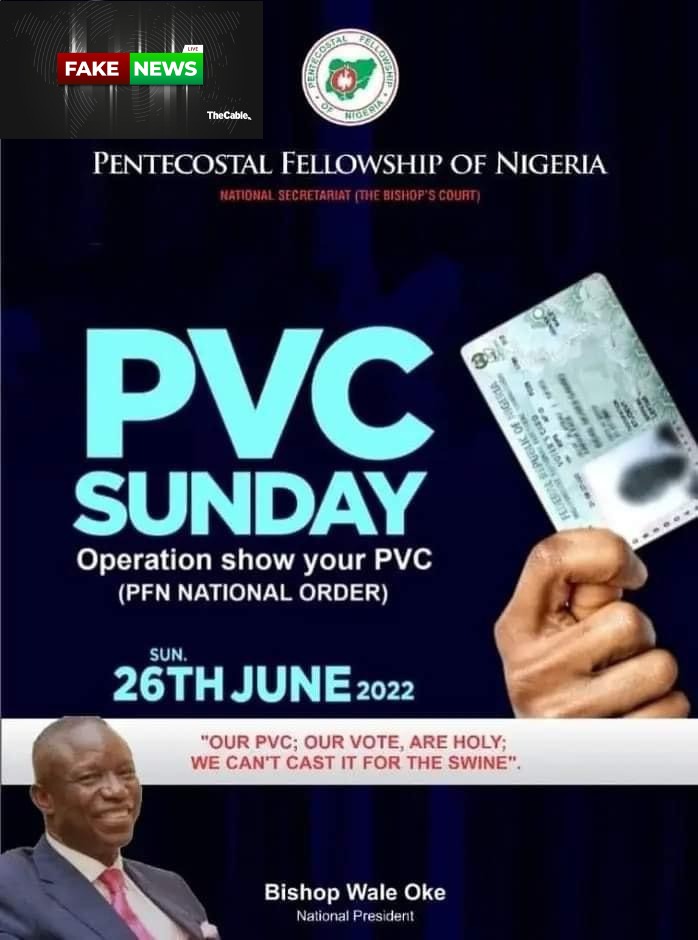 A flyer circulating on social media claims that the national leadership of the Pentecostal Fellowship of Nigeria (PFN) has ordered churches to enforce 'Operation Show Your PVC' on Sunday, June 26.

The flyer, which has the image of Wale Oke, national president of the PFN, also carries the caption, "Our PVC: our vote are holy, we can't cast it for the swine".




 

The flyer has been shared on Facebook here, here, and here. It also appeared on Twitter here, here, here, and here, where it equally generated comments touching on religious differences.




On Facebook, the flyer was posted on a page named Tokunbo AremoOdua with over 145, 315 followers, where it gathered over 200 comments.

The flyer was posted with the caption, "shame on you for calling other religions swine. God Himself will put you all to shame. Say no to hate. Say no to religious rascality."

Another bigotry from another Pastor referring to a certain presidential candidate as a swine… You can't tell me this pastor and his ilks are not strong allies or disciples of Laaroye himself. Yeah Lucifer. pic.twitter.com/JuTJG0QNrD

— KING KUKUTE (@Ade_Nurayn) June 24, 2022
PFN is calling people of other faiths "swine". This is getting interesting. @hon_ags @OlaniranEmmanu9 I hope you all see the game being played and we won't become vocal when some people also play this game fully pic.twitter.com/JyUzS7yKWW

— Jagunlabi Alapo-Ika (Intelligent and Dangerous) (@FATHERMYSTERY) June 24, 2022


On Twitter, the flyer which has now been deleted was posted by @DeeOneAyekooto with the same caption as seen on Facebook. It gathered 128 retweets and 239 likes.

How is the PVC holy?
Who is the swine?

I'm a Christian and I will stand to testify against you when this rubbish that you're cooking manifests its full stupidity.

You're like Cain who killed his brother because he prepared a better offering.

God will shame you. pic.twitter.com/B5C11TmOlk

— David Abdulrazak Atta (@the_davidatta) June 24, 2022


 

"If religious crisis breaks out before or after 2023 general elections, they should hold PFN and their leaders responsible. What is the meaning of our votes are holy, which kain blasphemous talk is that?" reads the caption of another Twitter user, @Chrisbamidele who also posted the flyer.

If religious crisis breaks out before or after 2023 general elections, they should hold PFN and their leaders responsible.
What is the meaning of
"Our Votes are Holy"?
Which Kain blasphemous talk is that? pic.twitter.com/IxBfNKDuJo

— Bámidélé Chris (@Chrisbamidele) June 24, 2022


VERIFICATION
When TheCable contacted Emma Isong, PFN's national publicity secretary, he confirmed that the body indeed ordered all churches under its leadership to enforce 'operation show your PVC' on June 26.

According to him, Sunday has been declared by the PFN president as a communion service and also an opportunity for pastors to encourage worshippers to get their permanent voter cards (PVC).

"The decision was taken by the PFN to help fight voters' apathy and not to support any particular candidate or political party," Isong said.

However, he emphatically clarified that the PFN did not authorise or issue the flyer which says "our votes are not for swine".

"I don't know who designed the photo, and the PFN is not responsible for that, we cannot be held responsible for the artwork and you cannot hold it as our copyright," he said.

"PFN is a law-abiding body. The grammar in the flyer is not correct, there are missing verbs there. Our publicity office is made up of educated people. Maybe somebody created that on his own to publicise it. We are not responsible for that.

"We are not asking anyone not to attend church because of PVC. We are only saying those inside the church should show their PVC, and those who do not have should be encouraged to get one. We are encouraging voters' registration, not stopping people from taking communion or from entering the church."

VERDICT

The PFN has set aside June 26 to encourage Christians to get PVCs. However, the claim that PFN said Christian votes are not for the swine is false.

 

This story is published in partnership with Report for the World, a global service program that supports local public interest journalism.

 
Source: Fact Check
You might also like
---
More from 58962
---
Peter Obi, the presidential candidate of the Labour Party (LP), recently claimed the Eastern Security Network (ESN) was formed by …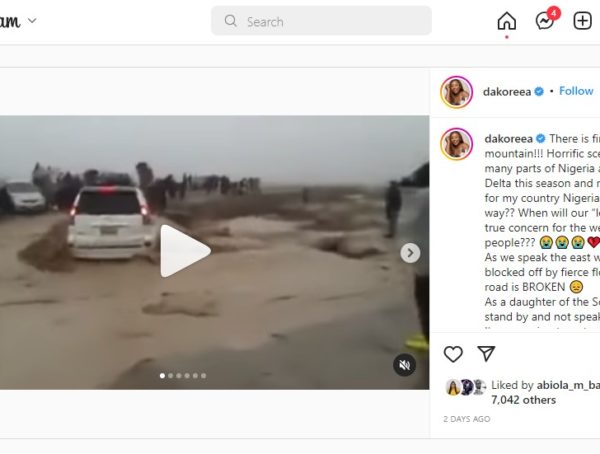 253
Dakore Egbuson-Akande, a Nollywood actress, recently posted videos on her Instagram account showing heavily flooded areas allegedly in the Niger …
A social media post claims that masturbation is one of the primary causes of hair loss in men.  The post which …
Editor Picks
---