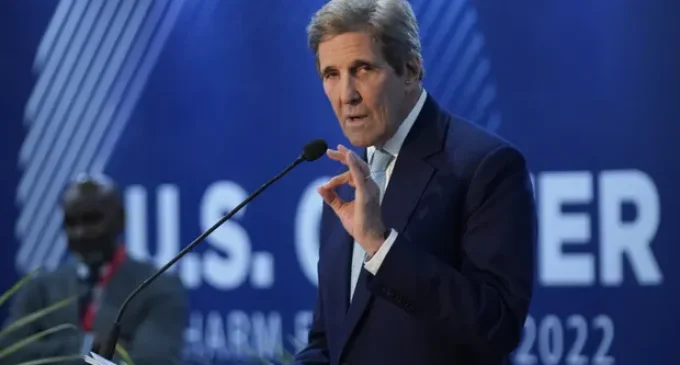 Viral social media posts claim John Kerry, United States special presidential envoy for climate, said the US would crack down on farms over their contributions to climate change.
In a report published on May 17, it was alleged that the climate envoy insisted that the US would massively reduce farming to achieve some of the radical "green agenda" laid out by the World Economic Forum (WEF) and the United Nations (UN).
"According to the former Secretary of State, the world can't tackle climate change without first addressing the agriculture sector's emissions – and farmers in the US are front and center of his plans," the report partly reads.
The claim also appeared on a Twitter account @TheFreds and was retweeted 1,223 times as at the time of this report.
"These lunatics have waged war on us. To quote a poster from the Spanish civil war 'If you tolerate this your children will be next'," the account tweeted to its 224.1k followers.
So far, the tweet has been viewed over 83.6k times and has gathered more than 2,773 likes. 
VERIFICATION
According to the World Bank, agriculture is a major part of the climate problem. It currently generates 19 to 29 percent of total greenhouse gas (GHG) emissions. Without action, that percentage could rise substantially as other sectors reduce their emissions.
Opeyemi Elujulo, an environmentalist, told TheCable that many people believe burning fossil fuels and consuming high levels of energy are the major drivers of climate change, but very little is spoken about agriculture. 
"Globally, agriculture alone contributes about one-third of the total greenhouse gas emissions which is pretty serious. This includes procurement, production on the farm, transportation of goods from the farm, energy use on the farm, and anything at all that has to do with the agricultural chain. The percentage contribution is pretty massive and concerning," he said.
"In the past, agriculture had not taken its place in international discussions to show its impact on climate change. In fact, the first time that agriculture and food systems were mentioned and found their way into a major conversation was COP27 last year and we've had 27 COPs. I think it's because people are now beginning to see the impact of agriculture on climate change."
On May 10, Kerry spoke about slashing greenhouse gas emissions from the agricultural sector to fight climate change at the three-day Agriculture Innovation Mission (AIM) for Climate summit in Washington.
TheCable reviewed a video of Kerry's remarks on the final day of the summit, where the viral claims originated. The review showed that in no part of his remark did Kerry mention confiscating farms or buying out farmers.
Also, in a Twitter community note, which shows the context of a tweet so that users can find more information about a viral post, other Twitter users provided links to multiple fact checks which proved that the claims against Kerry were wrong. 
According to the fact checks, the platform where the post first emanated from is infamous for publishing misinformation.
VERDICT
The claim that the US special presidential envoy on climate change is advocating for farm confiscation is false.
---
This fact check was produced by TheCable with support from Code for Africa's PesaCheck, International Fact-Checking Network, and African Fact Checking Alliance network.
You might also like
---
More from Top Stories
---
Rotimi Akeredolu, governor of Ondo, has officially resumed duty after a three-month medical vacation in Germany. On Thursday, Akeredolu returned to …
President Bola Tinubu says he will do everything within his constitutional powers to ensure that the Nigerian military is well-resourced …
On Wednesday, the presidential election petitions tribunal affirmed the victory of Bola Tinubu as the duly elected president of the …
Editor Picks
---