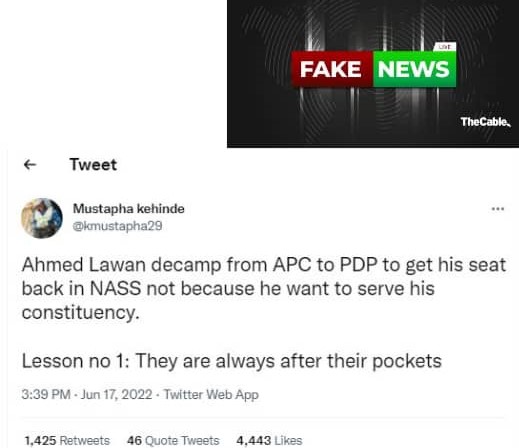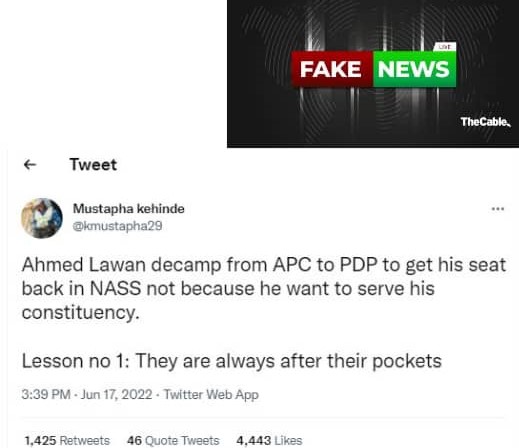 On June 17, news of the purported defection of Senate President Ahmad Lawan was posted on Twitter. 

A couple of tweets claimed the senate president had decamped from the ruling All Progressives Party (APC) to the Peoples Democratic Party (PDP).

"Ahmad Lawan decamp from APC to PDP to get his seat back in NASS, not because he wants to serve his constituency. Lesson no 1: They are always after their pockets," reads the caption of the Twitter post by Mustapha Kehinde.

 

 


The tweet had gathered at least 1,448 retweets and 4,508 likes.  

The claim of Lawan's defection was also reported on a verified Twitter handle named @GoldMyneTV, an account with over 50,000 followers, known for sharing entertainment content. 


Background

Lawan was initially pronounced as the consensus presidential candidate of the APC by Abdullahi Adamu, the national chairman of the party.

He later took part in the primary election where he came a distant 4th with 152 votes. 

The senate president lost to Bola Tinubu, a former governor of Lagos who gathered a total of 1271 votes.

Verification

At the time when the news was making the rounds on Twitter, a search by TheCable showed that no reputable media platform had reported the alleged defection of the senate president.

In a statement on Saturday, Ola Awoniyi, special adviser to the senate president on media, said the news of Lawan's defection is misleading.  

Earlier in the week, the senate president had announced the defection of two Kebbi senators during the plenary held on June 14.

Yahaya Abdullahi, senator representing Kebbi North, and Adamu Aliero, senator representing Kebbi Central, had sent letters to announce their defection from the APC to the PDP.

"It was the video clip of the senate president reading out Senator Aliero's letter that was doctored to give the wrong impression that Lawan has renounced his membership of APC," Awoniyi said.

He further explained that the original video clip, which lasted 3 minutes 30 seconds, had Lawan read the letter by Muhammad Aliero, informing his colleagues of his defection. The same video was edited to 26 seconds.

The incomplete version of the video has largely been used to disinform members of the public.

Verdict

The claim that Senate President Ahmad Lawan has dumped the APC for the PDP is false. 
Source: Fact Check
You might also like
---
More from 58962
---
Peter Obi, the presidential candidate of the Labour Party (LP), recently claimed the Eastern Security Network (ESN) was formed by …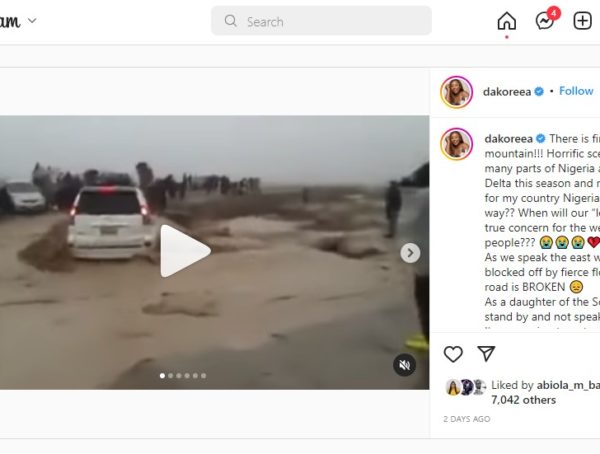 258
Dakore Egbuson-Akande, a Nollywood actress, recently posted videos on her Instagram account showing heavily flooded areas allegedly in the Niger …
A social media post claims that masturbation is one of the primary causes of hair loss in men.  The post which …
Editor Picks
---