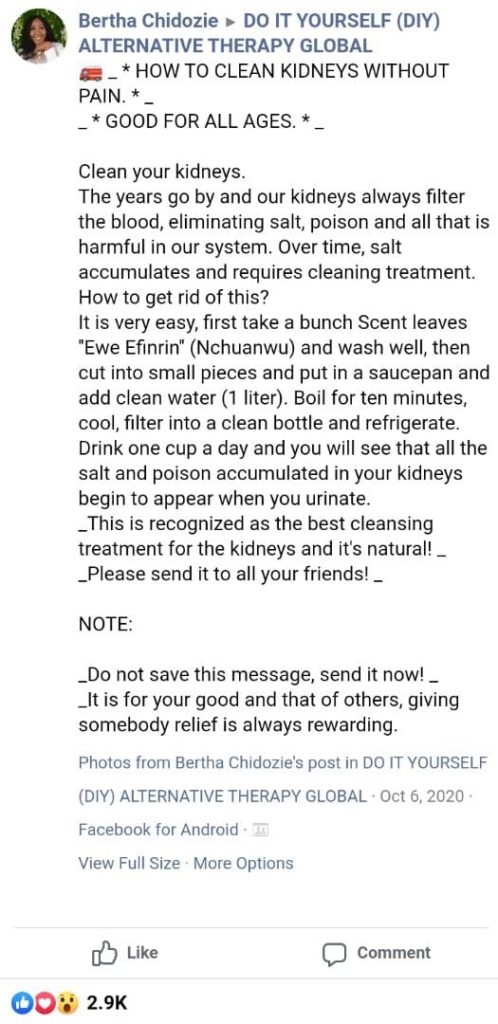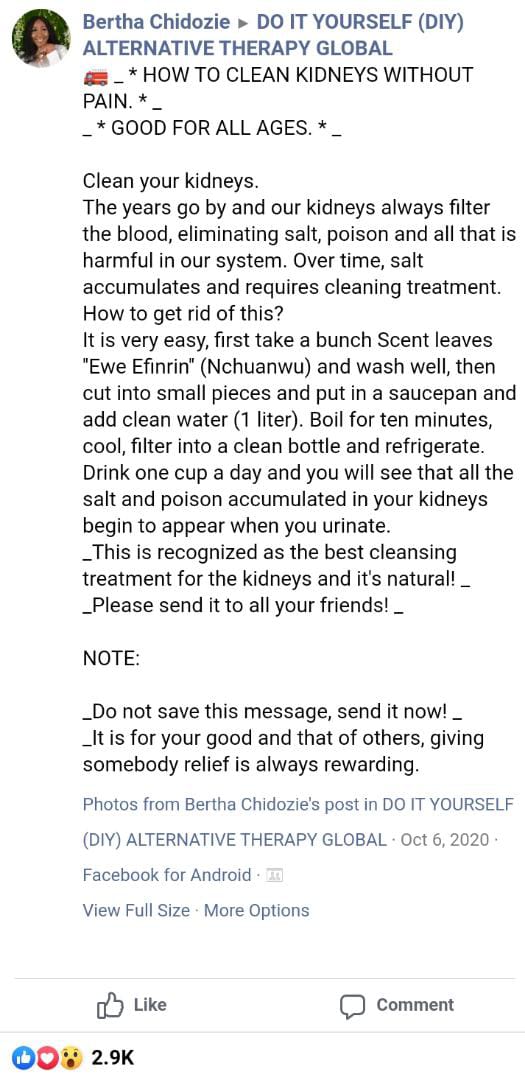 A post shared on Facebook and WhatsApp claims scent leaf can be used to clean the kidneys without pain.

"The years go by and our kidneys always filter the blood, eliminating salt, poison, and all that is harmful in our system," reads part of an old post that was recently reshared on Facebook.

The post claims that over time, salt accumulates in the kidney and requires cleaning treatment. 

As a cleansing measure, the post advised social media users to boil scent leaves, and drink the filtered tea.


"Drink one cup a day and you will see that all the salt and poison accumulated in your kidneys begin to appear when you urinate. This is recognized as the best cleansing treatment for the kidneys and it's natural," the post explains.

The scientific name of the scent leaf is Ocimum gratissimum. Its other English names are wild basil or tree basil. 

It is popularly called Ewe Efinrin in Yoruba, Nchuanwu in Igbo, and Daidoya in Hausa.

As posted on WhatsApp, the message advised readers to send the post to friends and well-wishers. 


The kidney is among the vital organs in the body. It is a bean-shaped organ on both sides of the spine, below the ribs.

The role of the kidney is to filter blood, remove waste and control the body's fluid balance. 

Verification

TheCable spoke with medical experts to confirm if there is scientific evidence to support the use of scent leaves in cleaning the kidney.

Theophilus Umeizudike, a nephrologist at the Lagos State University Teaching Hospital said, "there is no scientific evidence to show that scent leaves can be used to clean the kidney". 

He further encouraged Nigerians to be wary of the information on social media, particularly if it is not from a certified medical institution.

"When people read things online, they should ensure it is from a reputable institution, to ensure that the claim is supported by adequate scientific research and found to be beneficial to help treat an ailment," he added.
Caring for the kidney

TheCable also contacted Awofeso Opeyemi, a research fellow at the Harvard Medical School and Dana-Farber Cancer Institute in Massachusetts, USA.

She said there is no evidence in medical science that scent leaves can be used to clean the kidney.  

"Kidney health doesn't require so much," she said, adding that "nature has made it such that taking adequate water every day (ideally, 3 Litres or 12 cups for an adult), can significantly reduce the risk of kidney disease. A clean glass of water will just do, you do not need to add anything to it".

According to Awofeso, kidney health should include reduced salt intake, drinking lots of water, and early treatment of hypertension.

According to her,  untreated hypertension could lead to kidney failure.

"Hypertension once diagnosed is often life-long and with a few tablets taken daily, as prescribed by a medical doctor, the risk of kidney damage which might require a kidney transplant can be reduced," she said.

"This is because hypertension usually does not give symptoms until vital organs like the kidney are damaged. Oftentimes, people go to doctors in their 20s or 30s, they are told they have hypertension and given medications, many only take them for a few days and stop. Unfortunately, it appears there is no problem until later in life."

Verdict

The claim that scent leaves can clean the kidney is false. There is no scientific evidence to support the claim. 
Source: Fact Check
You might also like
---
More from 1
---
A social media post claims that masturbation is one of the primary causes of hair loss in men.  The post which …
Emirates Airline says travellers should disregard a fake message on social media promising free flight tickets. Emirates Airline is the flag …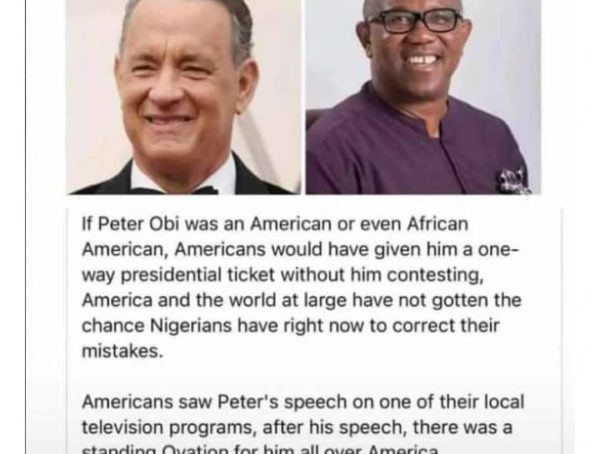 139
A viral post on social media claims that Tom Hanks, a Hollywood actor, has endorsed Peter Obi, the Labour Party …
Editor Picks
---