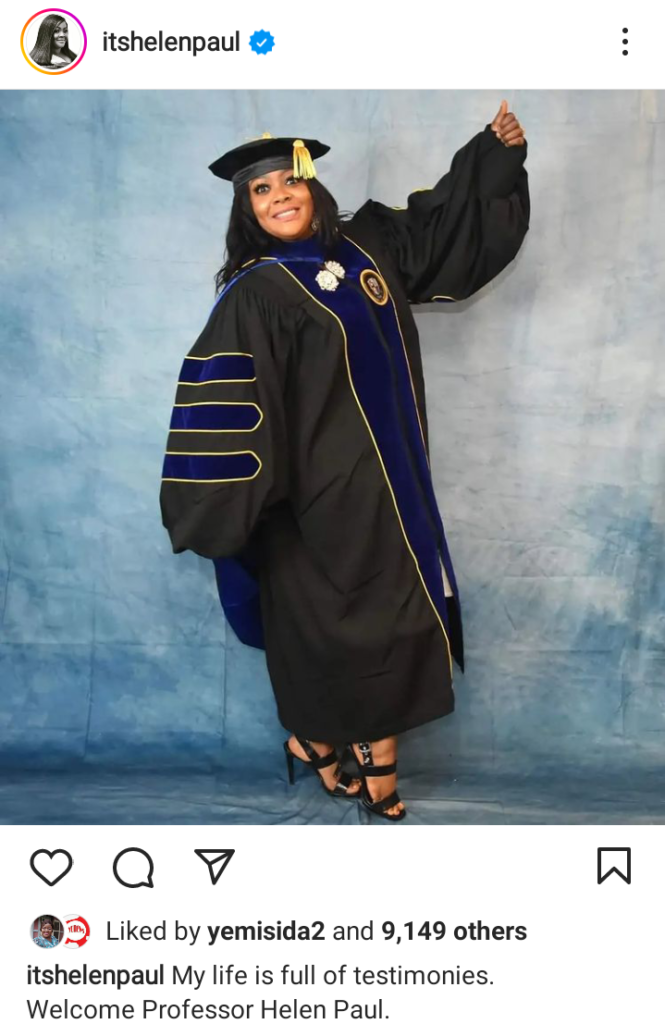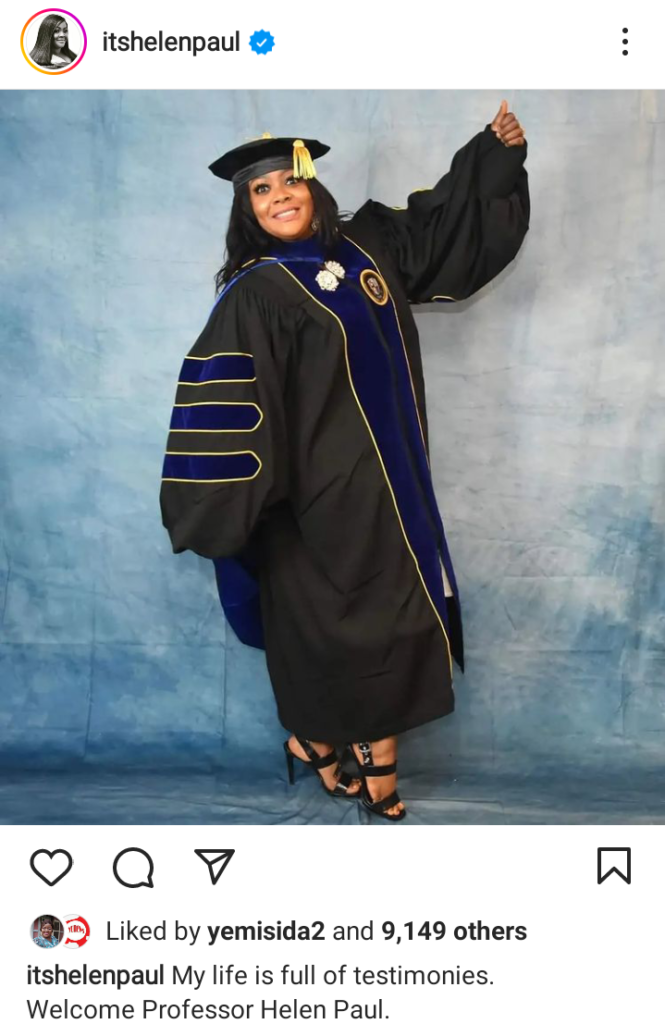 On Monday, Helen Paul, a Nigerian comedienne and actress, announced that she has been promoted to the position of a professor in a university in the United States.

The comedienne, who shared pictures and videos of herself on the stage of an induction ceremony, on her Instagram page, stated that she was also appointed as the head of department (HOD) of arts, music and entertainment.

She added that her husband, Femi Bamisile, also graduated as a doctor of law.

"Congratulations to us my love. Such a great honour for both of us," she wrote.

"You graduated as a doctor of law and I was promoted too. Professor Helen Paul, now the new H.O.D department of arts, music and entertainment. Heart International University USA. Thank you for the sleepless nights. Thank you for sacrificing for us."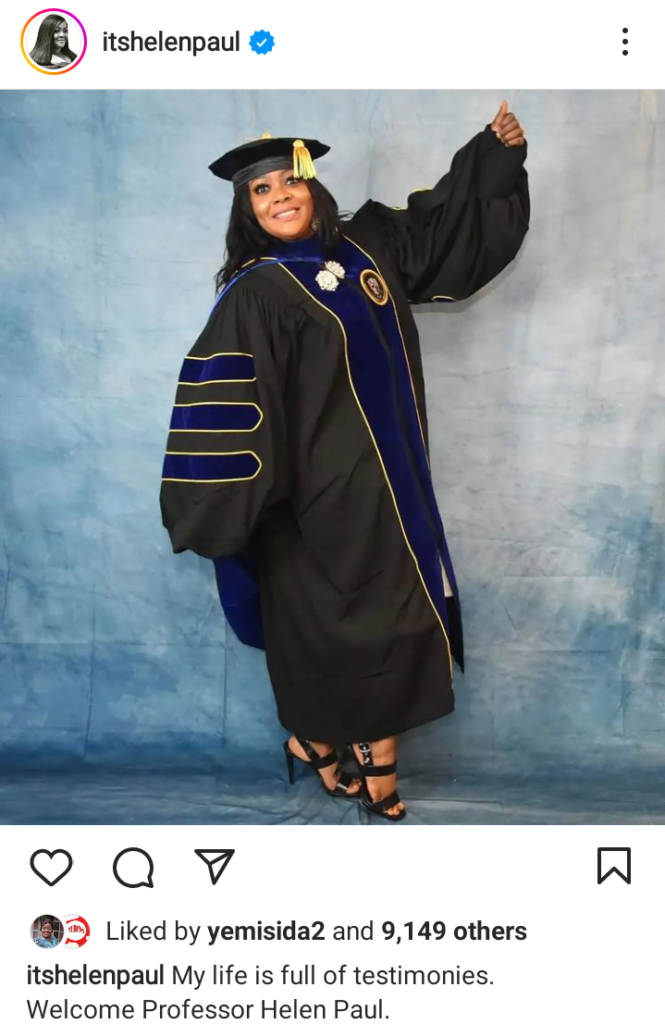 For Paul, her new stride comes three years after she got a doctorate degree in theatre arts from the University of Lagos.

The news of her "new achievement" has been widely covered by the media with encomiums from her fans. But as congratulatory messages continue to pour in from industry colleagues, not all seemed clear with Paul's claim to professorship.

 THE MAKING OF AN APOSTOLIC PROFESSOR 

In another post, Paul wrote, "I'm now officially Professor Paul Helen. The ceremony was a beautiful one indeed. My sincere gratitude to my boss and the university chancellor, Dornett Mcintosh PhD. Thank you my senior Professor Cox, our faculty head and all HBIU staff in general."

Although the comedienne wrote the name of the institution as Heart International University, findings by TheCable, however, showed the full name as Heart Bible International University (HBIU), a theological institution. The logo of HBIU describes the university as a "Christian institution of higher education".

At the graduation ceremony held at Greater Faith Church Ministries on Saturday, Mcintosh, pastor of the church and founder of HBIU, described Paul as an "amazing woman of God offering various skills to the body of Christ".

"We induct you today as a professor into the Heart Bible International University," Mcintosh said.

According to her LinkedIn profile, McIntosh is also the founder of Heart of God Healing Center based in Hartford, Connecticut, US.

Information on the institution's website shows it was established in 2008 and offers undergraduate and graduate degree programmes, certificate courses and preparatory high school "allowing the acquisition of a low-cost diploma". The website also displays 32 members of staff, none of whom identifies as a professor.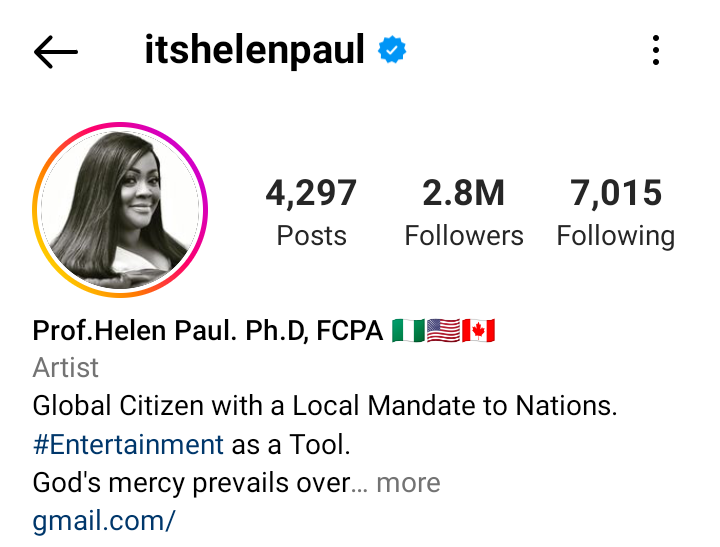 A file attached to the page identifies it as a "religious institution" meant "to empower individuals for God's kingdom".

"[We] offer degrees in business, theology, fine arts, global studies, chaplaincy, old & new testament, and Christian education," the audio says, adding that it is accredited by the Florida State Board of Education for Religious Studies.

Before the accreditation page of the website was updated in March, the text on the webpage read, "HBI / HBIU / Heart Christian University offers degrees both undergraduate and graduate. We are a global university, with different colleges and a strong supportive chaplaincy international program registered legally through the State of Florida and granted Accreditation through Florida State Board of Education for Religious Studies, Independent Colleges, and Universities. As a religious institution, our focus is on Religious Studies."

Although its updated record was marked as non-binding, unaudited, and not constituting state endorsement, a search of HBIU on the Database of Accredited Postsecondary Institutions and Programs (DAPIP) of the US Department of Education showed that it is not listed.

The Florida Department of Education (FLDOE), which HBIU cites for credibility, has a statute on its site with certain requirements exempting "religious institutions" from the jurisdiction of its commission for independent education.

The conditions are found in Section 1005.06(1)(f), Florida Statutes and Rule 6E-5.001, Florida Administrative Code.

Upon meeting the requirements, the FLDOE states that such religious institutions are "not required to obtain licensure".

THE CAVEAT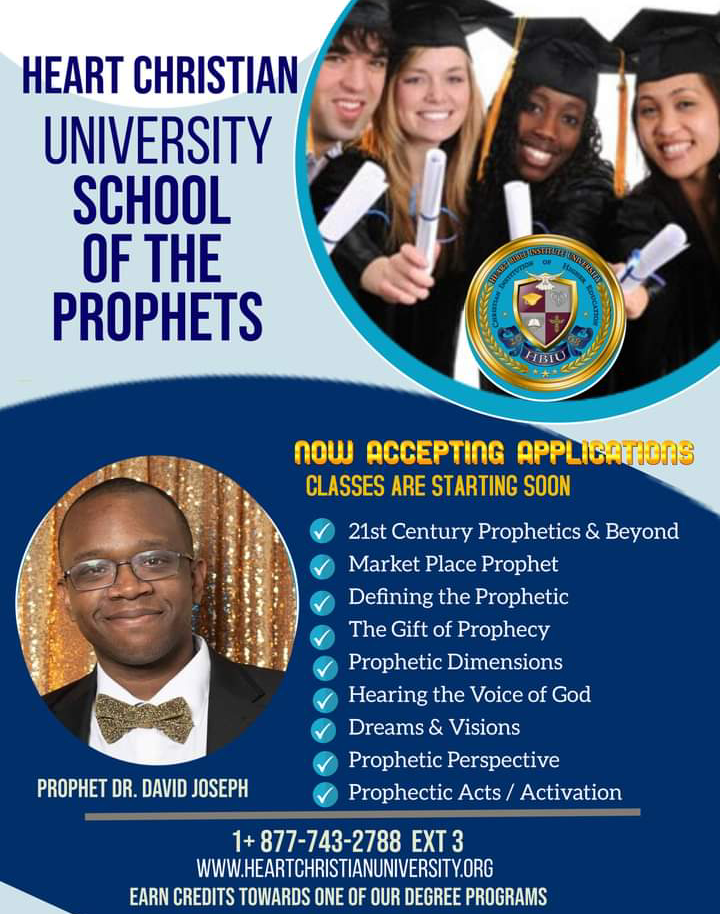 According to FLDOE, a religious college may operate without governmental oversight if the college annually verifies, by affidavit to the commission for independent education, that the name of the institution includes a religious modifier.

This modifier could also be the name of a religious patriarch, saint, person or symbol of the church involved.

It states that the institution must offer only educational programmes preparing students for religious vocations like ministry, counselling, theology, education, administration, music, fine arts, media communications or social work.

FLDOE states that the titles of the degrees issued by the institution "cannot be confused with secular degree titles".

It adds that each degree title must include a religious modifier that must be placed on the title line of the degree, on the transcript, and "whenever the title of the degree appears in official school documents or publications".

However, the HBIU has updated the information on the website with a caveat:

"Let it be known that the credits and degrees earned through our Christian university are for religious services and may not be accepted by all colleges."

SECULAR PROFESSORSHIP

To achieve a professorship status, academics typically obtain post-doctoral experience, allowing those who finished their PhD to conduct original research and begin to amass a catalogue of studies published in academic journals.

In Nigeria, when researchers complete their doctorate degrees, they are often offered a lecturer II rank for a start.

After three years of consistent teaching, research and publication of original academic work, they are promoted to lecturer I, doing three years each to proceed to the ranks of senior lecturer, assistant professor, and ultimately professor.

Lukman Adesina Azeez, the first mass communication professor at the University of Ilorin, argued that it takes no less than 10 to 12 years for a PhD holder to attain professorship status in a standard Nigerian institution.

The UK-trained academic told TheCable that this could take an even longer period in countries like the US, which he said is "tenured".

In the US system, Azeez explained, a doctorate degree holder is already considered a professor even as a senior lecturer.

"All their lecturers are called professors. Once you are a university lecturer, they call you a professor," he added.

"In the US, it's not only about your publication but your teaching too. The students would have to rate you which is a part of the appointment process. There's also the number of grants that you are able to draw to the university."

Presented with Paul's case, Azeez said it is impossible to move from PhD to becoming a professor in three years in a standard varsity.

"What happened to the person might be just a titular professorship as in US universities," the professor added.

"It could be that the person had been in the industry for years, just got their PhD, but had been publishing papers prior. That's the only way they can rise that fast, meaning their years of experience in the industry had been counted.

"In Nigeria, we have schools of theology that are not accredited by NUC. But when you go to these schools, they use professorial titles, the standards of which might be different from mainstream universities."

VERDICT

Helen Paul's claim to professorship, at least in the manner in which it was announced, is misleading. It leaves the public confusing a theology-affiliated programme with the secular academic degrees.
Source: Fact Check
You might also like
---
More from Fact Check
---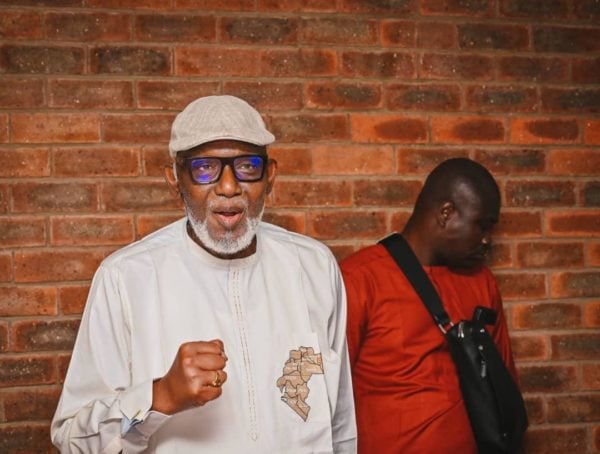 567
Rotimi Akeredolu, governor of Ondo, has officially resumed duty after a three-month medical vacation in Germany. On Thursday, Akeredolu returned to …
President Bola Tinubu says he will do everything within his constitutional powers to ensure that the Nigerian military is well-resourced …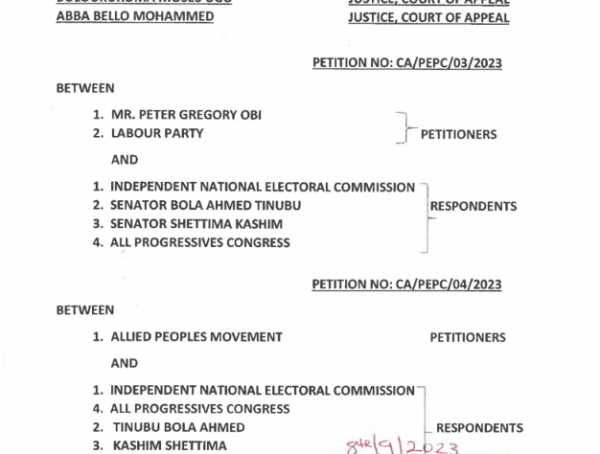 569
On Wednesday, the presidential election petitions tribunal affirmed the victory of Bola Tinubu as the duly elected president of the …
Editor Picks
---